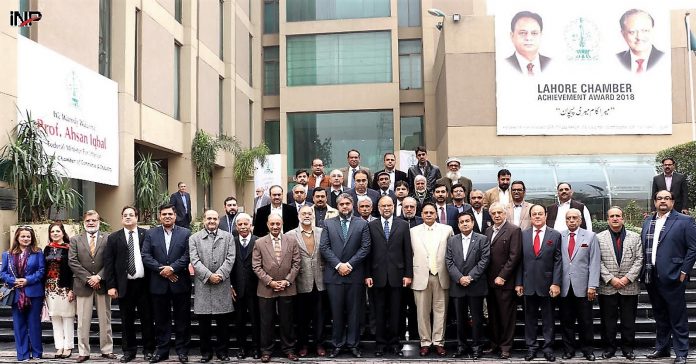 LAHORE: Interior, Planning, Development and Reforms Federal Minister Ahsan Iqbal on Saturday inaugurated first-ever NADRA facilitation desk for the business community at LCCI. The LCCI President Malik Tahir Javaid, Senior Vice President Khawaja Khawar Rashid, Vice President Zeshan Khalil, former office-bearers and executive committee members were present on the occasion.
The NADRA Kiosk at LCCI is another great facility and it would meet needs of a large number of businessmen in Lahore. Ahsan Iqbal said that establishment of NADRA Kiosk Center at LCCI is part of the government efforts to facilitate the business community.
Earlier, addressing the LCCI members, Ahsan Iqbal said that economic health of the country was frightening before 2013. He said Pakistan was considered one the most dangerous countries in the world due to terrorism and deteriorating law and order situation, and load shedding was 20 hours long while the industrial activity was badly hampered due to power shortage. He said that people were fleeing Karachi due to extortion and target killing. National anthem and flag hoisting was a crime in Balochistan before 2013. The economy was stagnant at 3 per cent while IMF was predicting that Pakistan would be bankrupt in 2014.
He said, but the situation quickly changed when PML-N government came into power and turned Pakistan into a fast-emerging economy. The PML-N government targeted four areas including energy, extremism, economy and education and achieved considerable success. He said World Economic Forum has declared Pakistan better than India as an emerging economy. GDP growth reached 5.3 per cent in the previous year while it is expected that it would be around 6 per cent at the end of the ongoing year. The PML-N government has added 11,000 MW of electricity to the national grid.
Ahsan said that investment in infrastructure development has reached Rs 413 billion. He further said that the socio-economic development has uplifted the confidence of the people of Balochistan.
The federal minister added that Karachi has once again become the city of lights and over 100 closed industrial units have been reopened for business.
Commenting on CPEC, Ahsan Iqbal said that China-Pakistan Economic Corridor (CPEC) projects would change the destiny of Pakistan. The interior minister added that today the world is focused on Pakistan due to its rapid growth besides terming it as an ideal country for foreign investment.
Ahsan Iqbal further said that CPEC is a game changer and it is playing a significant role in economic development of Pakistan. He said that massive investments under CPEC are further strengthening Pak-China friendship.
Interior minister reiterated that CPEC is a national agenda and has been put into implementation in record time due to the commitment of both Pakistani and Chinese leadership. He expressed satisfaction over the progress of CPEC projects.
The LCCI President Malik Tahir Javaid said that development and peace are the two of the major concerns for businesses. Development requires the removal of major sources of unfreedom: poverty as well as tyranny, poor economic opportunities, systematic social deprivation, neglect of public facilities, intolerance and over-activity of repressive states.
He said that in case of Pakistan, governance and institutional quality have deteriorated over the years. In corruption perception index, although Pakistan's ranking improved slightly it still ranked at 116 among 180 countries. The low performing areas identified were overall country's risk which includes credit risk, economic risk and political risk. He added that Pakistan had not been able to improve the business climate due to its rankings slipping to as low as 144 in 2017.
The LCCI President said according to the recently released World Bank Ease of Doing Business 2018 report, Pakistan has slipped three places reaching an all-time low of 147. He added that Pakistan is confronting myriad issues such as terrorism, sectarian violence, corruption, external influence and internal imbroglio that impede progress, development and prosperity of Pakistan.
He added that after operations, led by the Pakistan Army, Zarb-e-Azb and Rudd-ul-Fasaad, 90 per cent of terrorism has been rooted out. However, the tail of terrorism is still pervasive across borders especially Pak-Afghan border that slowly sows the seed of terrorism.
Malik Tahir Javaid said during the last 16 years, the direct and indirect cost incurred due to incidents of terrorism amounted to $ 123.13 billion. He said that national security has become a broad subject with social, political and economic dimensions gaining importance. The nature of threats is changing with the technological revolution.
Commenting on CPEC, he said that CPEC has changed geopolitical equilibrium in the region due to which new geopolitical pressures are developing on Pakistan. So far as the preparedness for CPEC is concerned, the governments of Pakistan and China have to engage the private sectors of both the countries to create a win-win situation for all.
We must develop a comprehensive approach to the ownership of all stakeholders to succeed in implementation, he reiterated. The proactive approach adopted by Chinese businessmen gives this impression that they are taking CPEC much more seriously than us. The government needs to give the right type of incentives to transform this scenario where both Chinese and Pakistani businessmen have a level playing field and fair opportunities to grow.
Khawar Rashid and Zeshan Khalil assured the federal minister of the best cooperation from the business community to make Pakistan a country where rule of law reigns supreme; where every Pakistani feels secure to lead a life in conformity with his religious beliefs, culture, heritage and customs; where a Pakistani from any group, sect or province respects the culture, tradition and faith of the other, where every foreign visitor feels welcome and secure.