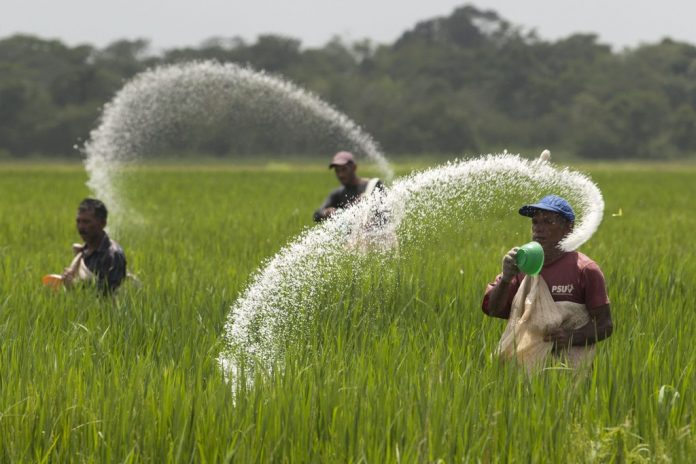 ISLAMABAD: In a bid to offer level playing field to the private sector and to safeguard interests of farmers, National Fertiliser Corporation (NFC) of Pakistan has proposed establishing a Fertiliser Regulatory Authority in the country.
During a meeting of Senate's Standing Committee on Industries and Production, held under the chairmanship of Senator Hidayatullah on Tuesday, NFC Chief Executive Officer (CEO) Omar Saeed Malik, said that the corporation has proposed setting up a regulatory authority to monitor imports, investments, quality, price and demand and supply of the fertiliser products.
He said that there is need to establish the regulatory body at federal level to work administratively under the control of Ministry of Industries and Production. "As the NFC has the expertise in manufacturing, marketing and distributing fertiliser, therefore, it can play its role in fertiliser regulatory authority," he said adding that the relevant authorities have been suggested to facilitate the establishment of the regulatory authority.
According to Saeed Malik, NFC has always played a balancing role in the fertiliser industry since its inception in 1973. It has held about 35 per cent share in the national fertiliser production capacity, keeping a check on the private sector.
"After the privatisation of NFC manufacturing unit, the fertiliser business is at the whims of the private sector which can result in cartelisation and abnormal increase in prices of nitrogenous and phosphatic fertilisers," he said adding that therefore, to offer a level playing field to private investors and safeguard the interests of farmers, the establishment of a regulatory authority is needed.
Talking to Pakistan Today, after the meeting, he said that the fertiliser sector itself wants a monitor or a regulatory body. In reply to a query that why the sector wanted a regulatory authority keeping in view the negative impact of such institutions on other sectors, he said, that such regulators are unable to play their due role when the government interferes in their working and stressed that regulators should work independently as per the set rules and mechanisms.
The NFC CEO briefed the committee that under the privatisation policy of the government, all the manufacturing units of NFC have been privatised since 2008. However, in order to meet the government's objective to ensure the availability of fertiliser to the farmers at the right time, National Fertiliser Marketing Limited (NFML), a subsidiary of NFC is presently engaged in the distribution of imported Urea in far-flung areas of the country through its country-wide dealer's network. The Corporation is accomplishing the challenging task of distribution of imported Urea in an efficient manner.
According to him, NFC is also providing quality education in various engineering disciplines through its educational, research and training institutes at Faisalabad and Multan in affiliation with renowned universities of Pakistan.