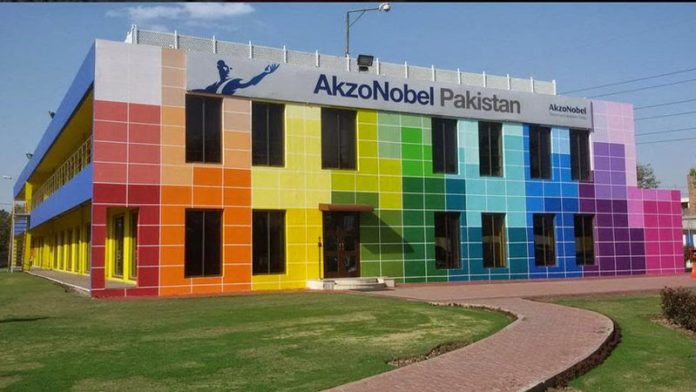 LAHORE: A bourse notification filed Wednesday by Akzo Nobel Pakistan Limited revealed its board of directors had approved divesting of its Specialty Chemicals Business to Akzo Nobel Chemicals (SMC-Private) Limited for Rs33.5 million.
Akzo Nobel Chemicals (SMC-Private) Limited is a wholly owned subsidiary of Akzo Nobel Chemicals Holding B.V. of Amsterdam, the Netherlands.
The notification read, "The sale and transfer will become effective on a mutually agreed completion date which is scheduled to be no later than 31 December 2018 at a price of PKR 33.5 million."
Also, Akzo Nobel Pakistan stated "Thereafter, any inventory of Specialty Chemicals products held by the Company as at completion date will be sold to AkzoNobel Chemicals (SMC – Private) Limited) at cost."
And the company's board further approved the provision of certain temporary services to Akzo Nobel Chemicals (SMC-Private) Limited to achieve the smooth transfer of this business division to Akzo Nobel Chemicals (SMC-Private) Limited.
Akzo Nobel Pakistan Limited manufactures paints and trades in specialty chemicals primarily in Pakistan. The company offers decorative coatings, including various interior and exterior paint products; and industrial and protective coatings for passenger cars, motor cycles, commercial vehicles, tractors, appliances, and one-off industrial project customers. It also provides refinish coatings to body shop owners and repair professionals; car, bus, and truck manufacturers; fleet owners; and the public sector.
The AkzoNobel Group acquired ICI in 2008 bringing together the innovation, leadership and expertise of both companies. In 2011, The Board of Directors of ICI Pakistan Limited approved a proposal from its ultimate holding company, Akzo Nobel N.V. to restructure its interest in ICI Pakistan Limited by separation of the Paints Business into a separate legal entity through a scheme of demerger.
Akzo Nobel Pakistan Ltd shares were trading at Rs215.42, up Rs10.25 and KSE-100 index at 43,059.97 points, up 65.01 points from Tuesday's close.