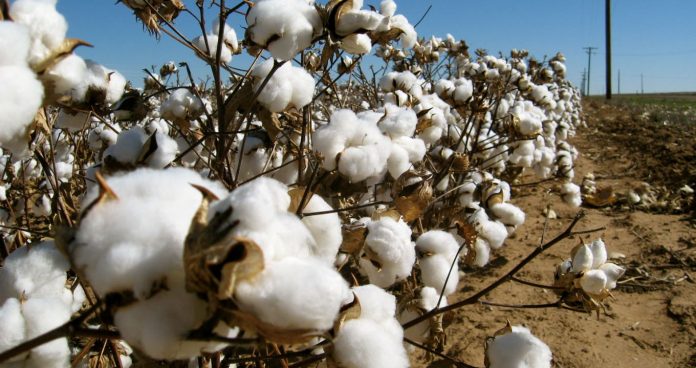 ISLAMABAD: The Cabinet Division has given approval for transferring control of Pakistan Central Cotton Committee (PCCC) to the Ministry of National Food Security and Research (MNFSR) from the textile division.
This handing of the PCCC to the MNFSR is expected to stem a fall in cotton production in last four years, reported Express Tribune.
A meeting held under the aegis of Prime Minister Shahid Khaqan Abbasi on March 6th had given go-ahead to transfer of Pakistan Central Cotton Committee (PCCC) back to Ministry of National Food Secretary and Research (MNFSR).
A senior govt official however said the future of cotton commissioner remains undetermined as the Cabinet Division forwarded the issue to the Establishment Division, stating it was a posting issue.
And the Establishment Division (ED) has forwarded a query in the above regard to the MNFSR and sought its comments regarding the posting of cotton commissioner.
Under the previous government, the cotton commissioner control was transferred to the Textile Division from the MNFSR due to clout of textile tycoons.
But a conflict of interest arose, as the cotton commissioner was compelled to safeguard interests of textile giants and report to the textile secretary.
But the tussle to transfer control of PCCC to MNFSR had been going on since the PML-N came into power after general elections in 2013.
The MNFSR believed the Textile Division and PCCC couldn't take independent decisions due to the clout of textile lobby.
This proposal of transference of PCCC to MNFSR had been proposed by Deputy Chairman Planning Commission Sartaj Aziz, to boost private-public partnership in cotton research via increased funding provided by public-sector and to execute pro-cotton policies more successfully.
According to sources, the committee had tabled its proposals to the federal cabinet but due to various reasons the approval got delayed.
The committee led by Sartaj Aziz had said PCCC was financed via cotton cess which is imposed at Rs50 per bale. And PCCC has setup cotton research centres in Sakrand and Multan including seven research stations in all provinces.
Textile industry which pays the cotton cess had expressed serious reservations over the performance of PCCC and had filed a case against the cess.
The objective of this restructuring drive is to convert main cotton research institutions in Multan and Sakrand into centers of excellence, which they were twenty years ago.