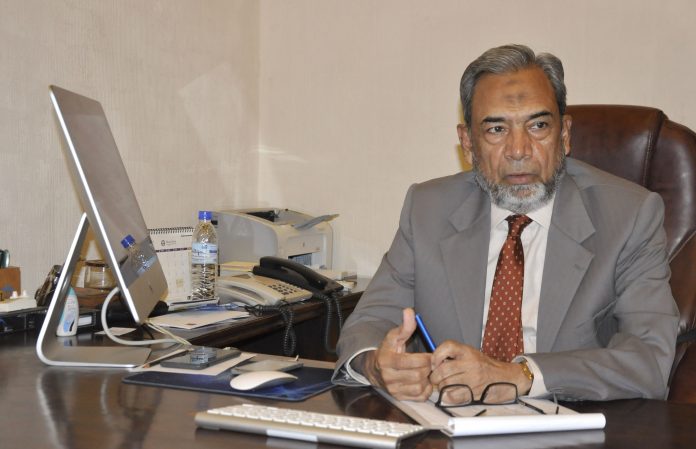 Established as far back as the middle of the nineteenth century, 1860 to be precise, the Overseas Investors Chamber of Commerce and Industry (OICCI) is the oldest in Pakistan – representing 190 investors from 35 different nations. The OICCI members are managing companies in 14 different sectors, contributing Rs47 billion in taxes each month, in annual terms constituting 1/3rd to the government exchequer overall. Out of $8.6 billion FDI in Pakistan in the last five years, the OICCI members contributed $7.6 billion.
Despite its large contribution to the country's economy and its vital role in policy-making, the OICCI members express concern over the lack of communication with the government and implementation of suggested policies. Hence, the negative perception of business environment in this country persists abroad.
Profit sat down with general secretary OICCI, Muhammad Abdul Aleem and found out that despite their concerns, the chamber members consider Pakistan a potentially strong market and are looking forward to invest over $2 billion every year.
Profit: You have said time and again 'ease of doing business' in Pakistan leaves much to be desired. What do you exactly mean by 'ease of doing business'?
Mohammad Abdul Aleem: Ease of doing business is a set of statistics which allows the foreign investor to measure a country's economy. Annually, the World Bank releases this index, and it has a strong impact on the decision-making of foreign investors. The index takes into account nine parameters determining a country's ranking. In 2010, Pakistan was ranked 75 out of 190, now it has regressed to 146.
Profit: Why this regression?
MAA: The rate at which other countries are improving their system is much greater than ours. Though Pakistan maintained the previous benchmarks but it showed little improvement one. Once behind us, countries like Afghanistan and India are gaining the lead due to improvement in sectors such as taxation etc.
Profit: Any measures being taken to restore Pakistan's status?
MAA: Currently we are collaborating with the World Bank team, with both the government sector and private committee on board. We have set our goal to regain and further improve our rank in the top 100 in the 'ease of doing business' index.
Profit: What are the issues or demands which your members face in ease of doing business?
MAA: The major ones relate to tax refund and unpredictable tax policies. Due to sudden change in tax policies, the investors are hesitant to invest. Moreover, lack of inter-provincial coordination causes hindrance to the investor. Only recently the Punjab Food Authority has issued stringent policies that surpass the Pakistan Standard Quality Board. Such contradictions impact on investor confidence.
Profit: Do all the members face such issues or is it just a small percentage?
MAA: Not all the members face these issues. According to a report 49 % percent of members say they have faced difficulty in tax refund. Though not all are affected but those who are, however small in percentage, become very irritated.
Profit: Could you elaborate which sector is affected?
MAA: Almost all the sectors have faced such issues, be it banking, consumer goods, though the latter faces greater issues due to the withholding tax, as they have greater cash flowing out due to this.
Profit: What is the alternative if the government eliminates super tax?
MAA: It is very hard to eliminate something like this for the government but if they manage to do that, we have suggested broadening the tax base as its alternate. Otherwise, presumably the government may increase the concessional rates on the interest, though internationally there is no such thing as concessional rates.
Profit: What measures do you recommend to broaden the tax base?
MAA: These days a lot of data is available to the government. We recommend that they monitor a certain class for tax payment. Furthermore, we suggested to send FBR agents in the field to conduct surveys to help highlight the shortcomings of the undocumented sectors. Also to identify which sectors do not pay taxes. The taxation should be categorized and majorly undocumented sector should be brought into the tax base as that is one of the main reasons why government loses large amounts of money.
Profit: What will the government get in return to all these demands?
MAA: Well, Pakistan would get an increased FDI – making it reach at least 3%. It will attract more foreign investors because it shows a certain stability in policies. A harmony between tax regulations and business regulations should be even-ended. Foreign and domestic investors should have level playing field. Such incentives and initiatives will create more employment too.
Profit: From amongst your members which are the top five in terms of FDI?
MAA: This changes every year. Currently telecom and energy sectors are coming up with huge contributions. Still it's a different story every year as the parameters and conditions keep changing.
Profit: And what are the complaints of your top contributing members?
MAA: Their complaints are more or less the same as those of other sectors. Firstly, they want the government to take the investors into confidence before making policies; secondly, they want the policies to be long-term – the parent companies do not like the ad-hoc policies that we are used to of locally. And then there's heavy taxation on telecom sector compared to others, so they have concerns over that as well.
Profit: You have repeatedly mentioned lack of communication between the OICCI and the various governments. How does it impact the day-to-day operations of the OICCI members and how does it influence the opinion of foreign investors in Pakistan?
MAA: That's a major issue. We have said it time and again that we don't want new policies, we want the existing policies to be implemented. The reason we want to talk to the government is because the policies are not implemented. One day they would ban LNG, the next day they would lift the ban. This creates confusion.
All the foreign investors seek is a quarterly meeting where we can speak to the powers-that-be on the top 10 issues. At the least, we would know that the prime minister is aware of our issues. He would know how much of a serious crisis is tax refunds, remittances are not being allowed as efficiently as before and that is arousing concerns to parent companies in Japan, the UK and Switzerland etc.
That's our biggest demand: at the least, listen to us. Make a forum and meet us after a certain period; we are not asking you to do anything, just meet us and think of it as the right of foreign investors who have invested big here. We want government to think of economics as the new mode of politics because it will eventually affect their politics as well.
We recently met the chief minister Sindh and found him to be a very reasonable person. He also agreed to our concerns, giving us positive response. Regardless of it translating into action, we have aired our concerns, and we are happy about it.
We want the government to constitute a 'Private Public Business Council' or 'Economic Council' to channelise these meetings. A lot of issues can be solved on the table.
Profit: How do the foreign investors look at the political uncertainty, especially with regard to the ouster of the former prime minister?
MAA: Concerned they are, yes, but the ones who have already invested are keeping an eye and with reports from the ground not so bad, they remain content. However, obviously no major investment will come for the moment until the next government settles down. So, if I take a new project to them at the moment, there would be no takers – not because they don't want to do it but because they would rather wait for now.
Secondly, given our history, foreigners are always concerned about a military coup. We have explained to them how things have changed and they need not to worry but the parent company in another country does question about the timing being right.
It does create obstacles in selling good projects for this country. But we need to remember there's a lot of money that investors want to invest in Pakistan but usually they stop during uncertain political time.
Post Nawaz Sharif's ouster, they were cautious but we did not see any decline in the overall performance. You can say they were cautious, there was no panic though.
Profit: How much more investment from OICCI members are we looking at in next 2-5 years?
MAA: Around $2 billion plus increase would be seen each year but it is linked to the growth of economy in the said time period. We are expecting the economy to grow by 6%+ in the coming years, but it depends on the consumer demand. How much petroleum will be needed, how much growth will be in the energy sector? When the economy grows, our members would benefit and automatically they would invest more. But it would be safe to say at least $2 billion is what we are looking at. And further growth will come from the CPEC as well, which the investors are very happy from.
The reason they are happy with the CPEC is that it's investing in energy and infrastructure. So a company that sells electronic goods, would have boost in sales as well – as the more people have access to energy, the more consumers will be interested in buying such products. And if I am in power generation, my energy consumption would increase. So it's a cycle.
Profit: How do OICCI members look at Pakistan's 70 million middle income population?
MAA: This is a very good selling point. Australia's population is 30 million, Malaysia stands between 18-20 million and you look at their booming economies. Our per capita income is lower while theirs is higher but it's growing proportionally to the consumption. The same is the case here and it appeals to the companies.
Atlas has invested $100 million in its plant. And the consumers would not just be buying cars or motorbikes, but also petrol, spare parts as well as insurance. So, our insurance companies are looking at that opportunity. It's a chain, the more the consumers, the more income for companies and thus more investment.
We need further investment in oil refinery, petrochemicals, and there's a lot of growth opportunity in these sectors.
Profit: How do you personally look at the economy? Is it on an upward trajectory?
MAA: We see there's momentum. The best part about our economy is that it's domestic; so no matter how bad circumstances are, we can still feed ourselves. We do not have that much pressure from outside. The biggest drawback we have is that we are under-selling ourselves. The reason is that we only sell cotton or sugarcane – the raw material. That's our main issue, we do not add value to our local products and end up selling cheaper than other countries that produce raw material and then export after value addition. Look at Bangladesh. How it buys cotton from us and does so much export after adding value. We think we need to increase our margins and hopefully we'll be able to grow on the basis of our potential.
The reason we ask for a business council is because we want to share these things with the authorities. We need to make policies as per our country's dynamics. Lately we have given too many concessions to China under FTA etc. due to which our industries were closing down – now the policies have been changed, though. But we do object on the fact that the government realizes these lapses five years later and doesn't talk to stakeholders before signing the agreements.
These days whatever incentives are being given to China by the current government, if they are not beneficial to our interest then the country will suffer whether the same people stay in the office or not after the elections. So, we request the governments to talk to us and politics should not be done at the cost of economics.
Whether it's the N League, the PTI or the PPP in office, we want continuity of policies. If we look at India, their political leadership sat together and determined that there won't be a policy change and this is their selling point to foreign investors who know that the faces will change but the agendas and policies won't because they are long term.
Profit: Foreign companies often complain about copyright issues and counterfeit products in the market. What is your proposals to deal with such issues?
MAA: We have given our suggestions to the government. First of all, it's a matter of enforcement; we do have very good laws in Pakistan. I was a part of the board that formulated them in 2012. Because of this law, the US removed us from its banned list. The problem is again enforcement; our law enforcers are not well trained on these matters.
We have surveyed on this topic, our members have observed that society generally doesn't realize the importance of copyright and original products – nobody bats an eyelid on the number of fake products out in the market.  
Recently the government has gotten strict in tobacco segment as they lost huge revenues last year because of import of fake products. It's like Unilever imports a shampoo of $99 and some Ahmed Moosa Co. imports the same product in $1 – the government automatically has to bear heavy tax losses. It has become a huge issue now and the FBR is also concerned because they are the one bearing a loss along with the companies.
We have suggested to the government to enforce the existing laws, talk to the brand owners and they can help in determining fake products against the original ones.
Usually products have a number embossed on its bottom – that number can tell the date, day and even shift in which the product was made – it's that easy to determine if a product is genuine or not. And we need them to take strict action now as it has gone too far and both the companies and the country suffers losses because of counterfeit products.
Profit: Is there anything you would like to add?
MAA: I'll just conclude on this note that the economy is growing at a good pace but we have potential to do much more. We are just harnessing 25% of our potential right now.
And we want the media and the government to pay attention to the business sector. We need them to look at how much investment is coming, and if it's not, then what are the reasons and how can things be improved. We need to see how India is able to get $16 billion in FDI, and why Vietnam is succeeding. The government needs to focus on how to facilitate foreign investors and take measures that would encourage them further. The issue is that in Pakistan the right-hand doesn't know what the left is up to.