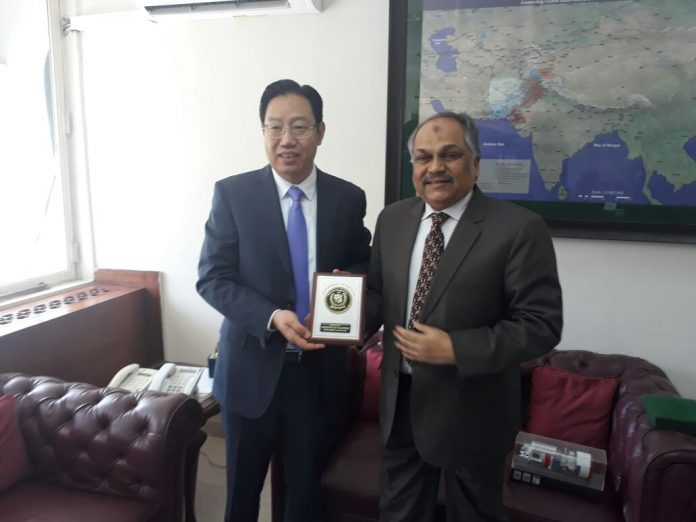 ISLAMABAD: Ministry of Planning, Development and Reform (PD&R) Secretary Shoaib Ahmad Siddiqui has said that Karachi Circular Railway (KCR) and up gradation of Pakistan's Railway ML-I projects are the main focus in transport infrastructure sector to be implemented in the current phase of China Pakistan Economic Corridor (CPEC).
He expressed these views while meeting with China Railway Construction Corporation Limited (CRCC) Vice President Yang Jinjun on Tuesday here at the Ministry of Planning along with CPEC Project Director Hassan Daud.
Shoaib Ahmad Siddiqui said that ML-I is strategically important while KCR is economically a viable project. "The projects have achieved headway and will hit the ground soon," he informed. PD&R secretary further said that there is a need for efficient and professional firms to build these mega projects on fast speed.
He further highlighted that the policies of President Xi Jinping are taking China to new development stage through Belt and Road Initiative (BRI). "CPEC is the main pillar of BRI that helped Pakistan to achieve economic growth of 5.8 per cent last year".
On this occasion, CRCC's attention was invited to explore investment opportunities, offered by Special Economic Zones being implemented under CPEC. It was emphasized that Chinese firms should ensure capacity building of the local manpower by providing them with on job training and employment.
Yang Jinjun expressed his full support to implement mega infrastructure projects in Pakistan with commitment and speed. CRCC informed that the company is already working in Pakistan and interested to expand its cooperation in infrastructure and industrial development sectors. The firm also expressed its commitment to work closely with Pakistan's technical education institute to ensure capacity building of local youth and more employment in future.