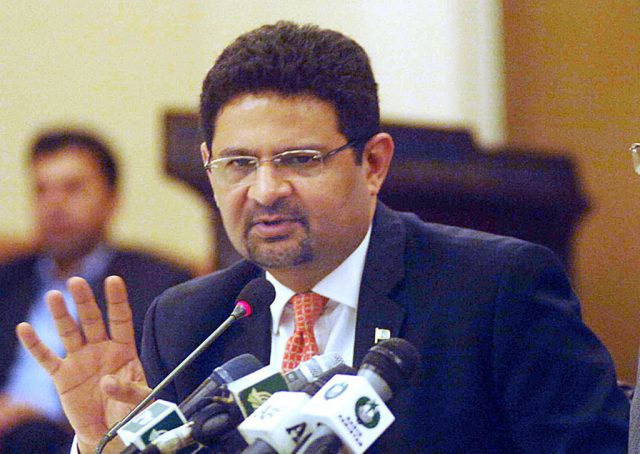 ISLAMABAD: Incumbent Finance Minister Miftah Ismail has allegedly instructed Pakistan LNG Terminal Limited (PLTL) former managing director (MD) Azam Soofi to resign from his post apparently to save Pakistan Gas Port Consortium Limited (PGPCL) from a $40 million penalty, sources said.
Well-informed sources disclosed to Pakistan Today that Finance Minister Miftah Ismail has allegedly instructed PLTL ex-MD Azam Soofi in December 2017 to resign from the job on the advice of Prime Minister (PM) Shahid Khaqan Abbasi apparently to save PM's friend Iqbal Z Ahmed's company PGPCL from a $40 million heavy penalty.
They said Miftah has tried to pressurize the Azam Soofi to resign from the job as he was not ready to withdraw the penalty or give relaxations to PGPC. After a refusal from the former MD, PM Abbasi and finance minister got rid of Soofi through a decision of the board of directors without any charges. However, important record related to the role of PM Abbasi, Miftah Ismail, Pakistan LNG Terminal Limited BoD chairman and PLTL Board of Director has been submitted to Islamabad High Court, said sources.
"PM Abbasi and Finance Minister Miftah have allegedly tried to protect the interests of PGPCL instead of the state, which is a sheer violation of Article 5 of the constitution of Pakistan," said sources.
Copies of documents available with Pakistan Today reveal that PLTL former MD Azam Soofi imposed a penalty on PGPCL over a delay of 150 days in the commissioning of its LNG (Liquefied Natural Gas) terminal at Port Qasim. Soofi imposed a $30 million penalty under LNG Operation and Services agreement and refused to withdraw the penalty.
"That is outright illegal to waive the penalty which has been applied under the terms of the contract and under the laws of Pakistan," said Azam Soofi in a letter to PLTL Chairman Asim Murtaza.
It is also learnt from the documents that Miftah Ismail while carrying neither legal position nor relevance to PLTL abruptly called Azam Soofi and advised that the Prime Minister expects a resignation from him.
Documents also informed that Finance Minister Miftah Ismail has contacted with Soofi twice in December 2017, while instructing him to voluntarily tender resignation. However, Soofi categorically refused to obey the instructions and informed PLTL chairman about the repeated instructions of Miftah Ismail and sought advice and guidance. Soofi also complained that a board meeting has been called rather abruptly for December 11, 2017, the agenda of which was unknown to him.
"That the PLTL CEO and Managing Director does not know when and why board meetings are called nor his knowledge of the agenda that shall be discussed during the same is not a healthy practice," said Soofi in the letter to PLTL chairman.
"If in the opinion of my superior I have done anything wrong then rather the verbal directions I may be informed in writing what wrong have I committed so I can respond and present myself before any forum to explain and defend myself," Soofi added.
Sources added that the PLTL board removed Azam Soofi without any charge sheet. They said with the removal of Azam Soofi, PGPC has been saved from facing the $40 million penalty. Similarly, in a bid to save PGPCL from the said penalty, a controversial report has been prepared by a dispute resolution committee. They said as per this report, PGPCL will bear only $1 million penalty instead of $40 million.
Moreover, PLTL incumbent MD instead of accepting this report has proposed the committee to postpone the matter. After Soofi's departure, Prime Minister Shahid Khaqan Abbasi assigned acting charge of PLTL MD to Adnan Gilani whose appointment, according to sources, was previously rejected by former PM Nawaz Sharif owing to lack of experience required for the top post.
It is worth mentioning that Azam Soofi who served as the former MD for PLTL was removed from top slot without any charge sheet or the three-month notice, according to his contract. Soofi was removed and a payment of Rs72 lakh against three-month advance salary was given to him at the time of his removal.