After nearly four decades of successful operations as a family-run business, Shan Foods is now considering an initial public offering (IPO) to execute its expansion plans – including a possible acquisition, and new product launches.
"We are definitely considering an IPO," Sikandar Nawaz Tiwana, Chief Executive Officer, Shan Foods told Profit during an interview at the company's headquarter at Korangi Industrial Area.
Tiwana, who joined the company in December 2015, is part of the new Shan management that came about as a consequence of a major policy shift a couple of years hence – turning the family business to a corporate with professional managers conducting the business.
Until recently, the company had been almost single-handedly managed by the family patriarch, Sikandar Sultan – the majority owner, and present chairman.
Evaluating the advantage
"We are evaluating the advantage of an IPO. Do we need the funds, is the question", said the CEO. Shan has previously shied away from conventional banking as a financing source owing to Sultan's conservative interpretation of Islam, that prohibits interest-based borrowing.
Tiwana refused to disclose any timeline or further details, but Shan has been publicly musing about an IPO since at least Jan 2014, when it participated in Pakistan IPO Summit. The induction of professional, non-family managers into its corporate leadership was an integral part of that strategy, said one source familiar with the matter. The company would indeed have already been listed had conditions in the equity markets not deteriorated, added the source.
Earlier this year, Muneer Kamal, chairman of the PSX board, had told Dawn that companies were lining up for IPO in 2017 when the market was bullish, but most of them had to put off their plans fearing under-subscription soon after the bourse's retreat May 2017 that remains unarrested. The benchmark KSE 100 Index has shed more than 21% of its value since May 25, 2017, when it hit an all-time high of 52,876 points –  up to that point, as many as 17 companies had applied for listing.
"I think Shan will go for it [IPO] now. They will do it by 2020, if not before," said the source. The company's expansion plans prima facie back that view.
Shan Foods, insiders share, is in the process of launching a few new products, including wheat flour. Tiwana too hinted at it, without being specific. "It could be anything related to our existing brand portfolio as we are looking into next possible categories," said the CEO. "It could be wheat or pasta," he added.

Starting in 1981 with a single-room business from his house, Sultan, the chairman, turned Shan Foods into a global spices giant, to the extent of raking in Rs10 billion in revenues in the latest financial year. With cash flows strong and consistent, Shan funded its expansion by reinvesting its own profits.
The company launched with basic spices (plain spices) and recipe spice mixes and later expanded its portfolio to include Oriental and Arabic recipe ranges, instant noodles, salt, cooking paste, ginger garlic paste, pickles, chutneys (sauces), desserts, rice, lentils as well as ready-to-cook and ready-to-eat range –some of these being available abroad only. Today, it has customers in 65 countries and manufacturing units and offices in Pakistan, the UAE, Saudi Arabia and the United Kingdom.
In recipe mix and plain spices, Shan is amongst the top two, neck-to-neck with arch-rival National Foods Limited (NFL) – a bigger brand based on revenues and number of categories, but industry sources say that in overseas markets, the former has a larger share.
Challenge of the 'unbranded'
Other than brands like NFL, Chef's Pride, Mehran Foods, Ahmed Foods, and Habib Foods keeping it on its heels, the unbranded portion of the industry cornering an estimated 70% of the total market is the challenge.
This is certainly a challenge, concedes Tiwana, linking it with affordability and consumer awareness. "As disposable income and awareness levels rise, they shift to the branded segment."
Hence, the question: with the statistics reflecting a rise in disposable incomes, did Shan reap the windfall? "Yes, there has been a major change in the last three years," said the CEO, adding, "Our size has doubled [during the period]."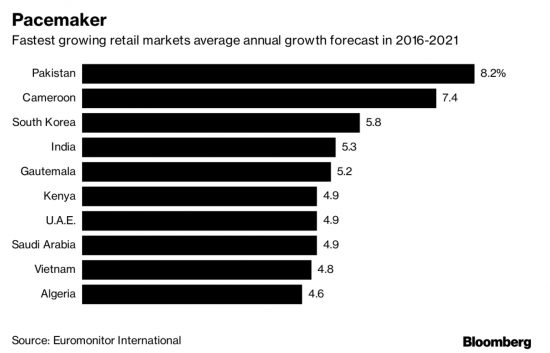 Pakistan's spices and condiments market was in 2017 (Database: Pakistan Bureau of Statistics) estimated to be worth Rs203 billion ($1,933 million).
Shan Foods' management estimates that the share of the informal market as a proportion of the total market has gone down by 10 percentage points in the last three years. Shan's compound annual growth rate (CAGR) for the same period witnessed "a strong double-digit growth", Tiwana said – thanks to our middle class' growing income levels and changing consumption trends.
Annual disposable income in Pakistan grew by 8% between 2015 and 2016, fetching the country 23rd position in the world in terms of growth of annual disposable income, the London-based market research firm Euromonitor International mentioned in its report last year. 'A strong indicator that consumption in the country' was increasing, and 'would continue to grow' – further driving the 'retail market', said the report. The annual disposable income, the report ascertained, is expected to grow at a constant value – a compound annual growth rate of 5.4% (based on fixed rupee-dollar exchange rate) between 2017 and 2022.
Besides these optimistic forecasts on local consumption, Shan is set to benefit from the recent surge in rupee-dollar parity – the rupee depreciating by 9% compared to the greenback.
Uptick encourages expansion
"Dollar appreciation benefits the export-oriented, so it will definitely help Shan," said Tiwana, adding, the extent of its benefit would reveal itself in the coming months.
Since exports constitute over 40% revenue and more than half of its profit, Shan is most likely to make a decent yield in profits that, market sources claim, saw a dip in 2013 and 2014.
On the decline in Shan's profitability, the CEO turned philosophical, saying, ups and downs were part of the business. To him, 'Multiple' factors may have triggered it. Such as, 'a slowdown in global economic growth bringing about regulatory changes' in international markets. "We have been growing for the last two years."
The recent uptick in its bottom line may have encouraged Shan to go for further expansion, but, critics say, the spices giant seems to be stuck in a select few categories, with its planned foray into new food segments on hold for a while.

The last time the company entered a new category was more than five years ago when it launched Shoop, its instant noodles range. Meanwhile, its main competitor, NFL, has added jams and ketchup to its portfolio as far back as 1997 – categories still missing from Shan's range.
When asked as to why the company had not ventured into new categories and product diversification, since this is part of its vision, Tiwana said, all those categories added to the company's product range over the past three decades are diversification of Shan's portfolio.
An industry expert concurs. "Shan has done the right thing by focussing on its core strength instead of overstretching its portfolio like NFL… It may be looking to expand within their existing categories or may go for vertical integration," added he.
The company chairman acknowledges that food businesses are targeting new, previously non-existent segments. Every business grows in two ways, says Sultan. 'One, by evolving and expanding the current portfolio, and, two, by capturing untapped opportunities that present themselves in the market. "One will always find opportunities in the market. The key is to pursue the right opportunity at the right time, in the right manner," says the chairman.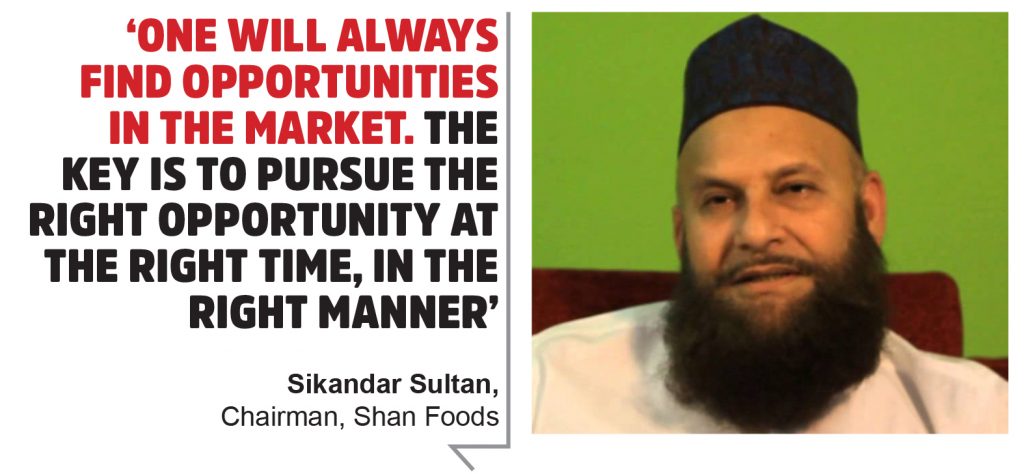 It is pertinent to mention here Shan sells rice and frozen food internationally but not in Pakistan, despite the categories being in high demand – as evident from a large number of players dealing in these commodities.
"The quality and price of rice Shan exports is not feasible for Pakistan, plus our expertise is in recipe mix, not rice. Therefore, we are not selling it locally," said Tiwana. As for fully-cooked frozen food Shan offers in Manchester, Tiwana said, the market was not ripe for it.
"The existing players are offering finger food, while we want to tap into the main course, like Nihari, Qorma, Biryani, and Haleem," said Tiwana.
Elaborating his point further, Tiwana said: "When the opportunity is there, we will take advantage of that. The purpose is to stay one step ahead of the competition."
Tiwana didn't disclose details of their expansion plans and the products or categories it will be adding to the business nor did he mention whether Shan will launch them from its own platform. He, however, confirmed Shan is looking to acquire another company.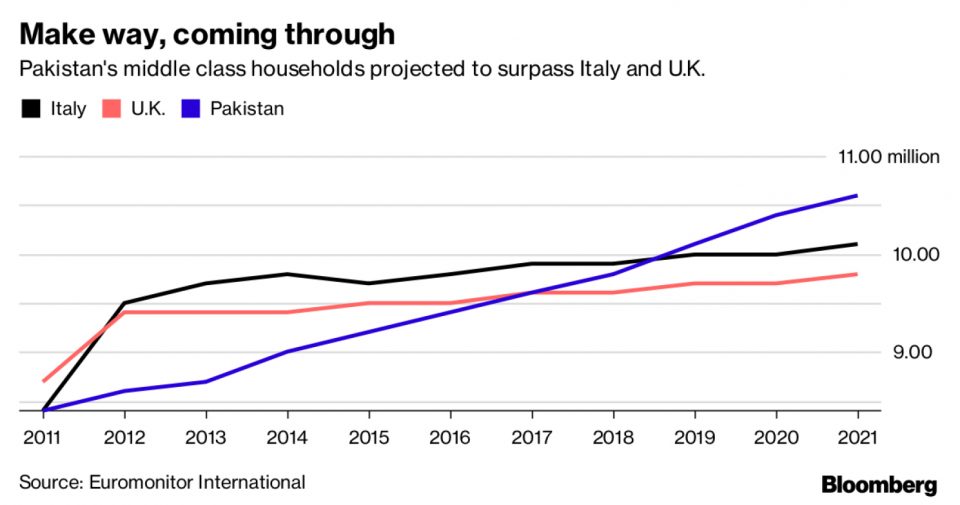 "Yes, we are thinking about an acquisition and we have even spoken to one company about it," said Tiwana, refusing to disclose further details. "It could also be an international acquisition," he said in an apparent reference to the arch-rival NFL's recent acquisition of Canada's A1 Cash + Carry.