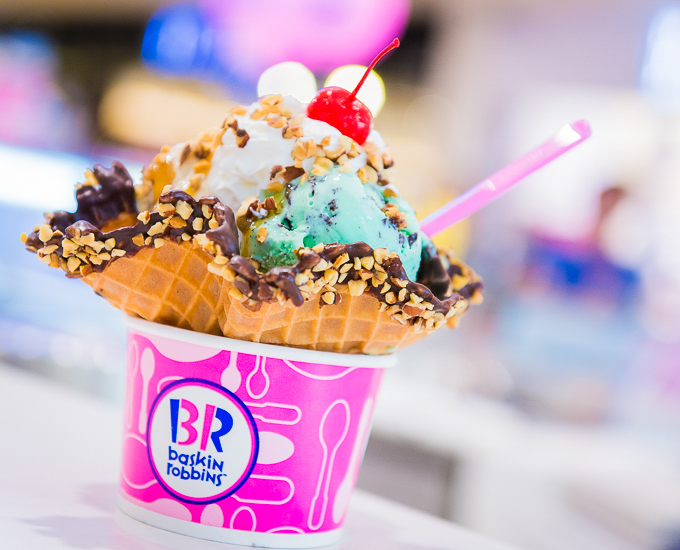 KARACHI: Baskin-Robbins, the world's largest chain of ice cream specialty shops, has opened its first outlet in Karachi at 3Com Tower, opposite Bilawal Chowrangi.
At a soft opening on June 5, 2018, Baskin-Robbins entertained children from the SOS Village in Karachi as its first guests at the new outlet and shared with them the flavours of happiness and fun that the brand is known for around the world.
The guest of honor on the occasion was the celebrated communicator Javed Jabbar who is a member of the Board of SOS Children Villages in Pakistan and is wholly committed to the SOS objective of providing shelter to every deserving child in the country. He has also served as former senator and federal minister.
Speaking at the soft opening, Javed Jabbar said it was a good sign that entrepreneurship in Pakistan was developing with vibrancy and there were competent individuals like Irfan Mustafa who were taking the initiative. He termed this as a good omen for the future viability of Pakistan's economy since so many international brands were investing in the market and Baskin-Robbins was one of them.
Dunkin' Brands International Vice President John Varughese, said,  "We are pleased to collaborate with Irfan, Harris and their team in developing the Baskin-Robbins brand in Pakistan by bringing our wide range of delicious ice cream flavours, cakes and other treats to Pakistani customers."
Baskin-Robbins has earlier opened 4 outlets in Lahore and the restaurant at 3Com Tower in Karachi is its 5th outlet in Pakistan. The first 31 customers coming to the outlet will win free ice cream for a year while the next 100 customers will get free ice cream for 31 days.
Baskin-Robbins aims to share happiness and smiles with the children of SOS Village and with every Pakistani through its brand.
Under an agreement with AHG Flavours (PVT) Limited, the Baskin-Robbins brand will be further developed in Pakistan and it is planned to open more Baskin-Robbins shops across the country.
The official grand opening of the Baskin-Robbins Karachi outlet will take place on Thursday, June 07 at 7,00 pm (post-Iftar).
Baskin-Robbins restaurants in Pakistan feature the brand's extensive selection of classic ice cream flavors, including Pralines 'n Cream, Jamoca® Almond Fudge, Mint Chocolate Chip and Very Berry Strawberry, alongside regional favorites such as Mango Tango and Tiramisu. The brand also offers its delicious range of custom ice cream cakes, frozen beverages, ice cream sundaes and take home ice cream treats.
Baskin-Robbins currently has 7,800 restaurants in more than 50 countries around the world.