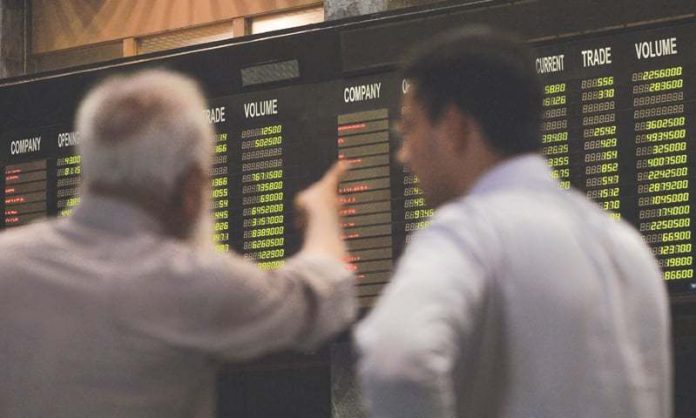 LAHORE: Bulls took control of the market after four consecutive sessions of bearish trend and indices moved in the upward trajectory. Foreign investors recorded net buying in the previous session amounting to a total of $2.02 million with top buying in the Oil and Gas Marketing Sector, net buying of $1.04 million.
The KSE 100 touched intraday high of 41,526.57 after it gathered 548.34 points then it finally settled at 41,246.09 up 267.86 points from previous day close. The KMI 30 index managed to gain 578.22 points and settled at 69,550.16. KSE All Share Index appreciated by 261.67 points. The advancers to decliners ratio stood at 177 to 148.
The market volume improved from 166.64 million on Monday's to 179.17 million. Power Cement Limited (POWER +0.96 per cent) led the volume chart with 31.57 million shares exchanged. The Bank of Punjab (BOP -0.25 per cent) was next on the list with 15.69 million shares traded which was followed by TRG Pakistan Limited (TRG +3.15 per cent) with 5.54 million shares traded.
Major contribution to the KSE 100 index gains came from health care (+1.7 per cent), energy (+1.03 per cent) and consumer discretionary (+0.83 per cent) amid value hunting in SEARL (+3.25 per cent), SHFA (+5 per cent), PPL (+1.23 per cent), POL (+1.23 per cent), PSO (+1.78 per cent), HASCOL (+5 per cent) and THALL (+1.82 per cent). Additional support came from select names from materials and industrials like ENGRO (+2.3 per cent), FCCL (+2.86 per cent) and TRG (+2.82 per cent).
In market-related news, Pakistan LNG is seeking five LNG cargoes for Sept-Oct delivery, according to the tender document posted on the website. Moreover, as per NFDC, Urea sales in May fell to 494,000 tonnes (-5.2 per cent YoY) while DAP sales were down -17 per cent YoY to 59,000 tonnes mainly as a result of pre-buying by dealers to beef-up stocks amid anticipated price hikes and urea shortage. Amid related news, the name of Singer Pakistan Limited has been changed to Waves Singer Pakistan Limited.
Power Cement Limited (POWER +0.96 per cent) recently completed its financing arrangements of Rs24.90 billion for expansion of its clinker production plant. Upon completion of this project, POWER is expected to become the second largest producer of cement in the Southern region according to the company's management. Its total capacity is estimated to be 3.40 million tonnes.
Lucky Electric Power company Limited, a 100 per cent indirectly owned subsidiary of Lucky Cement Limited (LUCK +0.28 per cent) has achieved its financial close on June 25, 2018, after fulfilling all the necessary requirements. It intends to set up a 660 MW coal-based power project for supplying electricity to the national grid. The project is expected to cost $885 million which will be financed through a debt to equity ratio of 75 per cent to 25 per cent. The project will start its commercial production in March 2021.
Technically speaking, the KSE 100 index is still trading in correction territory (-12.51 per cent) and could test levels last seen in October 2017 (sub 40,000). Long upper shadow from Tuesday's candle casts a moderate resistance at 41,526 (intraday high). While next major supports are at 200 Week EMA (38,458), 52 week low (37,736) and 50 month EMA (37,599), market analysts expect sub 40,000 levels (39,250-39,600) to entice market bulls into staging a comeback.