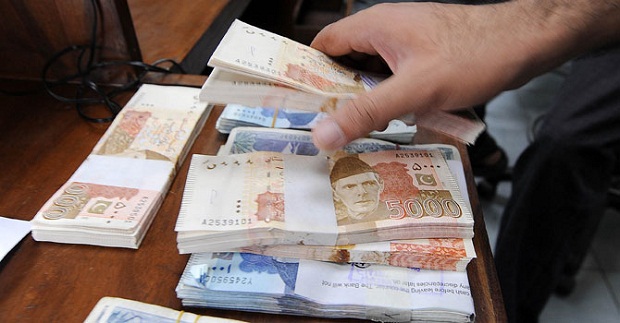 KARACHI: The Dollar today gained about 6.45 rupees in the interbank market as the interim government let the rupee slide deeper into the abyss. The State Bank of Pakistan (SBP) supported another bout of depreciation after it raised the interest rate by 100 bps on Saturday.
State Bank in the monetary policy statement signalled externals risks as the driving force behind the monetary policy decisions; rising estimates for fiscal deficit from 6.8 per cent to 5.5 per cent, current account deficit for 11 months reaching $16 billion, imports pressurizing forex reserves and the changing inflationary landscape in the wake of rising global oil prices.
The Pakistani Rupee is currently the worst performing currency in the world second only to the Turkish Lira. South Asian economies have all depreciated against the US Dollar during the last six months as confidence in developing and emerging markets continues to fade. Turkish Lira -26.41 per cent, Indonesian Rupee -6.93 per cent, Indian Rupee -6.12 per cent have all fallen against the greenback during the last six months. Pakistani Rupee (PKR) during the last six months has fallen more than 15.26 per cent, not accounting for today's devaluation, becoming the second worst performing currency in the world.
Lack of foreign investment, import in heavy trade numbers, rising Wholesale Price index (WPI), Consumer Price Index (CPI) and core inflation and forex reserves at three-year lows have all pushed the interim Finance Minister Dr Shamshad Akhtar to take bold and concrete steps during her short but crucial tenure. She recently suggested an International Monetary Fund (IMF) bailout might be the only way out for the upcoming government, and according to media reports she has already initiated proceedings for a bailout from IMF and the recent bouts in depreciation may be the prerequisite steps currently being taken by the Ministry of Finance to take the process ahead.
Analysts are of the opinion that today's exchange movement will have its due impact on the economy especially on the 100 index whereby it will influence sectors such as textile, E&P, IPPs, chemicals and IT sectors positively. Autos and Cement are likely to be affected negatively whereas refineries, OMC, and Fertiliser are expected to remain neutral.
To appease the IMF authorities, analysts further estimate that the Rupee would further be devalued to Rs130 by the end of this year.