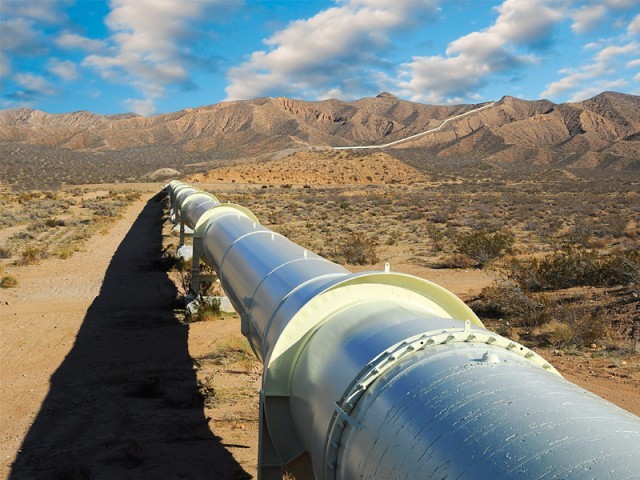 ISLAMABAD: Bilateral negotiations are in progress to finalise a Memorandum of Understanding (MoU) for an offshore pipeline deal, aimed at supplying gas to Pakistan with $10 billion investment from Russia.
"The MoU with the Gazprom, a Russian energy giant, is being finalised for the investment. The Russian investment in Pakistan's energy sector and crucial projects such as the offshore pipeline will eventually encourage regional connectivity," Inter-State Gas Systems (Pvt.) Limited (ISGSL) Managing Director Mobin Saulat said on Wednesday.
He said the ISGSL, a state entity working under the Petroleum Division of the Energy Ministry, is poised to play a leading role in forging energy cooperation with Russia at the bilateral level.
Saulat said a high-level Russian delegation was expected to visit Pakistan soon to discuss matters related to the $2 billion North-South gas pipeline project, besides a MoU for the offshore pipeline deal. Once the MoU is signed, a feasibility study for the offshore gas pipeline project would commence next year.
Commenting on the North-South pipeline project, he said that significant progress had been made and the bilateral talks on BOOT (Build-Own-Operate-Transfer) agreement had entered a crucial stage of negotiation.
Russia is eying greater energy cooperation with Pakistan as a vital link to upgrade and elevate ties with the upcoming government being formed after the General Election 2018, he added.
The route survey for laying 1100-kilometer gas pipeline from Lahore to Karachi (North-South) has been completed and the Price Negotiations Committee, constituted by the Economic Coordination Committee (ECC), is in the process of finalising its tariff.
Pakistani and Russian experts have been holding negotiations on the BOOT agreement to lay the pipeline for which the two countries had signed an intergovernmental accord on October 16, 2015.
Under the project, which did face delays due to international sanctions on Russian company RT-Global Resources, around12.4bcm (billion cubic meters) of gas would be transported per annum through a 42-inch diameter pipeline.