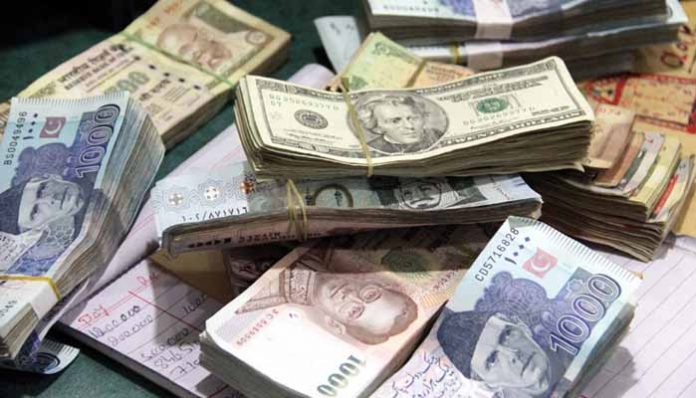 KARACHI: The rupee fell to its lowest against the greenback in the kerb market in seven weeks, trading at Rs125 to a dollar on Wednesday.
This development comes amidst a meeting held between the finance minister Asad Umar and currency exchange dealers earlier this week, reports Express Tribune.
However, the dealers who were part of the meeting strongly denied any link between the rupee's weakness and the meeting held in Islamabad.
With the Pakistani economy facing challenges at the external front, sliding foreign exchange reserves, the newly installed government is preparing a plan to outline on how to resolve these issues which includes a distinct possibility of approaching the International Monetary Fund (IMF).
The newly installed Pakistan Tehreek-e-Insaf (PTI) government has officially extended an invitation to an IMF team for discussions, as foreign exchange reserves plunged to $9.88 billion on August 31st, barely providing import cover for one month and a half.
If Pakistan agrees to obtain a bailout package from the IMF, the rupee would further plunge against the dollar and other major foreign currencies.
In the kerb market, the greenback was being sold between Rs125.3-125.5. However, the inter-bank market rate remained stable at Rs124.4 against the greenback, as per the central bank.
According to Exchange Companies Association of Pakistan (ECAP) General Secretary Zafar Parachi, the rupee's weakness was attributed to two reasons, one the rumours that it will be further depreciated by 5 percent in the inter-bank market.
Since December, the rupee has undergone four rounds of devaluation and stood at Rs128.17 till a day after elections.
After the conclusion of elections, the rupee rallied and staged a recovery against the greenback, appreciating in the first week before stabilizing at Rs123-124 level.
In the aftermath of the immediate appreciation of the rupee against the dollar in the inter-bank market, the open market had witnessed a panic situation as individuals sold of their dollar holdings to avoid losses.
Consequently, an oversupply of the dollar ensured the exchange rate remained unusually lower in the kerb market than the inter-bank market for several weeks.
It mostly was being sold in the range of Rs123-124 in the kerb market as opposed to over Rs124 in the inter-bank market.
Separately, the meeting held between the finance minister and currency dealers discussed the reducing the $10,000 limit for individual travellers to $5,000 since it was one of the foremost ways of dollar leakage.
A participant disclosed that smugglers mostly misused the travel limit and Mr Umar provided assurances to the currency dealers that the government would crack down on smugglers, hundi and hawala system operators to block dealer leakage.