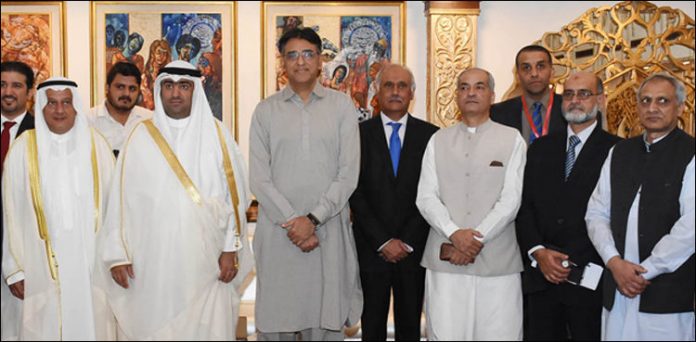 ISLAMABAD: The two-day Pakistan-Kuwait Joint Ministerial Commission meeting concluded on Friday. Finance Minister Asad Umar and Kuwait Commerce and Industry Minister Khaled Nasser Abdullah Al-Roudan co-chaired the meeting.
During the two-day interaction, there was a general consensus to further strengthen bilateral relations between the two countries especially in field of science and technology, business and finance as well as other potential sectors of economy.
The Pakistani side emphasized the need for utilizing the highly capable human resource of the country that can contribute towards the growth and development of Kuwait.
It was mutually agreed that both sides will facilitate frequent and unhindered movement of business community and labour force. Pakistan also expressed its desire to benefit from the extensive experience of Kuwait in the field of oil and gas exploration.
Both sides agreed that the fifth meeting of Pakistan-Kuwait Joint Ministerial Commission will be held at Kuwait in 2020.
Earlier on Thursday at the plenary session, both co-chairs highlighted the significance of Pak-Kuwait cordial political and economic relations.
Finance Minister Asad Umar expressed Pakistan's desire to enhance economic and commercial cooperation with Kuwait. He invited Kuwaiti businessmen to invest in agriculture farmland, milk and food processing plants in Pakistan.
The Kuwaiti delegation also separately called on Finance Minister Asad Umar to discuss avenues that could be explored for strengthening bilateral economic ties between the two countries.