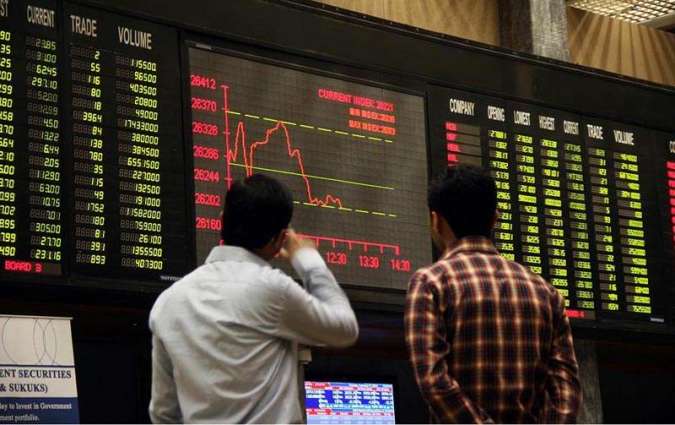 ISLAMABAD: Pakistan Stock Exchange recorded a free fall during the outgoing week where share values reached almost nine-month low with the recorded decline of 1,772 points owing to rising interest rates, worries on the economic scenario, strong words of International Monetary Fund (IMF) and rising political temperature.
The market's negative movement was triggered by weak economic indicators, causing investors to panic. Foreign investors chose to move with the market during the week as they trimmed their exposures to turn out as net sellers.
The index fell by 4.3 per cent to close at 39,226 points, falling below the 40,000 mark, a level last recorded in December 2017.
International oil prices soared to a four-year high in the preceding week, ahead of looming impositions of US sanctions on Iran's crude. With supply not meeting the demand, oil witnessed a rally in its prices.
The State Bank of Pakistan's decision to increase the policy rate to 8.5 per cent in its recent monetary policy led to many sectors staying in the red throughout the week. Sectors most affected by the hike in rates were steel, chemicals, cement and fertilizer, whose bottom-lines are expected to shrink further due to higher finance costs. They closed down 7.34 per cent, 5.54 per cent, 6.20 per cent and 2.09 per cent respectively.
In another development, the government decided to retract its decision and reinstated the ban on the purchase of properties and vehicles by non-filers. This led to negative sentiments in the automobiles sector, causing it to close down 7.48 per cent on weekly basis.
Individually, the automobile scraps turned out to be among the major losers after Honda Atlas, Indus Motors and Pak Suzuki all closed 12.35 per cent, 12.21 per cent and 8.87 per cent lower respectively.
"A looming threat of another round of devaluation and interest rate hike leads us to continue with our cautious stance and recommend investors to keep an eye out for attractive valuations and maintain exposure in fundamentally sound blue-chips," said an analyst from Arif Habib Limited.
He expects the market to remain range bound during next week, saying that political noise following Shahbaz Sharif's arrest can keep the investors cautious while some clarity regarding the IMF program may serve as a trigger for the market.
"Albeit, we advise investors to pick blue chip stocks with a positive long-term outlook," he added.