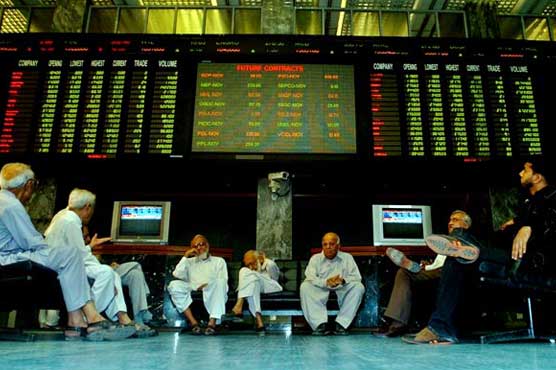 LAHORE: Breaking the shackles of six continuous sessions of losses, the KSE-100 index surged 965.21 points to 38,863.50 points within the 40 minutes of trading on news that Pakistan would be officially approaching the IMF for a bailout.
The KSE-100 index touched an intra-day high of 39,027.34 points within the first twenty minutes of trading, as uncertainty prevailing on the economic front ended and investors breathed a sigh of relief.
The stock market rose 2.55 percent on news that the government was officially seeking an IMF bailout in a video statement aired by the Finance Minister Asad Umar on Monday.
The highest trading was witnessed in commercial banking shares, chemical, cement, food & personal care products, pharmaceutical stocks and others.
The biggest advancers in stocks were Bata Pakistan, Island Textile Mills Limited, Mari Petroleum and Millat Tractor.
And the biggest losers in stocks were Khyber Tobacco, Hino Pak Motor, Indus Motor Company and Honda Atlas Cars till the filing of this report.
The economic uncertainty had affected the capital markets, as the KSE-100 index plunged 1328 points on Monday and ended six consecutive sessions of losses for the investors who lost billions in the process.