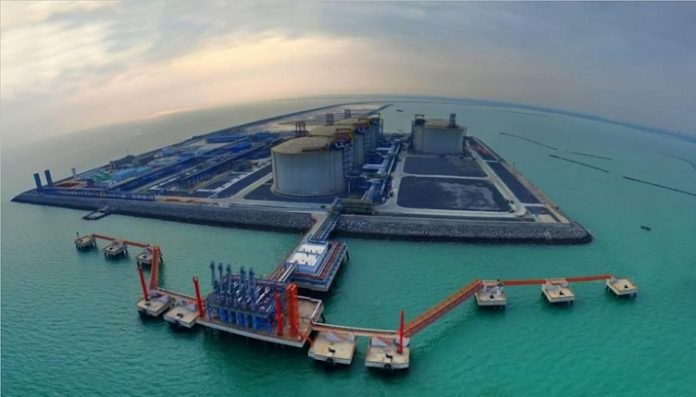 ISLAMABAD: The government has decided to review agreements linked to liquefied natural gas (LNG) terminals established during the previous PML-N administration following accusations of a higher rate of return for investors.
The issue was deliberated upon in a recent meeting of the Economic Coordination Committee (ECC) of the cabinet, officials told, reports Express Tribune.
Those in attendance at the ECC meeting were told by the officials of the Ministry of Energy (Petroleum Division) that the rate of equity and investment for the 1st LNG terminal was 15%, while the rate of investment for the second terminal was 15.4 percent.
According to the observation of economic managers, the LNG terminal operators were receiving a higher rate of return on their investments and said it was important to evaluate the agreements to see the chance of an amendment and revision.
The ECC instructed the Petroleum Division to ask for the legal opinion of Law and Justice Division regarding the LNG terminal agreements and know if the government had any recourse to revisit the terms and conditions.
It instructed the Oil and Gas Regulatory Authority (OGRA) and the Petroleum Division to submit details of equity and rate of return on equity and investment linked to both the LNG terminals for further deliberation of the ECC.
Petroleum Division officials apprised the ECC that the first LNG terminal was a brownfield project. However, the government via Inter State Gas Systems (ISGS) had floated open tenders for this terminal in August 2013.
Whilst sharing details about the second LNG terminal, the Petroleum Division told the ECC that it was a greenfield project and the government via Pakistan LNG Terminal Limited (PLTL) had floated a competitive and open tender for its setting up in 2015.
The ECC was told the 2nd LNG terminal was awarded on a build, own, operate (BOO) basis and was founded on the commodity/tariff bidding model instead of the IPP cost-plus model.