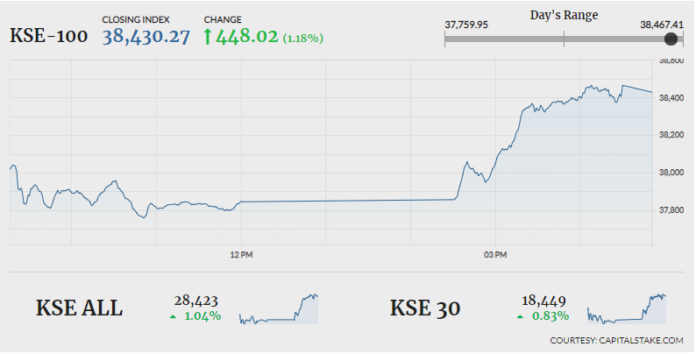 Indices kept falling in the first half before making a U-turn
KARACHI: The battle between bulls and bears at the Pakistan Stock Exchange (PSX) remained fierce on Friday, with the former eventually gaining the upper hand by the end of the day.
Indices kept following the downward trajectory in the first half of the session before taking a U-turn to end the last trading session of the week in green. After months of turmoil, indices saw some relief this week, as the KSE 100 index closed with a weekly gain of 2.50 per cent.
Among the economic activities, the most significant remained the assessment report published by Moody's credit rating agency, in which an International Monetary Fund (IMF) bailout programme was termed "essential for Pakistan" so that the country could meet its external financing needs of $30 billion.
The foreign exchange reserves held by the central bank continued to decline by 2.63 per cent for eight consecutive sessions, according to the latest data released by the State Bank of Pakistan. The reserves have fallen below the $8.50 billion mark.
The KSE 100 share index fell short by 222.30 points to touch an intraday low of 37,759.95. It then drove in the opposite direction and after gaining 485.16 points, touched an intraday high of 38,467.41. The index closed higher by 448.02 points at 38,430.27. The KMI 30 index gathered 462.06 points to settle at 65,361.89, while the KSE All Share index was up by 292.94 points and settled at 28,422.71. Trading volumes appreciated from 223.40 million in the previous trading session to 230.58 million.
Lotte Chemical Pakistan Limited (LOTCHEM +6.57 per cent) led the volume chart after the company declared its financial results for the third quarter of Financial Year 2017-18 (3QFY18). The script had 20.08 million shares exchanging hands. The company also announced an interim cash dividend of Rs1.50 per share. Sales surged up by a massive 94 per cent quarter-on-quarter (QoQ) while the earning per share jumped from Rs0.03 in the same period last year to Rs1.36 in the current year.
Engro Polymer and Chemicals Limited (EPCL +4.60 per cent) and Nimir Resins Limited (NRSL +12.52 per cent) were next in the line of volume leaders. The scripts had traded 13.14 million shares and 12.44 million shares respectively.
Engro Corporation Limited (ENGRO -1.24 per cent) also announced its financial performance for 3QFY18. An interim dividend of Rs7.00 was declared by the company in addition to Rs12.00 already paid. The company's revenue was up by 70 per cent QoQ, whereas the earning per share appreciated from Rs4.58 in the same quarter last year to Rs6.25 in the current year (an increase of 36 per cent QoQ).