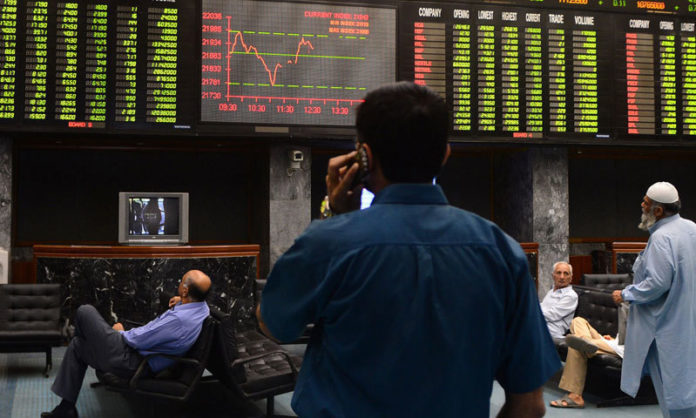 LAHORE: The Pakistan Stock Exchange (KSE 100 Index) closed on a bullish trend on Friday having increased 2,126 points since the last week.
The index stood at 40,556.45 points, increasing at a total 5.5 per cent WoW. Average daily turnover also showed a positive sign with a weekly increase of 51.1 per cent and a turnover of 301.03 million shares, as compared to a turnover of 199.22 million shares last week.
The top traded shares for the week included Bank of Punjab (BOP) with 146.81 million shares, K-Electric (KEL) with 114.5 million shares, Lotte Chemicals (LOTCHEM) with 90.45 million shares and TRG Pakistan Ltd (TRG) with 54.2 million shares. However, foreign investors remained net sellers again with the Net FIPI figure close to -$17.2 million, as compared to the last week's figure of -$19.2 million.
The trading week started with bearish trends, with a more or less disappointing earnings season coupled with an increase in power tariffs to 10-15 per cent. From the third day of the trading week, bullish sentiment entered the market and continued till Friday. The market crossed resistance levels from thereon and crossed the 40,000 mark, thus ending the last trading session with an increase of 924 points (+2.33 per cent), besides indicating positive trends to continue in the wake of recent happenings.
The recovering investor sentiment is mainly due to the government's successful campaign in Saudi Arabia where a financial relief package of $6 billion was secured. Saudi Arabia also plans to invest $2 billion in desalination projects. It is also likely that UAE will also grant a package of $1 billion in the near future.
Going forward, market analysts see similar positive outcomes when Prime Minister Imran Khan would visit China and Malaysia early next month. However, they warned that the investor sentiment could weaken if the government fails in securing further assistance.
It is important to note that despite current sentiments, going to the International Monetary Fund (IMF) for a bailout package is still on the cards. The financial assistance by friendly countries would pave the way for a more cooperative negotiation with IMF and possibly a small bailout package, analysts said.
In the long term, it is expected that the continuation of bullish trends in the capital markets will be based on policy measures which increase government revenue, potential IMF bailout package, structural reforms of the Federal Board of Revenue (FBR) to increase the tax base, narrowing the current account deficit and stabilizing the exchange rate by keeping it near an equilibrium value.
If proper policies and reforms are put in place, it is expected that net buying in FIPI would increase, which would ultimately sustain the bullish trends. Also, there is plenty of liquidity potential available with domestic investors, once bullish trends continue; it is expected that inflows would enter from the domestic front as well.