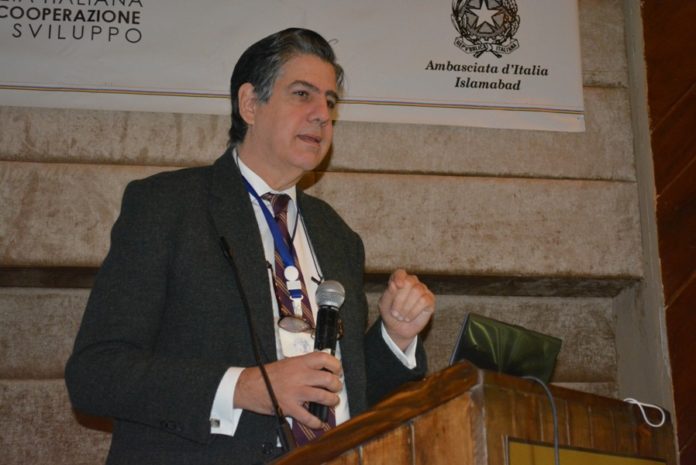 Italy envoy hints his country could help govt in its Naya Pakistan Housing Programme
ISLAMABAD: Ambassador of Italy Stefano Pontecorva said on Monday that his country considered Pakistan a promising destination for business activities, adding that an Italian business delegation was scheduled to visit Pakistan in February next year to explore investment opportunities.
The envoy was exchanging his views with Islamabad Chamber of Commerce and Industry President Ahmed Hassan Moughal, who called on him to discuss the possibilities of organizing a business opportunities conference (BoC) in Italy. Pontecorva appreciated the ICCI proposal for organizing a BoC in Italy, saying that the Italian trade commissioner would visit Pakistan in December in this regard.
He identified airport management system, construction of roads, power generation, marble, mining, textiles, logistics, robotics and cosmetics as potential areas of cooperation between Pakistan and Italy and stressed that Pakistani private sector should accelerate efforts to take advantage of these opportunities.
He said that Pakistani diaspora in Italy consists of leading businessmen who were contributing significantly to the economy, adding that Italy could also cooperate with the government in its Naya Pakistan Housing Programme.
Speaking on the occasion, ICCI President Ahmed Hassan Moughal said his chamber had held a successful business opportunities conference in Turkey in June this year and now it intended to organise a similar event in Italy for which close cooperation of the Italian Embassy was needed.
He said although Pakistan was facing challenges, the business community was optimistic about the initiatives of the government.
"The China Pakistan Economic Corridor (CPEC) has created great prospects for foreign investors in Pakistan and Italian investors should explore the country for joint ventures and investments under CPEC."
ICCI Senior Vice President Rafat Farid and Vice President Iftikhar Anwar Sethi assured that the chamber would fully cooperate with Italian business delegation during its visit to Pakistan in organizing business-to-business (B2B) meetings and connecting them with right counterparts in Pakistan.
Both sides resolved to work together with an aim to promote direct connectivity between the private sectors of Pakistan and Italy, as well as to improve bilateral and economic relations between both countries.