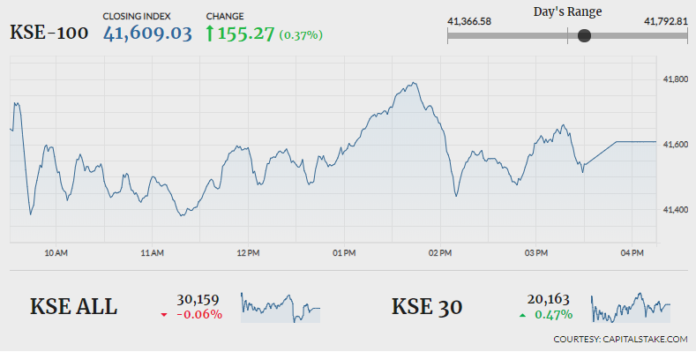 Indices swayed violently in both directions all day long
KARACHI: After putting up a confused show on Tuesday, the Pakistan Stock Exchange (PSX) managed to end the session in green.
The mood of foreign investors has not changed yet, ending as net sellers on Monday with a net outflow of $9.31 million.
The KSE 100 index declined by 87.18 points to touch an intraday low of 41,366.58 minutes after the session commenced. It then reached an intraday high of 41,792.81 after gaining 339.05 points, before settling higher by 155.27 points at 41,609.03. The KMI 30 index appreciated by 211.76 points to settle at 71,722.57, while the KSE All Share index fell short by 19.47 points at 30,159.44. Out of the total traded scripts, only 136 advanced while 217 declined.
Trading volumes declined from 461.07 million in the previous session to 327.81 million. The Bank of Punjab (BOP -0.92 per cent) was the volume leader for another session with 33.03 shares exchanging hands, followed by Pak Elektron Limited (PAEL -3.97 per cent) and TRG Pakistan Limited (TRG -3.17 per cent). The scripts had traded 24.46 million and 22.85 million shares respectively.
The cement sector after gaining 2.64 per cent in its cumulative market capitalization was the top gainer of the session. DG Khan Cement Company Limited (DGKC +5.00 per cent) touched its upper lock while Lucky Cement Limited was up by 2.35 per cent. Bestway Cement Limited (BWCL +4.89 per cent), Maple Leaf Cement Factory Limited (MLCF +4.99 per cent) and Fauji Cement Company Limited (FCCL +2.15 per cent) ended the day with decent gains.
Dawood Hercules Corporation Limited (DAWH +2.67 per cent) declared its financial performance for the third quarter of 2018. An interim cash dividend of Rs3 was announced by the company. It's revenue remained constant while the earning per share increased from Rs1.92 in the same period last year to Rs2.47 in the current year.
Pak Elektron Limited (PAEL -3.97 per cent) released its financial results for 3QFY18. Sales were up by 23 per cent QoQ, while earning per share declined by 4 per cent QoQ (3QFY17 Rs0.24, 3QFY18 Rs0.23). The company's gross profit margin decreased compared to the same period last year due to an increase of 30 per cent in the cost of sales.