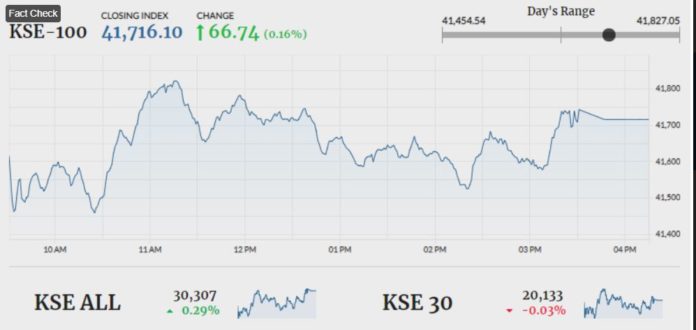 LAHORE: Following the news of nationwide protests, the Pakistan Stock Exchange witnessed another choppy session where the indices swung violently in both directions before eventually closing up by 66.74 points at 41,716.10 points on Thursday.
Foreign investors continued to off-load on Wednesday once again with a net outflow of $1.06 million.
On the economic front, the Oil and Gas Regulatory Authority (OGRA), has increased the prices of petrol by Rs5.00 per litre.
The KSE 100 index lost 194.82 points to reach an intraday low of 41,454.54. The index then revived after gaining 177.69 points to touch an intraday high of 41,827.05. It settled higher by 66.74 points at 41,716.10.
The KMI 30 index managed to gain 120.77 points to end the session at 71,859.45, while the KSE All Share index added only 87.08 points since the last close. Out of the total traded scripts, only 206 advanced whereas 125 declined.
Trading volumes declined from 285.22 million in the previous session to 245.12 million. Pakistan International Bulk Terminal Limited (PIBTL +4.61 per cent) dominated the volume chart with 22.12 million shares exchanged.
The Bank of Punjab (BOP +2.99 per cent) ranked second on the chart trading 18.66 million shares, followed by Pak Elektron Limited (PAEL +4.70 per cent) with 11.77 million shares exchanging hands.
The transport (+4.30 per cent), Pharmaceutical (+2.92 per cent) and chemical sectors (2.65 per cent) were the major gainers today, while the banking sector (largest sector by market capitalization) lost 0.30 per cent from its cumulative market capitalization.
Worldcall Telecom (WTL -4.88 per cent) released its financials for the third quarter of FY18. An interim cash dividend of Rs0.11 was declared by the company, while the sales recorded a yearly increase of 67 per cent. The earnings per share improved from Rs-0.40 in the same period last year to Rs0.07 in the current year.
Hala Enterprises Limited (HAEL -9.23 per cent) announced its financial performance for first quarter of FY19. Sales depreciated by 19 per cent YoY. Moreover, earnings per share also declined by a massive 67 per cent YoY (1QFY8 Rs0.15, 1QFY19 Rs0.05).