Entrepreneurs are by definition people who create and manage businesses for the purpose of generating profit. We at Profit, have in the past brought into light the success stories of entrepreneurs running profitable businesses and also the stories of those whose business ventures have not turned out too fruitful.
On paper, the equation is simply maximizing the difference between revenue and expenses, yet, a surprisingly large proportion of businesses and entrepreneurs fail to achieve this.
Imagine you are running a business that earns Rs1 million in revenues annually while employing 5 sales people at an annual salary of Rs100,000. You hire 10 new sales people at the same average annual salary and by the end of the year are able to increase your revenue to Rs2.2 million. By doing so you would add an additional Rs200,000 to your net profit but your profit margin would have reduced from 50 per cent to 32 per cent. This means that for every rupee of sale made the business now earns a profit of Rs0.32 compared to Rs0.50 that it was earning last year.
Hence cost control is essentially one of the two pillars on which profit maximization stands. "Companies in Pakistan never used to focus on cost control, but since low cost manufactured products from China have increasingly become available in the market, only companies who move towards cost cutting will eventually survive," says Dr Zahoor Sarwar, the Chief Executive Officer (CEO) of Research Teck, a company working on cost cutting, energy conservation and productivity enhancement in different industries.
The company works on three basic concepts of lean manufacturing, kaizen, and 5S to achieve maximum cost control. Lean manufacturing is by definition a method for waste minimisation within a production or a manufacturing system without sacrificing productivity, while kaizen, a Japanese word for improvement, is a concept that focuses on continuously improving all functions in an organisation. Similarly, the 5S's in 5S, that is also a Japanese concept, translate to 'sort', 'set in order', 'shine', 'standardise' and 'sustain', focusing on the process of organising a work space for efficiency and effectiveness and sustaining the new efficient model for future cost savings.
Savings simplified
As a case in point, the company has recently worked with Millat Tractors Limited where they worked on the implementation of lean manufacturing techniques to reduce wastages and increase the safety of workers.
"The implementation process was very gradual as the factory was very old and the labour union was very strong. We had to train the workforce and created a culture where the workers themselves would be encouraged to work efficiently to cut down on costs," Sarwar explains.  As a result, the overtime consumed on tractors due to rework and rejections dropped from Rs1,633 per tractor to Rs828 per tractor in a time span of 18 months. "If you multiply the overtime saved per tractor with 45,000 (the amount of tractors produced), the saving comes down to around Rs40 million and this is only one saving among many others."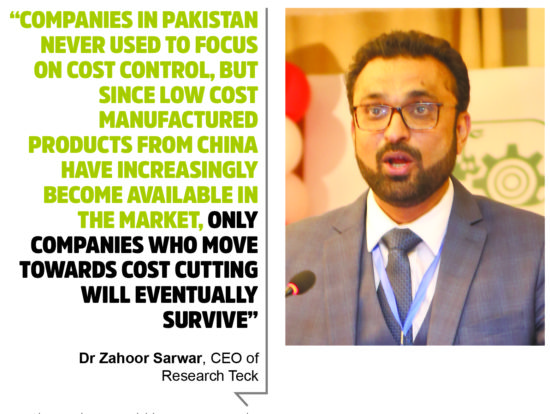 Similarly, the company has also worked with Master Group on energy conservation and was able to reduce electricity expenses by almost 68 per cent in a span of 10 months. In May 2015, Master's electricity bill stood at Rs8.072 million which dropped to Rs2.672 million by February 2016.
"When we started working with Master Group, they were operating with eight compressors, so we worked on controlling the air leakages. Once air leakages were controlled, the load on the compressors decreased and we were able to bring down the number from eight to three working compressors," Sarwar explains.
"We also introduced the concept of using sunlight instead of electric lights. They had a lighting system of around 125 kilowatts and we bought it down to 27 kilowatts," he continues. "The three electricity phases are like car wheels, if they aren't balanced they will consume more energy. Balancing the phases properly results in almost a seven per cent saving in electricity costs."
Sarwar says that internationally, factories are obligated by law to undergo an energy audit every year. But such a law does not exist in Pakistan which has led to enormously high energy consumption in factories in Pakistan. "Our export-oriented industries are becoming uncompetitive in the international market because of high overheads. They have to work on reducing their manufacturing costs if they want to grow and enhance their exports despite the challenges provided by globalisation," Sarwar argues, claiming that his company has helped various manufacturing factories achieve 25 to 70 per cent reduction in energy bills.
Giving carbon credits due credit
Reducing waste is not just good for profits but benefits the environment as well, in turn helping companies reduce their carbon footprint. World over, carbon credit markets are regulated by governments which give incentives to organisations for lowering their carbon content output. For example, a basic cap-and-trade scheme binds companies to an overall emission limit whereby if the emissions of a certain company fall below the allowable limit, it can sell the difference to a company that is exceeding its own emission allowance. This mechanism was formalized through the Kyoto Protocol, which is an international agreement signed by more than 170 countries.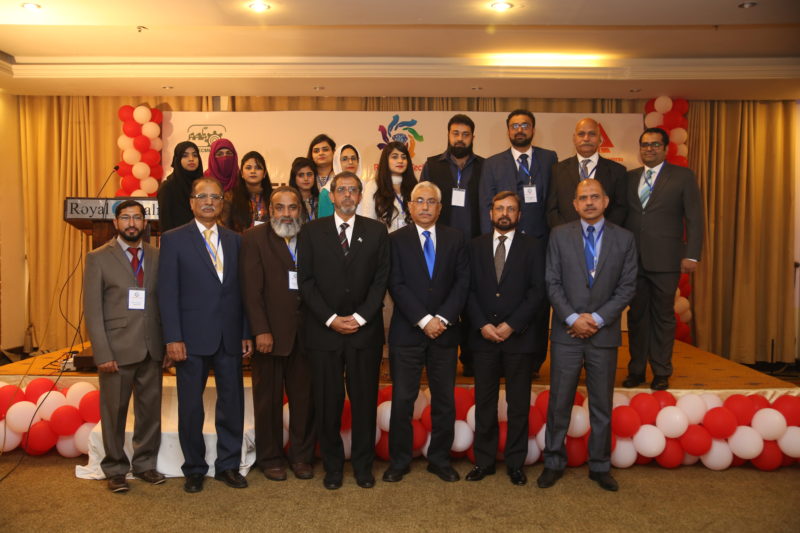 "In Pakistan, people lack knowledge regarding carbon content and how they are measured. They are unaware of the concept of claiming carbon credits," Sarwar says, insisting that local companies can and should use them to their advantage. "If factories focus on reducing their waste, they can lower their carbon emission and gain monetary incentives from the United Nations. Companies in Pakistan have turnovers amounting to billions of rupees but lack basic understanding regarding how to properly utilise carbon credits."
However, not all hope is lost and manufacturing companies in Pakistan seem to be slowly catching up. In 2012, DG Khan Cement successfully registered their Waste Heat Recovery Project situated at Dera Ghazi Khan, with the United Nations Framework Convention on Climate Change (UNFCCC) for carbon credit. Similarly, Pakistan Tobacco Company (PTC) and Interloop have individually taken steps to monitor and reduce their carbon content emissions. Interloop's sock production facility in Faisalabad achieved LEED Gold certification from the United States Green Building Council. The company was able to achieve a 26 per cent saving in energy consumption, a 51 per cent reduction in potable water usage, and a 25 per cent enhancement in fresh air intake. "Other companies should learn from such examples and follow suit," Sarwar says.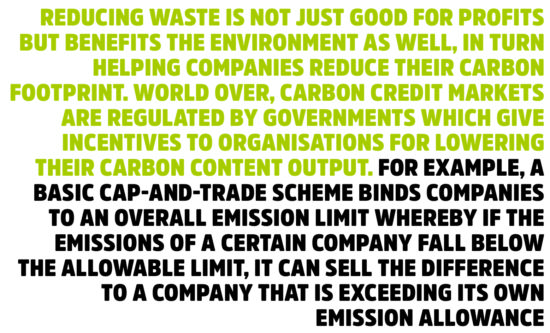 Carbon trading is also being considered as a viable policy action by the Government of Pakistan. In January 2018, a national consultation was organized in Islamabad by the Ministry of Climate Change and the Collaborative Instruments for Ambitious Climate Action (CI-ACA) project, which is run by the United Nations Framework Convention on Climate Change Secretariat. Representative of as many as 60 public- and private-sector organization attended and agreed that carbon pricing is worth exploring as a way to reduce emissions and boost green investment. Based on the outcomes of the consultation, the Ministry of Climate Change planned to launch an in-depth technical study on a possible carbon pricing instrument for Pakistan. After the election of a new government in summer 2018, Malik Amin Aslam Khan who is considered a climate change expert with a focus on carbon finance has been named to lead the climate change ministry.