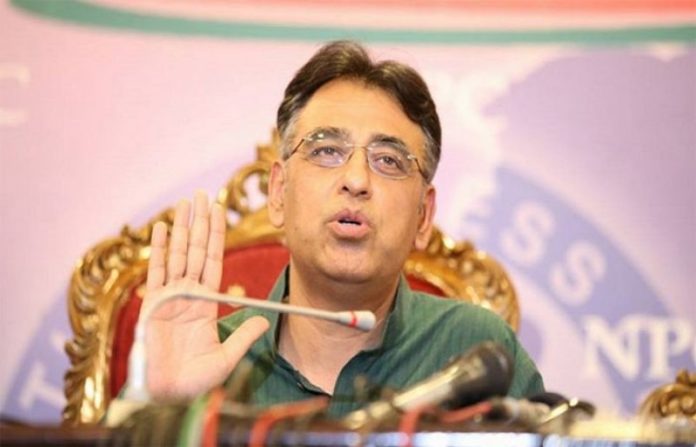 Finance minister says conditions presented by IMF will be taken to National Assembly for discussion
Finance Minister Asad Umar confirmed on Wednesday that national security will not be compromised in any deal with the International Monetary Fund (IMF).
During a talk show with a private television channel, the finance minister said that conditions presented by the IMF will be taken to the National Assembly for discussion.
An IMF delegation is currently in Pakistan for two weeks and the finance minister said a bailout of at least $5 – $6 billion would be negotiated.
Umar said that Pakistan is going to friendly countries including Saudi Arabia and China for financial assistance to ensure that if the IMF presents terms of agreement for a bailout package that are "not amenable to us", the country will not have to compromise and clarified no such terms had arisen as yet.
Calling the IMF a "lender of the last resort", he said that going to the IMF is not a desirable option and both military and democratic governments had resorted to IMF bailout packages in the past. "This would be the last time Pakistan would have to do this," claimed the finance minister.
Referring to the recent increase in electricity prices, the minister clarified that the hike was not made at the request of the IMF, adding that the hikes were a measure the government independently felt had been a long time coming.
"If we do not increase prices and keep taking loans, the burden falls on the poorest parts of the population who have no electricity. We have been spending beyond our means and the effects are now upon us."
Umar said the country could expect good news from China as the government had received assurances from the Chinese head of state Xi Jinping that the country would assist Pakistan with immediate financing and in increasing exports to China. With this, he assured the immediate balance of payment crisis has ended.
The finance minister stated the government was bringing Chinese cybersecurity experts to bring in more secure technology transfer in light of the recent hacking attack targetting local banks.