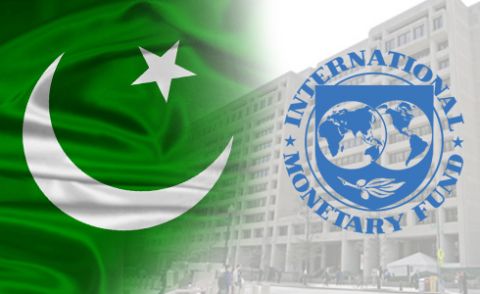 ISLAMABAD: The International Monetary Fund (IMF) on Thursday expressed worry over the energy deals reached under the China-Pakistan Economic Corridor (CPEC) and implications of those contracts under the fiscal framework.
On the second day of deliberations with the IMF team, the Ministry of Planning and Power Division officials met them as a $9 billion variation surfaced between the figures shared by Islamabad and Beijing about the cost of underway and completed projects, reports Express Tribune.
According to the Chinese embassy, the cost of 22 underway and completed projects is $9 billion lower than the figures claimed by the Planning Ministry.
The variation of $9 billion could create problems in making accurate projections linked to future CPEC related outflows, said sources in the Ministry of Finance.
The IMF team asked about the outcome of CPEC energy deals on Pakistan's financial health and the questions revolved around the impact of sovereign guarantees that the country had extended to Chinese power producers.
Also, the Washington-based lender queried about the high rate of return offered by Pakistan to Chinese investors.
However, the issue of the $9 billion didn't come under discussion during the meeting, sources said.
A briefing on infrastructure projects was provided by the Ministry of Planning and Development and a session was conducted on energy projects by the Power Division.
The officially declared cost of 22 ongoing and completed projects has been put at $28.6 billion by the Ministry of Planning officially.
And these figures have been provided to the IMF and the federal cabinet during staff-level talks held in October.
In a press briefing in October, the Chinese Ambassador shared the 22 projects were valued at $19 billion were either under contemplation or had been completed.
However, the Chinese embassy isn't including Kohala power project, 300MW Gwadar Power Plant and Oracle power plant in the underway schemes, said an official of the Planning ministry who declined to be named.
The official spokesman of the Planning Commission on CPEC affairs Hasan Daud Butt in response to a query said that according to their determination the cost of 22 projects was $28 billion, however, he was unable to provide a list of projects to back his claim.
A detailed briefing regarding the financing structure of the energy deals under CPEC was given to the IMF delegation by the authorities, said sources in the finance ministry.
As per details, the power division officials on Thursday tabled its performance chart before the IMF team. The chart included information on tariff, recovery and losses. The power division also gave a detailed presentation to the delegation on circular debt.
According to sources, the main worry of the IMF was the Central Power Purchasing Agency Guaranteed (CPPA-G) Limited which had defaulted on its payment to the power producers, who would be picking up the cost.