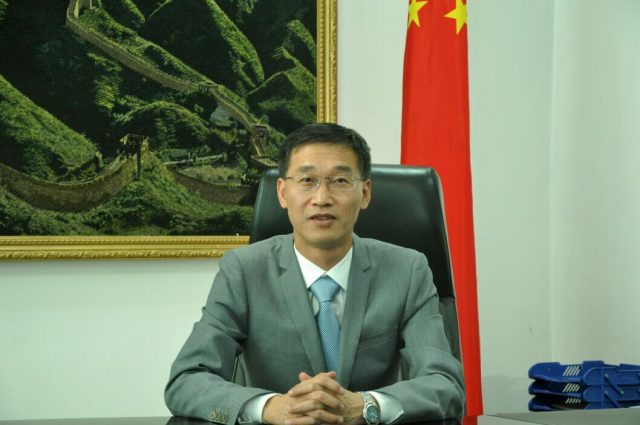 Envoy says PM Imran Khan's recent visit to China has added new impetus to the friendly bond between the two countries
ISLAMABAD: Chinese Ambassador Yao Jing has said that the China Pakistan Economic Corridor (CPEC) would act as a catalyst for Pakistan's industrial and social sector development.
The ambassador expressed these views while speaking at an exclusive gathering of retired military officers organised by a think tank 'Measac Research Centre' on Friday.
The event marked the first time that the Chinese ambassador had a face-to-face interaction with the senior retired officers of Pakistan military.
The purpose of the session was to allow the senior military officers of Pakistan to directly listen to the views of the Chinese ambassador on China-Pakistan relations with a particular reference to CPEC. It also provided an opportunity to the officers to freely interact, solicit their views and suggest ways to clear the misconceptions and negative propaganda surrounding CPEC and to further enhance the relations between the two neighbours.
Ambassador Yao Jing said that the corridor would open a new vista of regional connectivity, adding that China wanted to help Pakistan develop on fast track basis through CPEC.
"China wants to see a prosperous and strong Pakistan. I think CPEC will provide Pakistan with an option to adopt swift development, which will ultimately bring about national unity and strength," he remarked.
The envoy noted that both countries had strong military-to-military cooperation, adding that Pakistan military's contributions in counterterrorism were praiseworthy.
"China attaches great importance to the military-to-military cooperation it shares with Pakistan. CPEC is only one component of Sino-Pakistan friendship while the friendly ties are multidimensional. Prime Minister Imran Khan's recent visit has added new impetus to the friendly bond between the two countries," he said.
The Chinese ambassador mentioned that PM Imran Khan gave an impressive performance at the China International Import Expo, 2018. "His speech expressed his eagerness to promote the bilateral relationship between China and Pakistan," he added.
He said the leadership of Pakistan's armed forces had a large share in developing bilateral, strategic and military links with China.
"The Pakistani armed forces had rendered huge sacrifices in counterterrorism efforts to bring peace not only to the region but to the world and they have complete right to tell the world about their success against terrorism," the envoy remarked.
He said CPEC was a consensus project and all political parties of Pakistan supported the project. "We are now focusing on building special economic zones (SEZs) through joint ventures to enhance exports as well as the manufacturing capacity and of Pakistan," he added.
He said during PM Imran Khan's visit to China, first SEZ in Khyber Pakhtunkhwa province was finalized, whereas a new working group agenda was functioning under CPEC's social sector development programme to uplift underdeveloped areas of Southern Punjab, Sindh, KP and Balochistan.
"We are trying to consolidate our relationship with Pakistan for the last one year, and President Xi, during PM Khan's visit, stated that China was Pakistan's iron brother and would assist the later in all circumstances," the envoy concluded.
Measac Director General Abdullah Hamid Gul on the occasion said it was the first time that such an interaction of a foreign ambassador with top retired army officers was held. "This further reflects the brotherly relations that exist between China and Pakistan," he added.
He proposed the ambassador to develop a forum of experts that could write papers to him, providing profound opinions over strategic, development and other issues.
Former Pakistan army officers including former army chief Gen (r) Mirza Aslam Baig, Air Chief Marshal (r) Sohail Aman, Lt Gen (r) Amjad Shoaib, Lt Gen (r) Asad Durrani, Lt Gen (r) Naeem Khan Lodhi, Lt Gen (r) Nadir Khan, Lt Gen (r) Mustafa Khan, Maj Gen (r) Tahir Aslam, Maj Gen (r) Javed Aslam, Maj Gen (r) Alam Khataq and more than two dozen other officers deliberated their earnest opinions and suggestions on strategies to further strengthen bilateral relationships, defense and economic cooperation.