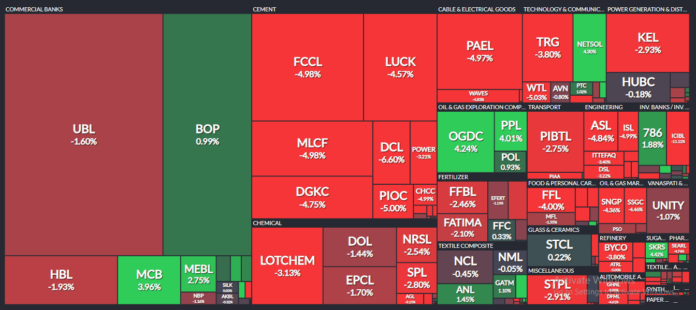 KARACHI: Last day of the week brought no good news for investors at the Pakistan Stock Exchange (PSX), as the index reacted adversely to the sudden depreciation in rupee to end the session in red.
Pakistani currency depreciated by 7.50 per cent and reached Rs144 against dollar in the interbank market on Friday. This fifth round adds the country's currency to the list of worst performing currencies in Asia. Many market analysts have termed this as a preparation to obtain the International Monetary Fund (IMF) package. Even a media appearance by the finance minister wasn't enough to save the day at the exchange.
According to the latest data released by the State Bank of Pakistan, the foreign exchange reserves held by central bank surged by 10.6 per cent on WoW basis, breaking the trend of the past 13 weeks. The foreign currency reserves were recorded at $8,062.4 million, up by $775.9 million. The increase was owed to official bilateral inflows.
The KSE 100 index touched an intraday high of 40,936.73 (up by 297.90 points) in the first half of the session on Friday. Following the news of rupee depreciation, the indices fell, reaching an intraday low of 40,339.93 after losing 298.90 points. The index then settled lower by 142.80 points at 40,496.03.
The KMI 30 index depreciated by 494.61 points and ended at 68,388.96, while the KSE All Share index managed to gather 29.97 points, closing at 29,381.69. The advancers to decliners ratio stood at 83 to 236.
Trading volumes improved significantly from the previous trading session and were recorded at 270.58 million. The highlight of the day was United Bank Limited (UBL -1.60pc) leading the volume charts with 52.02 million shares exchanging hands (19pc of total volume). This was followed by The Bank of Punjab (BOP +0.99pc) and Fauji Cement Company Limited (FCCL -4.98pc). The scripts had traded 29.14 million and 14.46 million shares respectively.
The cement sector took a massive blow amid currency depreciation and lost 3.95pc from its cumulative market capitalization. Lucky Cement Limited (LUCK) declined by -4.57pc, D G Khan Cement Company Limited (DGKC) by -4.75pc, Maple Leaf Cement Factory Limited (MLCF) by -4.98pc, Fauji Cement Company Limited (FCCL) by -4.98pc, while Kohat Cement Company Limited was down by -5.00pc.
Ahead of the monetary policy statement, the commercial bank sector added 0.57pc to its cumulative market capitalization. MCB Bank Limited (MCB) appreciated by 3.96pc, whereas Habib Bank Limited (HBL -1.93pc) and United Bank Limited (UBL -1.60pc) ended negative.