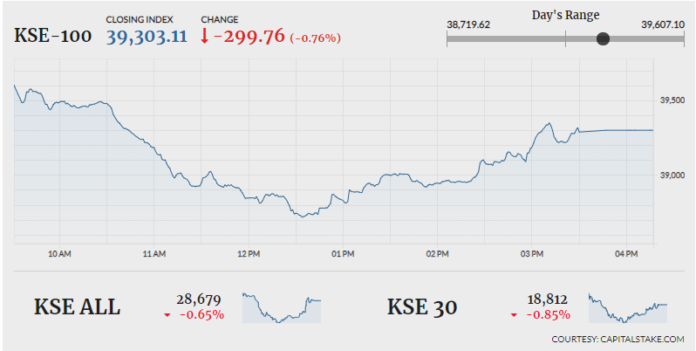 KARACHI: The Pakistan Stock Exchange (PSX) on Wednesday failed to keep up with its positive momentum and ended the session in red. Despite the finance minister's reassurance to the investors on "improvements" in macroeconomic indicators, the investor confidence remained thin.
According to the latest data released by State Bank of Pakistan (SBP) on Tuesday, the country's external debt and liabilities increased to $96.7 billion as of September-end. In the recent data published by Pakistan Bureau of Statistics (PBS), inflation rate slowed to 6.5pc in November as compared to 6.8pc in the previous month.
Trading resumed on a positive note where the index touched its intraday high of 39,607.10 minutes after the session commenced. The index then witnessed a free fall in reverse direction and reached its day's low of 38,719.62 after losing 883.25 points. Later, after recovering a little, it settled with a loss of 299.76 points at 39,303.11. The KMI 30 index depreciated by 162.09 to close at 66,303.31, while the KSE All Share index was down by 188.22 points, closing at 28,678.83. The advancers to decliners ratio stood at 91 to 224.
Trading volumes declined significantly and were recorded at 138.10 million. Lotte Chemical Pakistan Limited (LOTCHEM +0.96pc) was the most traded script of the day with 10.63 million shares exchanging hands, followed by The Bank of Punjab (BOP +0.38pc) with 9.90 million shares. Maple Leaf Cement Factory Limited (MLCF -3.17pc) also managed to be among the top traded scripts for the second consecutive session with 8.11 million shares exchanging hands.
The food and personal care products sector (-2.30pc), investment banking sector (-2.17pc), refinery sector (-2.12pc), textile weaving sector (-1.98pc) and automobile parts and accessories (-1.86pc) were among the major losers of the day.
The automobile assembler sector lost 0.86pc from its cumulative market capitalization. Atlas Honda Limited (ATLH) was down by 4.24pc, Indus Motor Company Limited (INDU) by -0.44pc, Sazgar Engineering Works Limited (SAZEW) by -4.11pc and Pakistan Suzuki Motors Company Limited (PSMC) by -2.34pc, whereas Hinopak Motors Limited (HINO +5.00pc), Ghandhara Nissan Limited (GHNL +4.29pc) and Millat Tractors Limited (MTL +1.04pc) ended in green.