Avanceon – a hybrid of French word 'avance' and 'eon', which translates literally into 'progressing, forever' – is an enterprising name for a company. As the name goes, it requires ruthless ambition to justify its parlance, a challenge which Bakhtiar Wain, the founder and CEO of Avanceon Ltd, seems to have readily accepted as the company gears up for expansion.
Created in 1989 in Pakistan by Wain as Innovative Automation and Engineering Ltd (IAEL), the company provides turnkey automation, instrumentation and engineering solutions. In 2003, Engro Corporation acquired majority stakes in the business with Wain as its CEO. In 2007, Engro acquired stakes in Advanced Automation Associates (AAA) as part of its entry into the North American market. Subsequently, the entire operations of IAEL and AAA were merged and rebranded as Avanceon.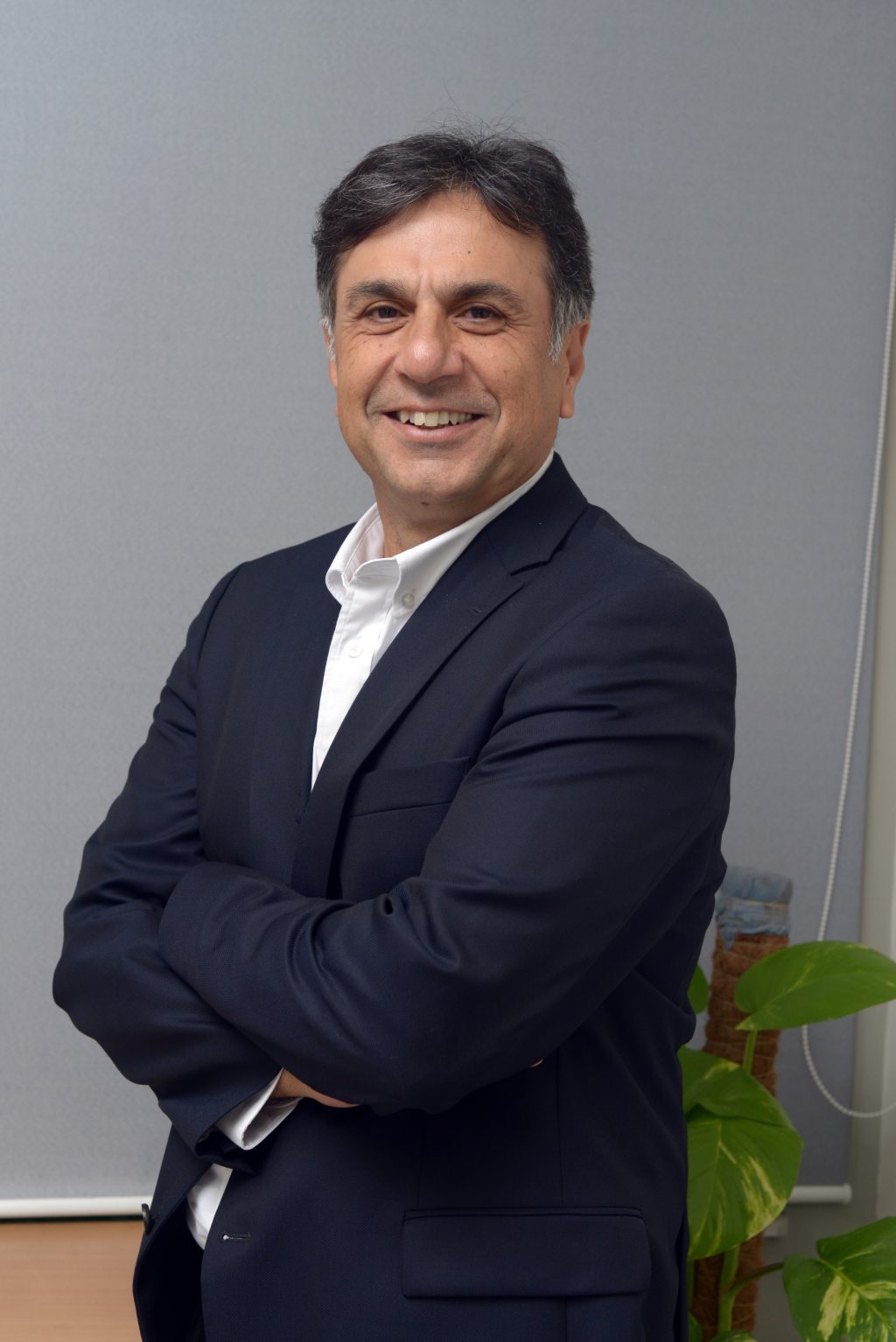 "After developing a successful business and critical mass in Pakistan, the company developed an international business plan with an objective to expand into the Middle East. There was keen interest by several private equity firms. However, the company opted for the offer by Engro, which acquired 51% stake in the company," Wain told Profit.
But Wain was able to regain majority ownership of the company after Engro Corporation divested its shareholding in Avanceon to Wain and his associates. The sell-off was finalised under a global restructuring agreement in 2012. The decision to divest by Engro, according to Wain, was a part of the conglomerate's strategy to re-align its business interest to focus on core manufacturing segments, allowing the sponsors to buy back the shares. At present, Engro does not own any shares in Avanceon and the share split at this point in time is 70% sponsors, 5% employees, and 25% the general public.
Developing the skill-set
It was Bakhtiar's cousin, Amir, who had started a company called Innovative Computers which Bakhtiar joined. "I had worked in Exxon Chemicals and Fauji Fertilizers and also ICI for a little while in Lahore. Amir had just started his company and I joined him. We kept on working on it. Avanceon was an opportunity that came to us itself."
The concept, Wain explained, was led by the fact that industrial automation is not a transactional business but rather a skill-set which was not available in Pakistan, and which, once developed, would eventually become their niche and the core of their business. "The idea was to develop a skill-set which will give industrial automation solutions. That would take some time but once that was developed, it would become a unique proposition. It would also eliminate the competition since you would be the only ones with that skill-set."
The vision also included taking that skill-set outside of Pakistan. "It took some time but we were able to achieve what we had thought of," he said.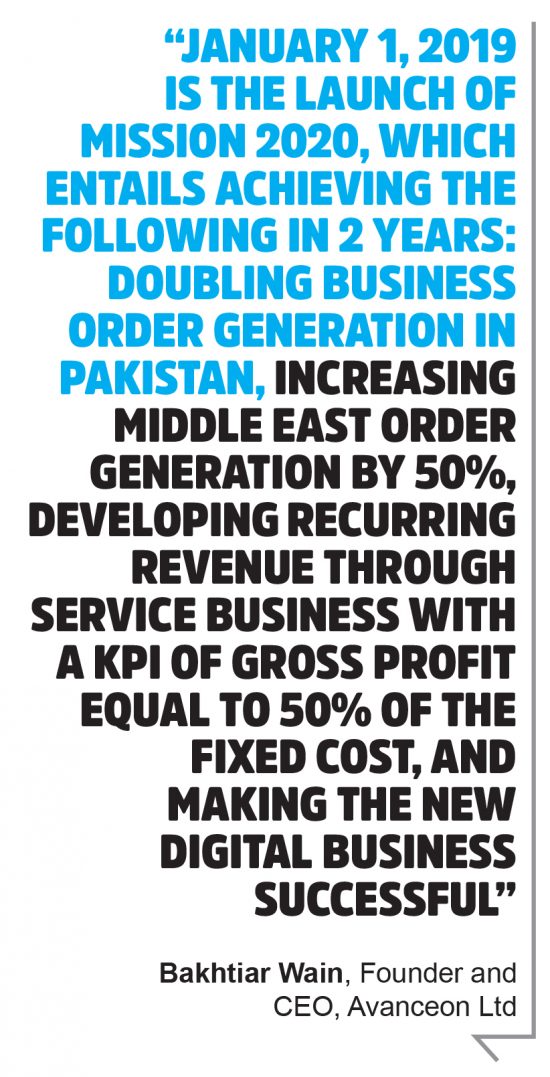 Today, after three decades in business, Avanceon, listed on the Pakistan Stock Exchange (PSX) as Avanceon Ltd, claims to have a strong presence in the Middle East and operates there through its wholly-owned subsidiary Avanceon FZE and Avanceon Automation and Control WLL Qatar. The company's focus industry is oil and gas, water and waste water, food and beverages, specialized infrastructure, rail and metro systems. It considers the likes of Siemens, ABB and Schneider to be its competitors and its signature projects in the Middle East include the Dubai Metro, the Riyadh Metro, the Doha Metro, Hamad Port in Doha and Aramco in Saudi Arabia, among others. In Pakistan, names like Nestle, Fauji, Procter & Gamble, Engro, Shell and OGDCL are on its client roster.
Mission 2020
Avanceon's business is very specifically concentrated in certain areas, i.e. automating industrial processes, which involves both electronics expertise as well as a software component.
"If you go into any industry now, most of them are being managed through a control system. A simple example of such a system would be a thermostat of an air-conditioner. But that is just one thing that controls the temperature of the air-conditioner. If you go to an industry, whole processes are to be run. Most of the industrial plants are being run through a central control system now and people don't go out to start and stop machines. So that work, in a nutshell, from the field down to the computer and everything that is involved, we have automated that."
"We have developed a lot of software to define how the industry [undergoing an automation] will operate. This is our core business, which has taken quite some time to develop. From the last 5-7 years, a big portion of [our] work comes from that, which is slightly high-end. We have also developed a services model in which we provide the customers after-market support. Under this model, we provide these customers long-term contracts in which we keep the system up and running," said Wain.
The services model, according to Wain, has been so successful that it takes away 50% of their fixed cost in Pakistan. "The contribution margin of the service business that we have in Pakistan is very high now. This was the KPI [key performance indicator] that we set for ourselves at the IPO [initial public offering]. Now we are planning to replicate that business model in the Middle East."
Wain is now poised to venture into what he calls digital transformation of the industry, also known as Industry 4.0. Under the new model, the firm's customers will be able to move the data onto the cloud, allowing them access to information anywhere where they are present, enabling them to make good decisions, improving their production and optimizing their costs.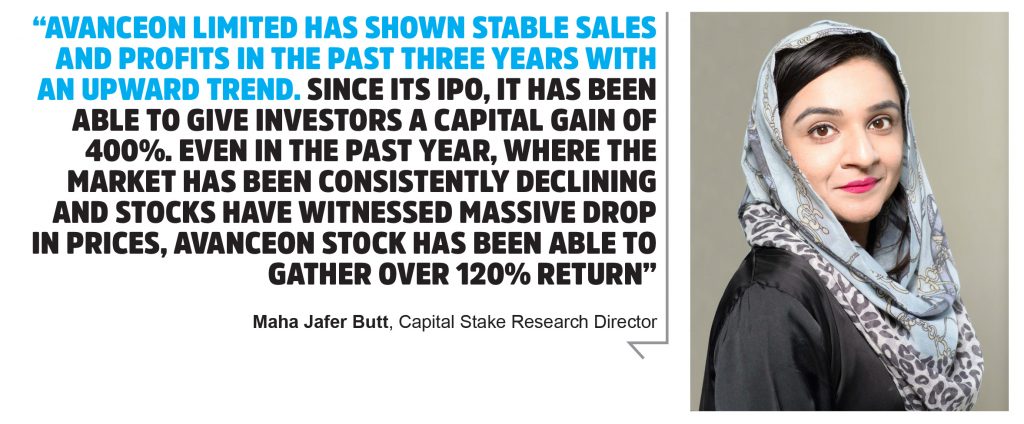 All this is a part of Wain's future vision and strategy for the company, which he ebulliently called Mission 2020. "January 1, 2019 is the launch of Mission 2020, which entails achieving the following in 2 years: doubling business order generation in Pakistan, increasing Middle East order generation by 50%, developing recurring revenue through service business with a KPI of gross profit equal to 50% of the fixed cost, and making the new digital business successful," Bakhtiar Wain told Profit.
Expanding on the plans, Avanceon is ready to set up a fully owned subsidiary which will foster the digital business in Pakistan. "We will now actively hold partnerships with Microsoft and Amazon and we believe that in five years, it will become as big a business as the services model. From there, we will take it internationally. We have enough organic cash to invest and we will do that."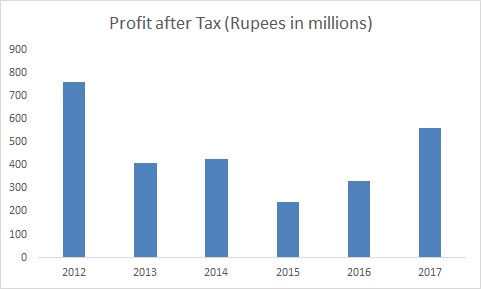 An outstandingly sweet spot?
The CEO claimed that 2018 has been their best year so far and 2017 was their highest in terms of financial performance. But the year 2012 recorded a greater profit for the company than 2017. In fact, the company's profits fell after 2012 — the year Avanceon entered into a restructuring agreement with Engro – and only regained their previous peak in 2017. In 2012, the company reported an after-tax profit of Rs763 million, which nosedived by a staggering Rs352 million to an after-tax profit Rs411 million in 2013.
Wain attributed the Rs763 million profit in 2012 to one-time financial restructuring gain, which was explained when the company went for an IPO in 2014. "We had also mentioned that a very sizable contribution had come from just one project considered as a spike in our business, which skewed the growth profit very positively as it was a two-year project. It was projected to overflow at that time to 2013 also," he clarified. "We had also explained what the base business was, excluding the spike, and how we would use the proceeds to build a sustainable pipeline in Middle East and Pakistan. This is exactly what happened in subsequent years."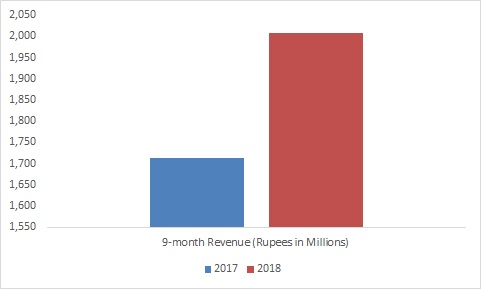 The company's financials, however, affirm its upward growth trajectory now as for the nine months of 2018, Avanceon raked in a revenue of Rs2 billion, against revenue of Rs1.7 billion in the nine months of the previous year. The basic earnings per share were reported to be Rs3.23 in 2018 against Rs2.07 for the same period in 2017. The after-tax profit was reported to be Rs353.7 million for the nine months of 2018, compared to Rs329.2 million during the same period in 2017.
The company posted a 70% increase in profits in 2017 (Rs583 million) as compared to 2016 (Rs333 million).
"This year again we are showing about 30% growth. In the last investor brief, we projected it to be around $35-37 million. We have met our projections from the last three years. In our business, a way to look at our financials is what is our backlog? We will end with a backlog of over US$50 million in 2018, which essentially means that we can continue meeting our profit target even if we get zero business in the next 18 months. However, as we move along, we'll certainly sign more contracts."
"We are at an outstandingly sweet spot," an upbeat Wain said.
The Avanceon stock has been bullish ever since the company went for an IPO in 2014 at an initial price of Rs14 per share. It touched Rs100 a month ago and is hovering around Rs80 at present.
Capital Stake Research Director Maha Jafer Butt concurred with the Avanceon's growth assessment and said, "Avanceon Limited has shown stable sales and profits in the past three years with an upward trend. Since its IPO, it has been able to give investors a capital gain of 400%. Even in the past year, where the market has been consistently declining and stocks have witnessed massive drop in prices, Avanceon stock has been able to gather over 120% return."
According to company's financial report, Avanceon kicked off 2018 with an all-time high backlog of orders at US$ 25 million, a 25% increase in the order backlog value from 2017. Moreover, in May 2018, Avanceon signed contracts worth Rs101 million with infrastructure and energy companies in Saudi Arabia, Qatar and Pakistan, explaining out of ordinary performance of the company in 2018.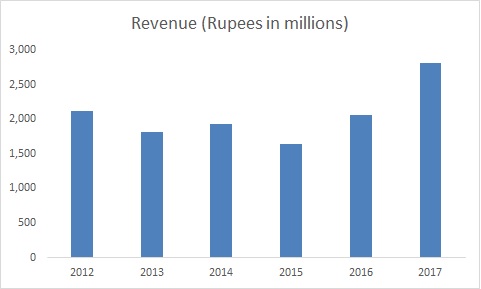 Earlier in 2017,  the company observed a huge increase in other incomes from Rs32m to Rs105m due to a sudden devaluation of rupee against the  US dollar which contributed exchange gain amounting Rs 88 million on translation of foreign receivables, according to company's statements.
But as Avanceon gets ready for expansion full-throttle, Profit asked if the company really had the capacity to meet its zealous targets. Wain convincingly elucidated that their Human Resource (HR) department, the linchpin of company's success, has setup training plans to improve the skill set of their employees to meet targets. "For this expansion, HR is working parallel with the management. We are going to decrease our training wrap time. Our HR is a central component and our capacity limitation would be if we do not effectively manage our HR plan."
"Moreover, we have one of the best stock options in Pakistan for employees. The new engineers, after completing five years, get stock options. That was one reason we did the IPO. In fact, all the financial consultants were saying that you should delay the IPO by 3 years. We said no, we have committed to our team and we have to do it. We are very HR centric," he added.
Nonetheless, can Bakhtiar Wain keep the sweet spot from turning sour is what remains to be seen.