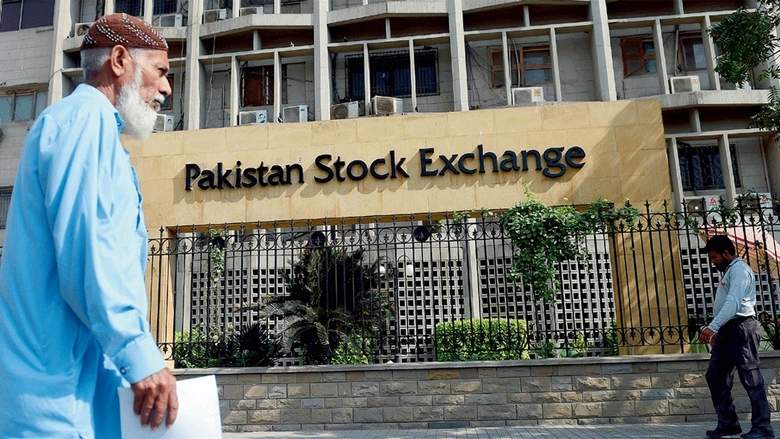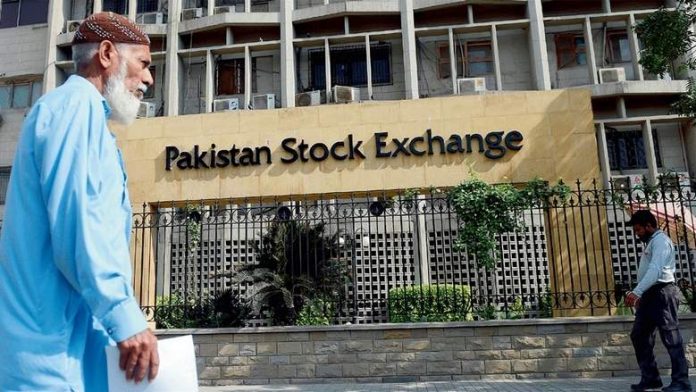 LAHORE: The benchmark KSE-100 index in 2018 recorded a decline of 8.4% or 3,405 points during 2018, recording a well-below the last fifteen years average positive return of 21%.
A report released by Arif Habib Limited Research stated it was the first time that KSE-100 index portrayed negative returns for two consecutive years since 1996.
During December, monthly returns averaged 8.5% which was the highest negative monthly return last year.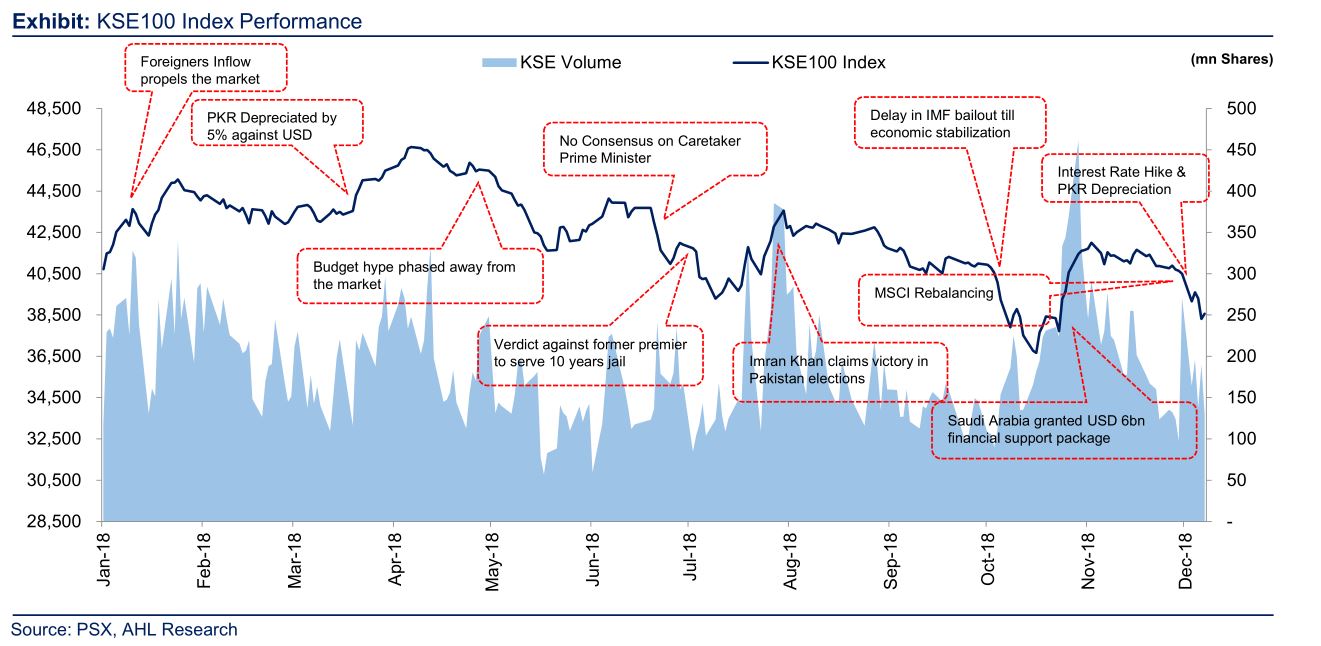 The average monthly return during 2018 was recorded at 0.6% and January 2018 recorded the highest monthly return of 8.8%.
According to AHL, average volumes nosedived to a five-year low of 185 million shares, down 22% year-on-year, whereas average value traded plunged to $64 million, contracting 44% YoY.
Also, December recorded the lowest average traded volume of 131 million shares, which was the lowest monthly average volume since November 2017.
Pakistan Stock Exchange's (PSX) market capitalization also declined by Rs22.2 billion in 2018.
While talking to Profit, Arif Habib Limited Head of Research Samiullah Tariq said, "We expect 2019 to to be a year of recovery.
The market is expected to reach 47,000 points as investors will appreciate clarity on balance of payments front."
Moreover, lower current account deficit on a monthly basis will further increase investor confidence, he said.
Equities recorded sluggish trading during 2018 as traded volume plateaued by 22% YoY.
The volumes chart on a sectoral basis was led by chemicals (25 million), commercial banks (22 million), cement (21 million) and technology & communication (16 million).
On a scrip-wise basis, volumes were led by Bank of Punjab (9.28 million), K-Electric (8.85 million), Lotte Chemical (8.67 million) and TRG (7.98 million).
Negative contributions segments were led by E&P's (-755 points), cement (-739 points), automobile assemblers (-546 points), banks (-491 points) and engineering (-334 points).
And negative contributions on a scrip-wise basis were led by Habib Bank Limited (-653 points) and UBL (-544 points) respectively.
This was primarily due to HBL's higher admin expenses on account of business transformation and compliance program and UBL's significant one-off pension cost of Rs8.8 billion and enormous provisioning expenses majorly on overseas loan book caused this.
Also, the positive contributions on a scrip-wise basis were led by Fauji Fertilizer (345 points), Engro (221 points), Pakistan Tobacco company (208 points), Bank Al-Habib Limited (197 points) and Engro Fertilizer (152 points).
The capital market recorded the highest never net foreign outflows of $537 million in 2018 (net outflow for the 4th consecutive year).
Foreigners divestment sector wise stood at $317 million for insurance companies, individuals $153 million and companies $107 million respectively.
In the first half of 2018, foreign selling clocked-in at $134 million, whilst a majority of the selling was witnessed in the second half of the year.
This was due to a sharp adverse currency movement, economic challenges and MSCI's relocation of blue chips (Lucky Cement and UBL) to small cap index which contributed to major outflow.
The highest outflow was recorded in commercial banks ($263 million), exploration and production ($148 million), cement ($73 million), power generation and distribution ($37 million) and textile ($28 million).