When it comes to food, Lahore has never held back. The streets of Anarkali, old Lahore, or the busy M.M. Alam Road and Liberty Market never see a dull moment. Jam-packed with the young and old, all trying to hit the latest food hot spot – Lahore lives for food.
It's not just the commercial areas where you'll notice the city's obsession for food. If you drive in any neighbourhood in the city, you will most likely come across a delivery bike with a branded box attached to its back, carrying food for someone who called a restaurant, or used their phone to choose a cafe or a local food dhaba, found food from a kaleidoscope of mouth-watering options, selected a payment method, and ordered.
One company serving that market is Cheetay Logistics, which operates cheetay.pk. The company began in 2015 with a simple premise: if they can learn to handle food delivery right as their first product, they will be able to develop the infrastructure and ethos to become a scalable tech-enabled logistics company.
"Food was good as a start because everybody is ordering food. Food gave us the opportunity to develop a robust distribution system and allowed us to train our delivery-men in real-time because people are very fickle about food – there's no forgiveness – people want their food hot and on time," says Ahmed Khan, CEO of Cheetay Logistics, in an interview with Profit.
"Our idea was always to tackle food first because it was challenging and rewarding at the same time," said Khan, a seasoned e-commerce leader who has also led Daraz.pk and Kaymu.pk.

Through e-commerce, Lahore has developed a technology-backed ecosystem that has transformed old methods of trading into smarter methods of ordering not just food, but all sorts of goods and services online. Pakistan has seen a steady growth in businesses which generate money by making people's lives more convenient, and have developed processes that facilitate both the restaurant and the consumer.
A restaurant that is listed in a food-delivery company's app and website will likely get more hits, receive more orders, and generate more revenue. The user will have the ability to select food from a number of restaurants without having to call each one of them, and will also likely get the chance to avail a discounted offer.
E-commerce has allowed products to be available for a large number of people. It has also enabled people and businesses to trust technology and make transactions on a regular basis. The e-commerce industry, according to a report released by the State Bank of Pakistan (SBP) says that Pakistan's e-commerce sales have witnessed a sharp rise of 93.7% in 2018. The primary reason behind the rapid growth has been attributed to greater internet accessibility, and increased usage of smartphones in the country.
Cheetay and the share of wallet
Cheetay Logistics came into existence in 2015 when it developed an app to order and deliver food online. The online food-delivery market at that time was dominated by the Rocket Internet-backed Foodpanda.
Part of the reason he decided to get into the food  business was to maximise the share of wallet. "Whatever your income is, whatever you spend on, your share of wallet reveals what you spend on most from your income. Our guess is that most of the money is spent on food as a basic necessity."
For a business that intended to provide customers with what they spent on or wanted the most, Cheetay.pk, under the leadership of Khan, already knew what the customer wanted, and didn't take much time to penetrate the market. "The rough number that we've come to, is that we've cracked about 20% of the Lahore market," reveals Khan.

Capturing 20% of a major market in such a short time is no small feat. Capturing a market that already had international players such as Foodpanda speaks volumes about Cheetay.pk.    
"The idea was simple," says Khan. "I was the CEO and Founder of Daraz.pk and Kaymu.pk, which later merged to form a major player in the e-commerce industry in Pakistan, and then was later acquired by Alibaba. They were backed by Rocket Internet GMBH, so when that came to an end, I realised that the two big gaps in e-commerce were fulfillment and payments. I felt that until these two problems were not solved, e-commerce and digital businesses could never grow the way they have in South East Asia, India, and the developed world."
Having started in October 2015, Cheetay.pk has witnessed exponential growth. Starting with an in-house fleet of 15 riders, the company now has a dedicated fleet of over 50 motor bikes.
Expanding from the food base
In 2017, Cheetay Logistics received an investment of $1.1 million in Series A funding from high net-worth individual investors and venture capitalists based in the US. It further raised $3.675 million in 2018, and announced that it was venturing into other business segments such as books, healthcare, and groceries.
"Now we're looking at the share of wallet again, and basically asking what's your next biggest expenditure after food. We're out looking for more customers. Once we have those customers, we're looking for as many things to sell them as we can, and provide a better service, improve their lifestyle, and give them quality products," says Khan, talking about his plans for expansion.
Payments and fulfillment are the cornerstones for the company, said Khan, explaining the idea behind the company, and how it intended to compete with existing companies in the same industry.

The digital payments industry has been an evolving concept in Pakistan for the last couple of years. There are good players in the market when it comes to payments such as SimSim, PhonePay, OneLead, EasyPaisa, and JazzCash. "When we started, online payments wasn't a thing in Pakistan as it is now. So this concept is new in Pakistan along with e-commerce, but they seem to be heading in the right direction as of now. So let's see which model is the most successful, whether it is the digital wallet, or the bank-backed wallet, or if the open wallet works better," says Khan.
New entrants always have a plan of action to penetrate the market. Cheetay focused on doing things others couldn't, were unable to, or unwilling to try.
The company does not incur costs per transaction when it sells books, or delivers a box of makeup. "Every sale that we do, we get a commission on the product, and we get a delivery fee. So, we don't hold inventory, and hence don't incur any inventory costs, or any carriage costs," says the CEO.

The key to the company's ability to scale up, says Ahmed, has been positive unit economics. "We receive a certain percentage on every product sold from the dealer, and we charge a certain delivery fee to the customer. Every transaction for us, has positive unit economics for us and we have to maintain that, otherwise, businesses can't run. You need to have positive gross margins. You can't scale if you don't. If you're losing money at the gross level, then every additional order increases the loss. Not a good deal," he says.
Tackling competition
Although there are new entrants in the food-delivery business such as Eat Mubarak along with Careem and Uber which have announced their own intentions to step into this business, the food-delivery market in Pakistan, and specifically in Lahore is shared by Foodpanda and Cheetay.pk. Most restaurants do have their own websites and deliver food. However, people usually prefer looking at other options which can only be found in online apps.
"What Foodpanda doesn't do, is that it doesn't get you Aylanto, because Aylanto does not have a deal with them, or it won't deliver outside a certain radius. We, on the other hand, can get our customers everything," says Khan, as he talks about how his business also merged the concept of an errand service with e-commerce and logistics.
Cheetay Logistics knew exactly what it needed to do to turn customers away from its competition. "We realised that Pakistan is a developing market, and until we do the fulfillment and logistics ourselves, we would not succeed here," says Khan, as he explains how utilising online financial payments was key to enabling a better and more seamless experience for customers.

Talking about Cheetay's main competition, Khan says, "Right now, it's foodpanda. Because we're primarily in food. And we have to face competition from upcoming players in this business. So, when we launch multiple categories, we'll have to go against the likes of Daraz and OLX."
E-commerce, delivery businesses, and even ride-hailing have a common problem to solve – a flaky digital payments system that can turn the customer away within a minute, which is why, Khan believes that the person who provides the easiest payments solution, will win the most customer.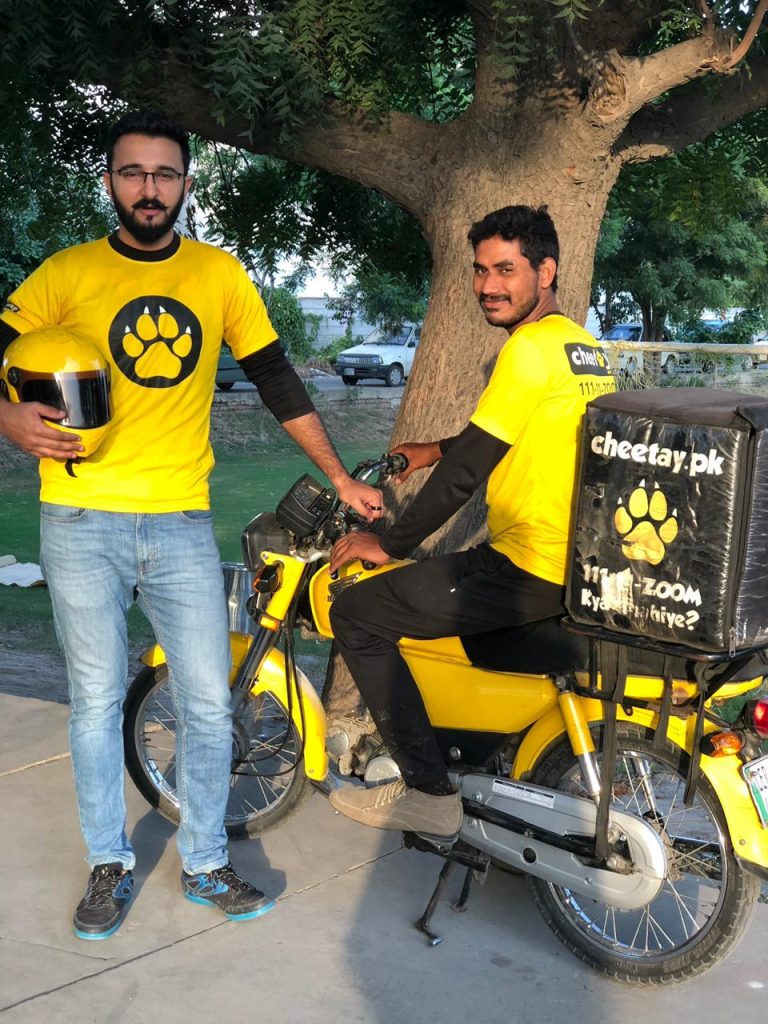 "A lot of these people are trying to build what we call the super app now. Where there is one app and one can do everything through it. Order a taxi, order food, pay the gas bill for example how it is in China with the WeChat," he says, talking about potential competition from existing players, and further adds, "It's the same problem, everyone has their own solution to it. Maybe one day SimSim or EasyPaisa will also launch a business such as ours, so we just have to be ready."
The company is, in fact, in a great position to allow easier ways for customer to pay. It has a mobile fleet that can also act as an ATM. For example, when you go to deliver food, the delivery-men can ask customers whether they would like to top-up their digital wallet, deposit cash, or withdraw cash. "For us, it's a very versatile use of our fleet".
Security and data privacy
The year 2018 saw cybersecurity explode and come to the surface as one of the most important issues facing businesses worldwide. Facebook got entangled in the Cambridge Analytica scandal and the EU implemented its own safeguard against cybersecurity and to protect data privacy – GDPR. Careem faced a cyber attack where hackers got through the encryptions on its servers, making customers' private and confidential data available. The Pakistani banking industry faced embarrassment when hackers stole millions from several commercial banks.
Companies such as Cheetay.pk which also hold customers' personal information such as phone numbers and credit card data, need to boost up their security, and constantly upgrade their security systems to safeguard against possible cyber attacks.
"Our biggest investment, if you take a look at our balance sheet even today, is technology and security," claims Khan. "We've spent a lot of money, on powerful equipment and safeguards. Very powerful piece of tech. Very robust. We use Amazon products. Our main code is in Python, it is very secure. We have exceptional engineers working with us. We've built our technology through Arbisoft, which is probably one of the best engineering companies in the country. We have also come under criticism for spending a lot on tech, but as you say, it is the need of the hour in this day and age. And we keep stress-testing it, and asking ourselves if our technology has the capacity to scale."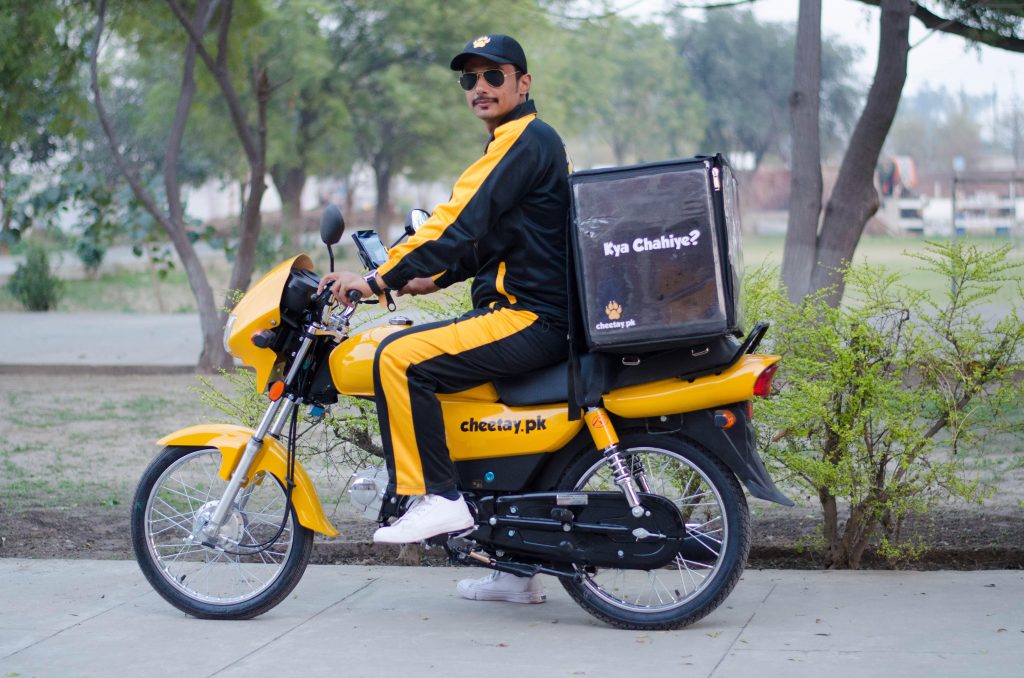 Because, even when you put a new lock on your door gate, the thief will find a way to break it. Things keep changing and you have to keep designing new security systems with time.
Iterating into the future
Cheetay Logistics has thus far gained share in a market with one dominant player, but continues to iterate its business model, and at some point will come up against other, even more well-financed competitors. "This is something we are very cognizant of, and we're very careful that we stay cutting-edge at every step."
The real test for the company will be to face incoming competitors such as UberEats and Careem – which are bigger players and know the dynamics of this market well enough, have tried and tested robust distribution and payments systems backed by technology and a strong brand image.
"Necessity is the mother of invention", says Khan. "We use technology to improve our businesses, and improve the lives of our customers. We consider ourselves a tech company. Technology makes our lives easier, and reduces costs. We are committed to using technology to solve all our issues. So, we are experimenting with electric bikes with a couple of companies, that will reduce our costs, render the delivery men to drive at more convenient speeds, and also, essentially, strive to be better for the environment. So, we will adapt," says the optimistic e-commerce veteran.