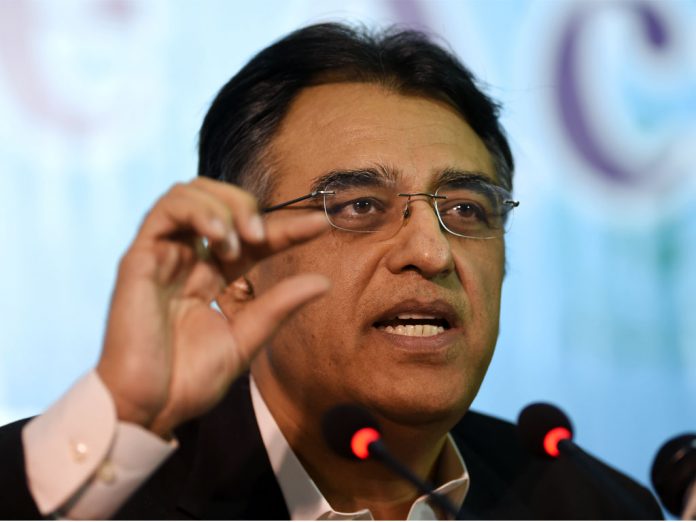 Finance minister says there is no doubt that inflation is there, but it is lower than it was in 2008 and 2013'
ISLAMABAD: Finance Minister Asad Umar said on Monday the prices of petroleum products did not increase much due to the reduction of government tax, a private media outlet reported.
"The regulatory authority had proposed an increase of over Rs11 in the petroleum prices but we raised them only by Rs6 per litre," the finance minister said during a ceremony in Islamabad, a day after the government increased the prices of petrol and diesel by Rs6 per litre.
Speaking about inflation in the country, Umar claimed that it stood lower than where it was when the former Pakistan People's Party and Pakistan Muslim League-Nawaz governments had taken over the reins of the country.
"There is no doubt that inflation is there, but it is lower than it was in 2008 and 2013," the minister said.
He went on to challenge the opposition to dig out all his speeches and he would answer all their questions.
Umar further said that Pakistan would get a three-year programme from the International Monetary Fund (IMF). "The next round of meetings with IMF would be held from April 10 to 14 in Washington," he added.
Regarding the next federal budget, he said it was recommended to be presented on May 24.
Umar said the government has introduced structural reforms in the Federal Board of Revenue (FBR) and only in the month of March, the country's tax refunds were eight times more than the previous regime.
He said legislation regarding benami accounts had been enacted and rules were being amended to expedite the process of arresting those involved in the illegal practice.
About Chinese investment, he said progress had been made on the upgradation of ML-1 from Karachi to Peshawar and work on other Chinese projects would also be started on time.