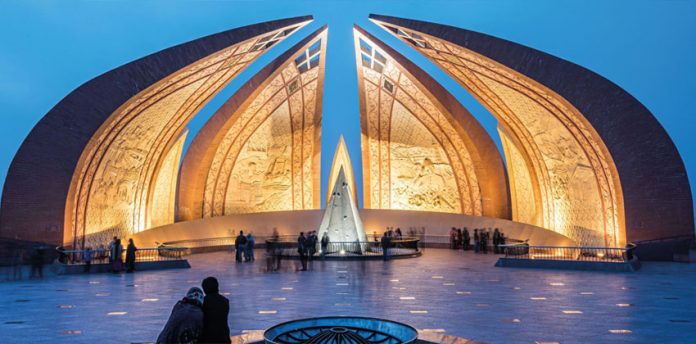 Experts stress need for professional services, availability of guides and provision of security infrastructure to facilitate foreign tourists
ISLAMABAD: One of the panel discussions in Pakistan Tourism Summit 2019 called experts from corporate and investment sectors to talk about the financial side of tourism for the local industry.
These experts brought insights from their respective fields into the discussion and linked the benefits of promoting tourism to other partner and related industries, which together could contribute massively to the economy, in addition to changing the country's image.
The panel was moderated by Bottomline Global Consulting's Syed Adeel Anwar, and featured distinguished guests like Minister of State and Pakistan Board of Investors Chairman Haroon Sharif, The Coca-Cola Export Corporation Pakistan & Afghanistan General Manager Rizwanullah Khan, Kansai Paint Chairman Agha Zafar Abbas, Interwood Mobel CEO Omar Farooq, Telenor Pakistan CEO Irfan Wahab Khan, FINCA Microfinance Bank CEO Mudassar Aqil, EBM CEO Zeelaf Munir, MAP Services Group Managing Partner Huma Fakhar, and Reckitt Benckiser CEO Fahad Ashraf.
Interwood CEO Omar Farooq said that the main issue that needs to be resolved in the tourist destinations in Pakistan, like Skardu, is infrastructure. "You also have to make sure that the flights to such destinations fly on time and are regular."
He narrated his own experiences of visiting Skardu where even the flight was an adventurous experience. He said that for Gilgit there were no flights available from Lahore, and tourists had to go via Karachi; direct and easier flights are another challenge.
"Then there is the problem of unavailability of tour guides," he added.
He expressed relief over the fact that the tourism industry has finally made it to the priorities for the government, "because it is not just tourism but many other associated industries also stand to benefit from it, including the hospitality industry."
He said that hotels also need to be made available, not just for international tourists but also for local customers. "There is a dearth of proper housekeeping. Tourists expect clean and comfortable hotels. We have a proper strategy and implementation plan and hopefully, we will be able to achieve it, but without proper planning from the government, the targets could not be realized fully."
Omar said that the government is serious about promoting tourism and hospitality industries. "The government seems to be very upbeat about tourism and all related industries, and we see a lot of scope therein."
He said that Imran Khan is passionate about reviving this opportunity for Pakistan, "and it will lead to the development of complete infrastructure, which will include roads, hotels, even hospitals."
Reckitt Benckiser CEO Fahad Ashraf spoke on the matter pertaining to safety and sanitation infrastructure. He noted that the non-availability of safe toilets in the northern region and other tourist destinations of the country is a major problem that will have to be rectified.
FINCA CEO on the occasion brought into perspective the current tourism market, primarily Chinese, and said that there is a need to develop more products that cater to the needs of foreign tourists, including mobile products and technological services.
The conference also featured stalls from several brands, including a lavish sitting area by Eighteen, sitting space and tea services by Avari Hotels, and a photography booth by Malam Jabba Resort. The most interesting booth was perhaps by Interwood Mobel that featured a complete room.
Talking to Pakistan Today, Interwood Corporate Communications Deputy Manager Mobel Celestine Campos said, "This is a replica of a regular room that we provide to Avari Hotels, complete with flooring and furniture."