Walk into upscale restaurants in Pakistan and you will find menus that advertise offerings that conform to the "keto" diet. At some exclusive gyms, membership fees now runs in excess of Rs10,000 per month. And Siemens is expanding its footprint in the country's healthcare sector.
What do all three of these developments have in common? They seek to capitalise on the growing propensity among Pakistanis – particularly the upper middle class – to spend on their health, and a growing awareness of what it takes to become and remain healthy. And Siemens, the German industrial and engineering giant, wants to make sure that it remains at the forefront of all of the capital expenditures that will eventually go into expanding the country's healthcare infrastructure.
Like its American rival General Electric (GE), Siemens is a diversified industrial conglomerate with a long history, but is largely known in Pakistan for the equipment it manufactures for electricity generation, transmission, and distribution infrastructure. This is, of course, for good reason: the bulk of Siemens' business in Pakistan is in the energy sector.
But globally, healthcare is an increasingly important part of the Siemens franchise, and the company has reorganised itself accordingly, spinning off its healthcare business into a separate company publicly listed on the Frankfurt Stock Exchange. That restructuring had an impact on its Pakistan business as well, with Siemens Pakistan – a publicly listed company on the Pakistan Stock Exchange – spinning off its healthcare business into a separate, private company called Siemens Healthcare (Pvt) Ltd in 2016.
Siemens Healthcare, in turn, would like to become the leading provider of healthcare equipment in Pakistan, an effort that may be helped along by the fact that there is now a dedicated healthcare-focused Siemens subsidiary in the country.
How successful it might be remains to be seen, though if the company's history and dedication to the Pakistani market are concerned, it may well be off to a good start.
Siemens in Pakistan, and healthcare
Siemens has a very old history in South Asia, dating back to 1867, when Telegraphen-Bauanstalt Siemens und Halske (S&H), one of its predecessor companies, built the Indo-European telegraph line linking London to Calcutta via Karachi. Its operations in what is now Pakistan began in 1922 in Lahore, though it was not until the 1950s that the company began to have a major impact on the economy of the territories that now form the country.
In 1952, Siemens helped the government of Pakistan set up a telephone equipment manufacturing company called the Telephone Industries of Pakistan (TIP). If you grew up any time in the 1990s or earlier, chances are your family had a rotary telephone with the letters TIP written on the dial. Those phones were manufactured at the TIP plant in Haripur, which Siemens helped set up. The next year, in 1953, Siemens formally incorporated its subsidiary in Pakistan. And Siemens Pakistan became publicly listed on the Karachi Stock Exchange in July 1978.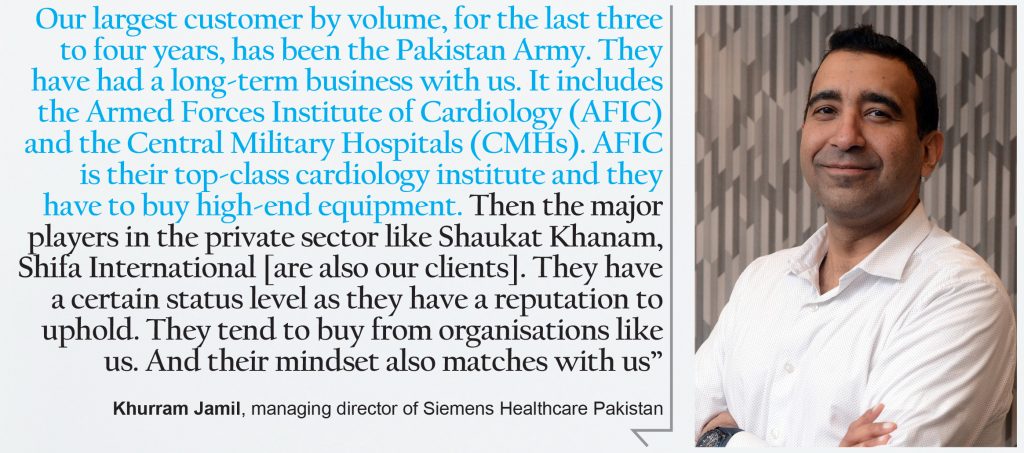 The history of Siemens medical technology starts in Berlin in the mid-19th century. In 1844, Werner Siemens put one of his inventions to use for medical purposes for the first time, using electricity to treat his brother for tooth pain. Three years later, Siemens teamed up with Johann Georg Halske to create a company called Telegraphen-Bauanstalt Siemens und Halske (S&H), in Berlin. The new company's products included electromedical equipment.
In Erlangen, Erwin Moritz Reiniger laid the cornerstone for Reiniger, Gebbert & Schall (RGS), a company specializing in medical technology.
In 1895, Wilhelm Conrad Röntgen discovered X-rays, touching off a revolution in medicine: In Aschaffenburg, X-ray pioneer Friedrich Dessauer founded his own company, which later came to prominence under the name Veifa-Werke. Not long afterward, in 1916, Frankfurt-based Veifa-Werke was acquired by RGS. The company ceased operations for cost reasons in 1927, with production shifting to Erlangen.
S&H began acquiring shares in RGS in 1907 and acquired a majority stake in the company in 1925. Permission to maintain the Erlangen site went along with this. In 1932 and 1933, the electromedical production activities of S&H in Berlin were also shifted to Erlangen to coincide with the establishment of a new company called Siemens-Reiniger-Werke (SRW).
The company soon came to be viewed as the world's largest specialized electromedical company. SRW became part of Siemens AG in 1966 and did business as the company's Medical Technology Division starting in 1969. The division became an independent legal entity called Siemens Healthcare GmbH in 2015, and in May 2016 launched the brand name Siemens Healthineers to express the company's pioneering spirit and innovative engineering.
The Healthineers come to Pakistan
Siemens Healthcare in Pakistan is primarily a supplier of the kind of large radiology and diagnostic imaging equipment that is the mainstay of most hospitals in the developed world. "[Our product line in Pakistan] is imaging machinery primarily. It includes x-ray, ultrasound, computed tomography (CT), magnetic resonance imaging (MRI), and angiography machines. On the in-vitro side, there are lab diagnostics like blood and urine testing, so machines for those," said Khurram Jamil, managing director of Siemens Healthcare Pakistan, in an interview with Profit.
Needless to say, this equipment does not come cheap, which means that Siemens' clientele for this kind of equipment tend to be the larger, well-funded public and private hospitals. "When you are a BMW seller, you don't talk to a Mehran buyer. So you focus on those people [as a business] who can understand that," said Jamil.

The company is reluctant to identify its customers by name, though it gave a few specifics that indicated just who it is able to sell its equipment to.
"Our largest customer by volume, for the last three to four years, has been the Pakistan Army," said Jamil. "They have had a long-term business with us. It includes the Armed Forces Institute of Cardiology (AFIC) and the Central Military Hospitals (CMHs). AFIC is their top-class cardiology institute and they have to buy high-end equipment. Then the major players in the private sector like Shaukat Khanam, Shifa International [are also our clients]. They have a certain status level as they have a reputation to uphold. They tend to buy from organisations like us. And their mindset also matches with us."
"Then there is the Ministry of Health (MoH). We had signed a major ultrasound deal with the previous government. Then there is this institute in interior Sindh, a good 7 hours' drive from Karachi: Gambat Institute. Almost everything for that institute is being supplied by us."
That large institutional clientele means that the impact of Siemens' technology on Pakistan's healthcare remains largely confined to the tertiary level of healthcare, and not the primary level, which is where the bulk of the healthcare crises in Pakistan usually arise.
Siemens management appear to be aware of this, but point out the fact that their role is simply to provide the enabling technology, not necessarily create the entire infrastructure that would allow for the improvement of population health outcomes at the fundamental level.
"We cannot be involved in basic healthcare," said Jamil. "For example, Pakistan has a very high infant mortality rate. But those providing imaging equipment cannot fix it. We are not in therapy, we are not pharmaceuticals. We are in diagnostics."
The ups and downs of Siemens Health… and Pakistani healthcare
Given the fact that Siemens relies largely on selling capital equipment to large hospital systems across the country, its revenues and profits have varied wildly over the past decade. Siemens Healthcare is no longer part of the publicly listed Siemens Pakistan holding company, and has not been since 2016. The company declined to disclose its financials to us, hence the only financial information we have about the company is from 2008 through 2015, when it was a segment of the publicly listed company.
Nonetheless, that period does reveal an interesting picture. Revenue over that period as a whole grew by a paltry average of 0.5% per year, from Rs597 million in 2008 to Rs618 million. Pre-tax profits grew by a somewhat more respectable average rate of 7.2% per year, from Rs33 million in 2008 to Rs53 million in 2015.

However, those aggregate numbers hide considerable variation. For instance, in 2009, revenue shot up 64.7% to Rs984 million. This was a period when many hospitals across the country were expanding, and therefore needed capital equipment, for which Siemens is among the suppliers. The following year, however, revenue fell by 41.3% to Rs577 million. The worst year for revenue was 2011, when the Siemens healthcare business in Pakistan had just Rs291 million in revenue.
The dip in 2011 matches data on overall healthcare spending in Pakistan. According to Profit's analysis of data from the Pakistan Bureau of Statistics (PBS) and the Ministry of Finance, the year 2011 saw the country's total spending on healthcare as a percentage of the total size of the economy reach a low point of just 1.2%. It has since bounced back to approximately 2.5% of gross domestic product (GDP), of which 1.1% is government spending – both federal and provincial – and 1.4% is private household spending.
On per citizen per month basis, however, healthcare spending in Pakistan has continued to rise rapidly over the past decade and half. According to PBS data analysed by Profit, average Pakistani spending on healthcare has gone from Rs56 per person per month in 2002 to Rs335 per person per month in 2018, an increase that clocks in at an average of 11.8% per year.
The bulk of that increase is driven by government spending, which grew by an average of 15.7% per year during that period, from Rs15 per person per month to Rs151 per person per month. And the increase was most dramatic since 2011: government spending has grown at an astonishing average rate of 33.9% per year since then. In the eight years prior to 2011, the average annual growth in government spending on healthcare was 12.5% per year on a per person, per month basis.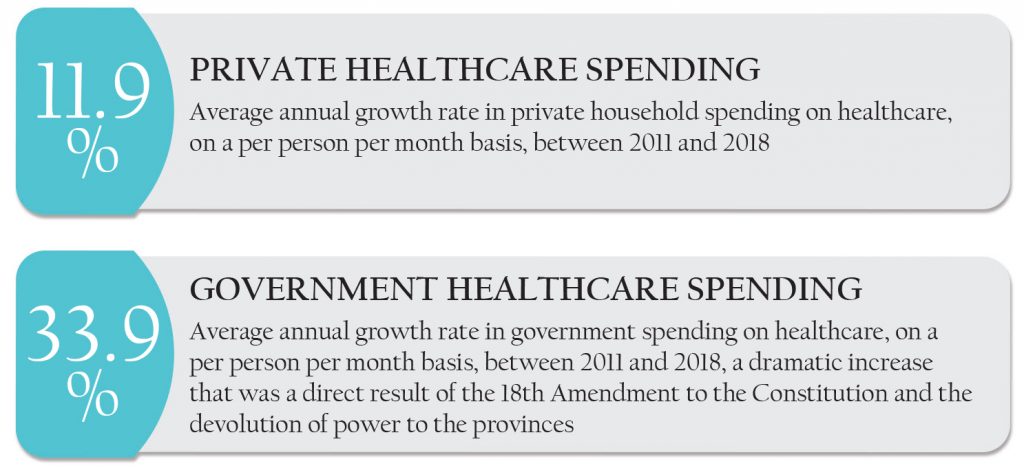 Why did government spending on healthcare increase so dramatically after 2011? That was the first year when the federal and provincial budgets felt the full impact of the 18th Amendment to the Constitution and the 7th National Finance Commission Award, two developments that together both transferred responsibility of education and healthcare away from Islamabad and towards the provincial governments, and gave them the financial resources to manage these priorities.
The inventory problem
The biggest problem for Siemens Healthcare in Pakistan seems to be caused by two competing forces. Siemens wants to keep an asset-light business model in the country, meaning it does not have large inventories of equipment and spare parts within the country. Its clientele, however, are used to other companies working through distributors and other means to deliver spare parts quickly, and cheaply, if not always through above-board means.
"Siemens, we are not here as dealers. Naturally, our way of doing business in this country is going to be different. Toshiba or General Electric (GE), our competition, you'll find that they have local dealers. They spend there and have dealership with them. That is the difference you see here," said Jamil.
That often means dealing in a market environment where clients expect faster results than a multinational company is able to offer, largely since the company has to follow a set of protocols to import a part directly from its manufacturing hub in Germany rather than being able to source it locally.
Of course, the solution to that would be to simply keep enough of the most commonly requested spare parts in inventory within Pakistan so that it would limit the amount of time it takes to procure the part from abroad, but Siemens management appears unwilling to do that.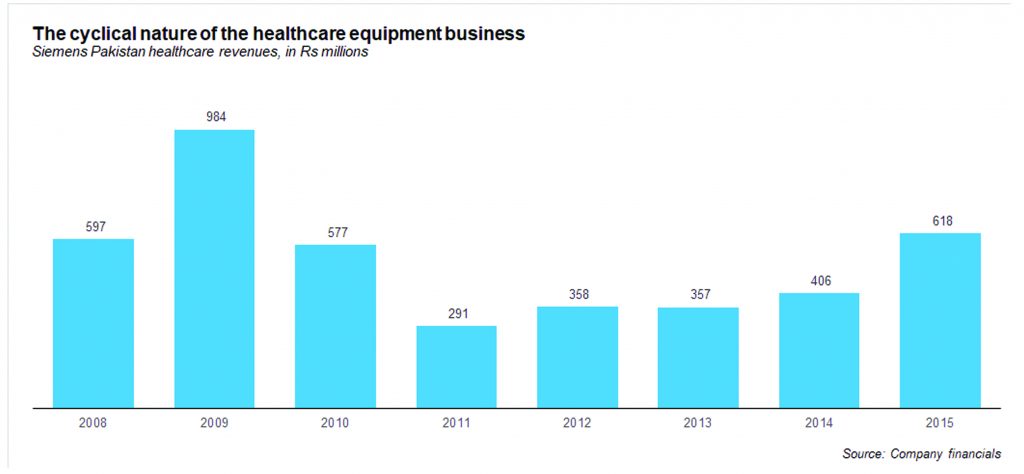 A second solution might be to speed up its procurement process so that it is able to deliver equipment relatively faster to its clientele, but that may also require more investment than Siemens is willing to put into the company's Pakistan operations at the moment.
Potential investment?
"Recently, I have been working very aggressively and I am trying to get some investment from Germany," said Jamil. "Two to three months back, an honorary consulate from Germany, we have reached an understanding with him that we will invest in Pakistan to upgrade public and private hospitals. And if this materialises, and it is very early to say yet that it will materialise, but I can tell you that it will be a significantly large amount."
"It is a big amount. Right now, I am not at liberty to tell you the amount, but you'll get to know. It will be announced and we'll have a signing ceremony as well. You can mention that a large amount is coming to Pakistan and we have signed a letter of intention for that. The main purpose of the investment is to upgrade hospitals in Pakistan. And also invest in greenfield and brownfield projects in Pakistan in the healthcare sector. The equipment involved will be of Siemens completely. It's all across Pakistan."