Raiwind – a small city at the outskirts of Lahore – is home to one of the largest religious movements in South: the Tableeghi Jamaat. Every year, tens of thousands of devotees descend on the Jamaat's headquarters for its annual gathering (ijtemah). This influx of people brings with itself enormous economic activity.
"My family has been in the business of supplying essential supplies for people gathering here ever since the Jamaat established its headquarters here in Raiwind," said a shop owner Abdul Rahim, while talking to Profit. "On a normal day, I sell products worth Rs10,000 to 15,000.
However, during the days of the annual ijtema, sales can reach up to Rs45,000 to Rs50,000 per day."
Like most shopkeepers in the market, Abdul Rahim sells sleeping bags, backpacks, camping tents and other related products that are in high demand with the people visiting the Raiwind Markaz, a spacious facility built on more than 400,000 square feet of land. The Markaz serves as a mosque, a madrassah, a residential area, and the headquarters for the movement and is considered by Tableeghi Jamaat followers all over the world as a hub of spiritual and missionary activities.
All year around, followers visit the Raiwind Markaz, where they receive religious training and are then sent out in groups to various places within Pakistan and abroad for missionary activities. But every year, in the month of November, an annual gathering is held in the city.
Typically, the annual gathering lasts for three days, starting on a Thursday afternoon and ending on a Sunday, with an especially long prayer. The attendance at the annual ijtemah has been reported at more than two million, bringing together devotees from around the globe. In particular, the last day of the gathering may attract several more millions of people, from all walks of life, including devoted celebrities and politicians. The late singer Junaid Jamshed was associated with the Jamaat as are venerated cricketers Saeed Anwar and former Punjab Chief Minister Pervaiz Elahi.
In addition to the November gathering is a smaller event in March for existing members. In March 2019, almost 300,000 people attended the gathering, of whom 5,324 people from 93 countries other than Pakistan were present.
In the nearby bazar, sleeping bags sell in the range of Rs1,500 to Rs4,500, portable mattresses for Rs750 to Rs900, camping tents for Rs900 to Rs1,000 and ittar (a type of natural perfume popular with the Jamaat's members and Muslims around the world) starts from Rs75 and can go all the way up to Rs40,000 for a bottle.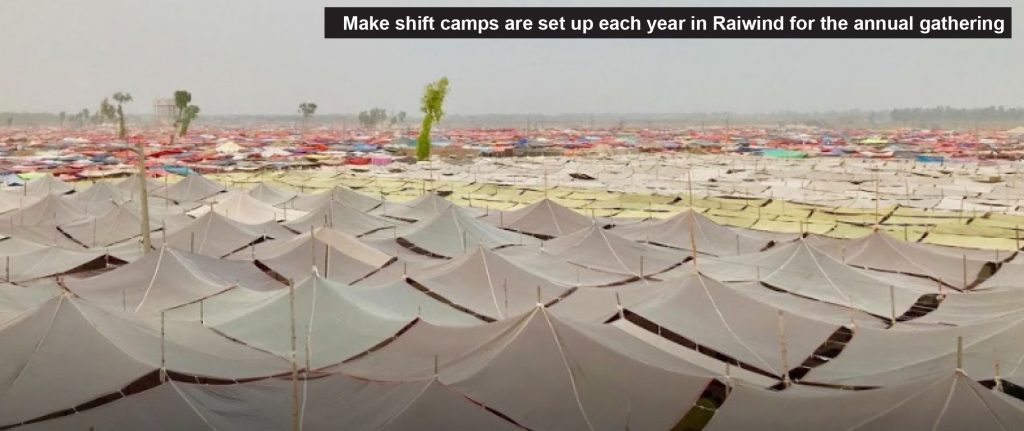 "A large proportion of the customers who buy from my shop are the devotees. However, sometimes people from Lahore also come to buy camping products from me, as they are cheaper here compared to the prices at which they are sold in Lahore," said Abdul Rahim.
Many other local entrepreneurs have also been quick to spot economic opportunities presented by the large number of devotees visiting Raiwind. As more and more people gather, and the use of electronic devices becomes more commonplace over the years, finding electrical outlets to charge mobile phones and other devices has become increasingly difficult in the crowded facility. So small shop owners in the bazar have begun to provide charging facilities to the visitors for the minimal price of Rs.20 per charge. According to prudent estimates, each shop serves about 150 to 250 customers per day.
But while such small-scale entrepreneurs have benefited, Pakistan as a whole has yet to capitalise on the economic opportunity presented by these gatherings – a phenomenon beginning to be described as religious, or faith, tourism that can have important implications on the world's economy, climate, and even state of tolerance. The World Tourism Organization (UNWTO), the United Nations' specialized agency responsible for the promotion of responsible, sustainable and universally accessible tourism, has organized several conferences since 2014 dedicated to exploring the potential of this type of tourism.
Hajj vs. Tableeghi Jamaat ijtemah
Among the countries that have truly benefited from religious tourism is Saudi Arabia, which has been able to transform pilgrims who come to visit the holy cities of Makkah and Madinah into a billion-dollar market.
Last year, almost 2.4 million Muslims traveled to Makkah for Hajj, through which Saudi Arabia is estimated to have earned around eight billion U.S. dollars. With the right infrastructure and positioning, Pakistan can make great gains through religious tourism.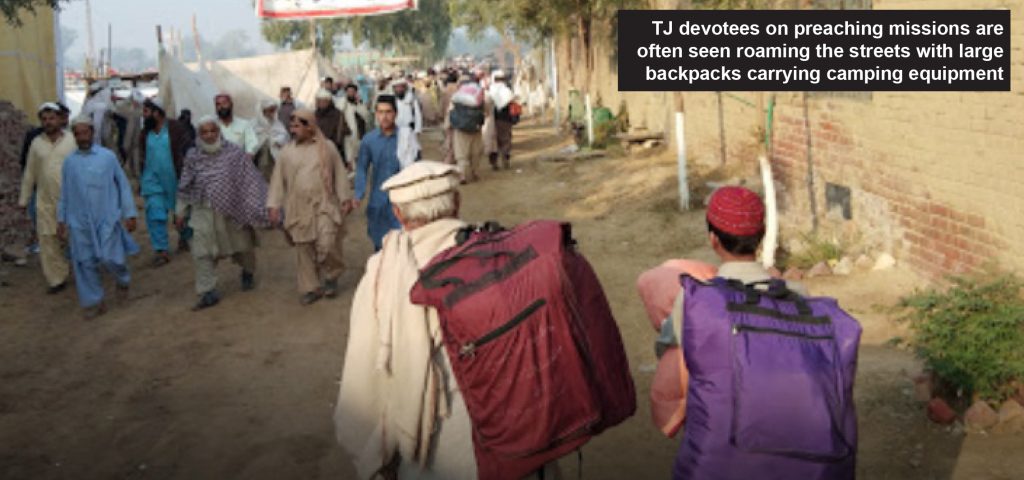 One opportunity is special packages offered by private tour operators for people traveling to Makkah from foreign countries. In Pakistan, for example, the most high-end of such packages, which include a return ticket, visa, hotel stay and food, can cost more than one million rupees per person. Currently, no such facility exists for devotees travelling from other countries to the Tableeghi Jamaat's headquarters in Raiwind.
In the case of Saudi Arabia, the number of people travelling to Hajj using Saudi Arabian Airlines (Saudia), the country's national carrier, experienced a growth of 40 per cent in 2017. Meanwhile, Pakistan International Airlines (PIA) only operates international flights to 26 international destinations in 19 countries, which means that people traveling from other countries often opt for other airlines, even if they make more stopovers on the way increasing total travel time and cost compared to direct travel.
Jamaat's structure and economic activity
While events related to the Tableeghi Jamaat may have created economic opportunities for small entrepreneurs like Abdul Rahim, the Jamaat's focus on austerity means that the scope of related economic activity is limited.
Groups of members are sent to foreign countries and to different parts of Pakistan on missionary activities that can last from a day to a year. But, for these, the members pool a specific amount of money from which they are supposed to spend during their travels.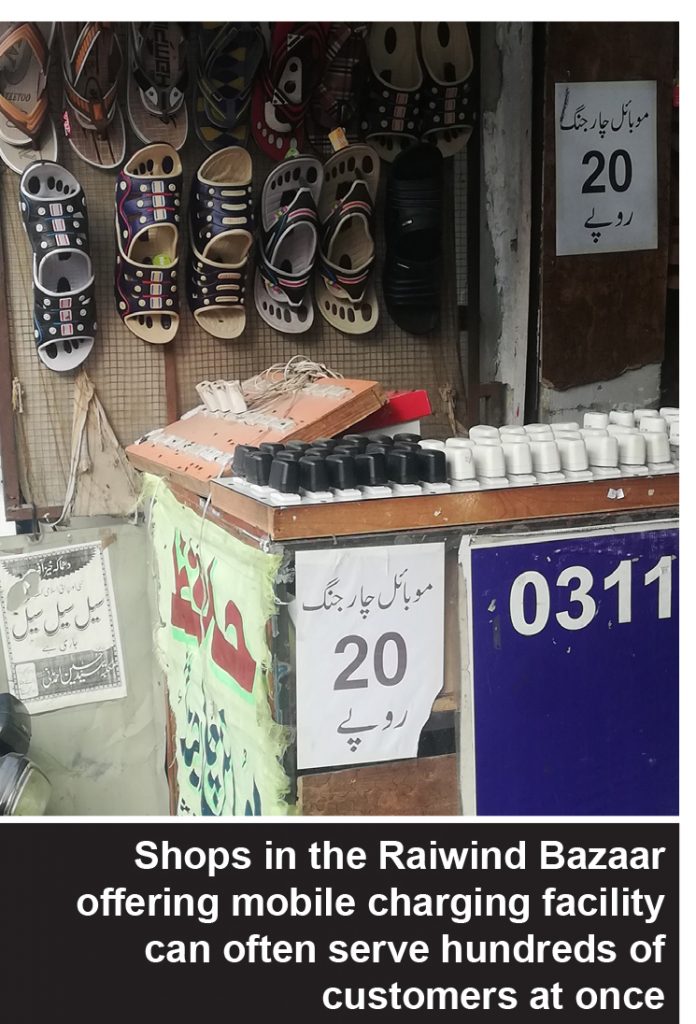 Compared to the luxurious hotels available to pilgrims in Saudi Arabia, Jamaat members use mosques to stay in the different cities or towns that they travel to. And instead of eating out or catering, food is often prepared inside the mosque or supplied free of cost from nearby neighbourhood homes. Members say that spending too much time in the bazaar is also discouraged by the Jamaat.
Tableegh and national productivity
It may not be immediately clear, but members' involvement in Tableeghi Jamaat's activities has another economic impact in the form of labour productivity.
"When a person goes away for months at a time for tableegh, they are not working for that time which is unproductive for the economy," a business owner based in Lahore told Profit on condition of anonymity. "An employee working in my company who earned around Rs50,000 a month decided to go for a four-month tableegh mission and applied for paid leave. The company rejected the application, but he decided to go anyway," he said.
When the employee returned, he had not been paid for four months and was having trouble managing his household expenses and had to take a loan from the company. "The same person after returning back from tableegh started to take longer prayer breaks during work hours, hence his productivity suffered even more."
Many other people visiting the Raiwind Markaz often have similar stories, where religious devotion often outweighs the burden of financial responsibilities unless the company is proactive in its policies.
"One of our founders is a senior leader of the Tableeghi Jamaat, but we have a policy that we don't allow preaching or discrimination based on religion or sects. Corporations are supposed to be secular. I am not asking people to leave their religion. What I am saying is that the company has no religion," said Musaddiq Zulqarnain, chairperson of Interloop Limited, a hosiery manufacturing company based in Faisalabad. "Employees at Interloop know they have a specific number of holidays and that they can avail and spend them however they want."