Ever since Rabeel Warraich announced that he had raised the funds to create one of Pakistan's first institutionalized venture capital funds, the country's startup ecosystem had been buzzing with a single question: so what will Sarmayacar invest in next, now that they have significant funds to create a serious funding round for a startup? On Tuesday, April 30, we got an answer: Bykea, the Karachi-based ride-hailing and logistics startup focused on motorcycles
Sarmayacar, along with two other venture capital investors, will be investing $5.7 million into Bykea, at an undisclosed post-money valuation. It is the largest Series A investment to date by institutional venture capital investors in the short history of Pakistan's startup ecosystem, and represents a milestone in terms of the ability of local startups to point to examples of successful fundraising.
"We are pleased to join Bykea on its journey of building affordable technology solutions that will create income generating opportunities for tens of thousands in Pakistan, while addressing rampant challenges in the transportation, logistics and payments sectors of the country," said Rabeel Warraich, managing partner at Sarmayacar.
The transaction brings together Sarmayacar with two other venture capital investors – Middle East Venture Partners, a $250 million fund based out of Dubai, and Tharros, a Singapore-based company – to fund a high-growth Pakistani startup that in some ways seeks to challenge the incumbent positions of Uber and Careem, though in other ways offers a differentiated product.
Bykea appears to be modeled after Go-Jek, the Indonesian startup that earlier this year raised a $2 billion funding round that valued the company at $9.5 billion. Those high valuations were no doubt on the minds of the investors who have backed Bykea.
"Bykea and its team are in a great position to play a leading role not only in advancing the nascent startup sector but can also become a local champion within the overall economy, similar to GoJek's tremendous success in Indonesia," said Singapore-based Jonas Eichhorst, an executive at Tharros, who will join the company's board as part of the transaction.
The announcement for Bykea may have generated a lot of buzz, but this is not the first time Muneeb Maayr, the company's founder and CEO has been an entrepreneur. The serial entrepreneur has been an early employee at several startups, including Rocket Internet's Daraz.pk, which was acquired by Alibaba last year.
The story of Bykea, in some ways, starts with the journey of its founder, Maayr, who has been building companies for nearly two decades now.
From banking to building companies
Muneeb Maayr grew up in Pakistan but graduated from the elite University of Virginia in the United States in 2001 and entered that most soul-crushing of professions: investment banking. He started working at Bear Stearns, the esteemed Wall Street firm that was one of the first dominos to fall in the collapse that eventually became the global financial crisis.
But that would be several years later, and long after Maayr left the company. In 2002, he was a lowly analyst at the bank that was undergoing the usual market retrenchment and found himself on the wrong side of layoffs and in need of another job that would sponsor him for a work visa. By chance, he went back to visit his college town – Charlottesville, Virginia – and met with executives at a relatively new company headquartered there: SNL Financial, which sought to create financial databases and simplify the jobs of financial analysts like Maayr himself.

Maayr had the idea of persuading the company to set up back-office operations in Pakistan, and was apparently persuasive enough to not only gain permission to lead the effort to do so, but gained equity in the company in the process.
He moved back to Pakistan, to Islamabad, and began setting up operations for SNL Financial to provide data analysis services to financial institutions in the United States and around the world. Thanks in no small part to Maayr's efforts, SNL's operations in both Pakistan and worldwide began to grow rapidly. The Pakistan operation, which Maayr started practically alone in January 2003, grew to over 600 people by the time he left in June 2012.
By that time, SNL had been acquired by the US private equity firm New Mountain Capital, and Maayr was already thinking of his next move. In a video of him giving a speech to SNL employees at an event in Islamabad's Serena Hotel, Maayr is seen alluding to the transformation that is about to hit Pakistan's technology industry with the advent of 3G and 4G mobile internet.
Maayr wanted to create his own e-commerce startup around the same time that he learnt of Rocket Internet's desire to do so. He entered into conversations with them to fund his startup, but the conversation soon turned into being about hiring him to run Rocket Internet's Daraz.pk, which started off mostly in the fashion space but ended up becoming Pakistan's largest e-commerce player.
It was during his time at Daraz that Maayr had to think a lot about last-mile logistics, or solving for the problem of inefficiencies in Pakistan's logistics sector, or conversely, the opportunities.
By December 2016, as conversations had already begun to sell off Rocket Internet's stake in Daraz.pk to Alibaba, Maayr left the company and raised capital from a small Karachi-based private investment company called Ithaca Capital to start Bykea, which would not only get into the ride-hailing business but would also seek to solve the last mile problem by offering same-day delivery services.
Bykea's platform
In less than two and a half years, Bykea has grown to become one of the largest platforms in Pakistan, connecting 200,000 motorcycle riders to its 2 million users, according to the company's data. So far, the company only operates in Karachi, Lahore, Rawalpindi, and Islamabad.
Bykea was launched on three basic principles, according to CEO Maayr. "We wanted to take the existing technology and make it relevant to a major portion of our population. We wanted to convert the existing possessions of people i.e. motorbikes and smartphones into income generating assets and we wanted to solve transport problem in the three major cities of Pakistan — Karachi, Lahore and Rawalpindi/Islamabad."
Maayr saw a market potential that others were late to realise. "There are 200 million people in the country. And until and unless we're able to tap into this 200 million population and are able to acquire them and sell them something, we're fighting in the same set of customer base. And that customer base is savvy in English, smartphone ready, like any audience in any country in the world."

Maayr wanted his product to be different and so he built a service that caters not only to the tech savvy, English-speaking population, but to the other, much larger chunk of the market as well. And that's why, he says, the mobile application itself is also in Urdu.
Maayr said he's thankful for the trust investors have put in Bykea, and at the same time debunked the myth that it's easy to raise investments for a local startup. "It's been very, very hard to raise money for Pakistan, contrary to what you hear that everyone in the world is ready to plug money into Pakistan. That's not true and it's actually quite prohibitive. Pakistan has such a regimental control on bringing money in and taking it out that no one wants to invest."
He went on to say that it's a different thing when multinationals invest money in Pakistan as they do it because they know it would drive consumption and sales. "Everyone is interested in Pakistan from a consumption oriented point of view. These are not businesses that are ultimately generating economic activity out of the country. Why are we (Bykea) in this business? We are in the business of essentially creating an offering for the local population and trying to drive economic efficiency and utility out of people's daily actions," said Maayr.
The investment will be used for marketing Bykea's core product offerings — ride-hailing and logistics, and raise the profile of the company and allow it to accelerate its user growth. Ride-hailing and deliveries are the two most popular services offered by Bykea, accounting for more than 80% of the company's revenue.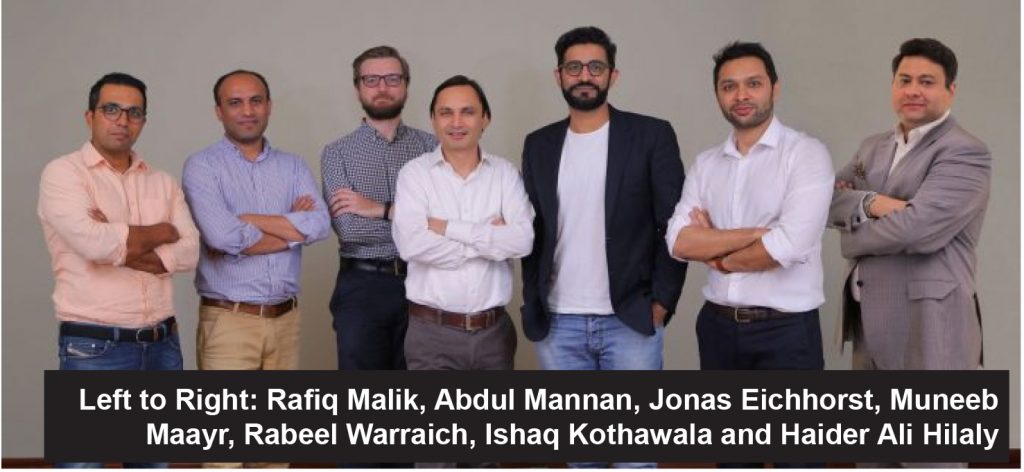 In addition, Bykea wants to try something that has not yet been done: it is going to launch a ride-hailing service for people who do not have a smartphone. "The thing is that the market is very large and no one has been really able to penetrate a significant portion of it. There are around 50 million smartphones but there are 100 million people that use feature phones. If you bifurcate Karachi, Lahore, and Rawalpindi/Islamabad, even in these cities, there should be around 20-21 million people with feature phones. So the potential market is huge," said Maayr.
Ever since Bykea's inception, the core mission for Maayr has been to create businesses that solve significant problems. "The problems we want to solve include a huge market. The question is how you will reach this market in a cost-efficient manner and if your product is even relevant for that market or not for them to use it. It's quite possible I may have reached you as a potential customer, but you may not use my product. I think these are very costly endeavours, and I don't think people realise that. The sheer amount of money that is required to drive behavior changes is quite a lot."

But Maayr is optimistic about the future. While many would've seen global powerhouses such as Uber and Careem operating in the same business as existential threats, Maayr sees an opportunity there too and credits them for helping develop the ecosystem. "As Careem and Uber advertise their bike category, awareness will increase because the whole ecosystem is growing. Actually, when Careem entered the motorcycle space, we grew as opposed to shrinking. And that's because they had marketed bikes as an option."
It is most likely that after Uber's acquisition of Careem is complete, their marketing and operational costs would significantly reduce, according to Maayr. But he still sees Bykea's future primarily in ride-hailing service. "I don't believe Careem and Uber have been able to explore the market despite putting in the millions that they have. Karachi alone has 3 million bikes. They will say the problem is of awareness, but the fundamental problem is of the product and its ability to be comprehended and used by the larger demographic. Because the larger demographic in Pakistan is not savvy in technology and English." And that's the market Bykea is hoping to capture to grow its business.
And to grow the business, Maayr says Bykea is working on making it easier for customers to book rides and giving its riders the liberty to work whenever they want. "We have to match both sides. Well start advertising that you can call a Bykea through a missed call. We have a number. 0307-1234567. It's a super simple number. You dial it and someone is going to call you and patch you up to a Bykea rider. Our goal is to basically make this product accessible to the millions of Pakistanis in Karachi, Rawalpindi and Lahore who do not have access to a smartphone or who do not know how to use an app."
For Maayr, it is extremely important to keep the supply side in check too. "We don't want to bring people to the platform by giving out huge amount of incentives; that you should quit your jobs and come drive for us. What we're doing is telling people who have a bike to come to our platform when they're free. Our strategy is very different from other ride-hailing companies. It is how do we make assets that the middle class, lower middle-class have and make them income generating assets."
But to gain something, it'll have to lose part of it too. Maayr says the company is planning on pulling the plug on some of its offerings in the app. "Our focus currently is to explode the core offerings that are ride-hailing and delivery, as the percentage of addressed market is still very small. I can say that I'll launch six new things, but I can't bring those six things into hypergrowth. I can bring one or two things into hypergrowth. We'll narrow down our focus and expand our current offerings to make them a lot better."

Though one new thing, aside from the missed call option, that Bykea plans to launch is a logistics solution for small businesses. "We're going to be rolling out the ability for our riders to pick up goods from a location and deliver those to multiple areas. That is a new technology which no one else has right now," said Maayr. He also clarified that although courier companies provide that service already, Bykea's service will be different because the deliveries will be made on the same day.
As Bykea invests the recent round of funding into developing new features and offerings, Maayr isn't worried about the profitability of the product just yet. "You're trying to construct this thing go higher and higher, so obviously there's a capital expenditure going in. You don't see a tangible building in front of you but every day our engineers and our marketing guys work to grow the brand. Do we today extract enough profit out of it? No we don't. That's why we need investors. We need investors to ultimately get into a stage where we start paying back the investors."
With Uber's acquisition of Careem fresh on everyone's mind, Maayr says the company is open for acquisition as long as the acquiring company lets Bykea grow on the principles it is being run on right now. "We're open to an acquisition only by a company that helps us grow as Bykea and helps us expand what we're doing. Even if we today are taking money from VCs were giving a part of the company in lieu of it. Absolutely we'll entertain anyone that is willing to invest money to help us grow the ecosystem."
Maayr believes Bykea's success lies with building the right product for the right market. "I believe, ultimately, it is our nimbleness to solve and make it easier for people to use our product which will allow us to persevere. We've persevered without money. What prohibits us to persevere with money."