Abid Sattar took over as the CEO of Askari Bank in August 2018. Somebody forgot to tell his LinkedIn profile, which still lists him as the head of international banking for Asia and Africa at Habib Bank. Should we read something into the fact that the CEO of the bank does not seem particularly keen to state publicly on his own social media profiles that he is the CEO?
Sattar has 37 years of banking experience, and has worked at some of the marquee brand names of global finance. He started his career in 1982 at ANZ Grindlays Bank, moving to Chase Manhattan (back when it had a Pakistan presence in the mid-to-late-1980s) before moving on to have extended stints at Citigroup and Standard Chartered. He then went on to run large divisions at Habib Bank, the largest bank in Pakistan.
Askari Bank, by contrast, is a much smaller financial institution, and perhaps unlike any other that Sattar has worked at. Maybe he is simply too busy fixing the bank to worry about his own social media profiles. We certainly hope so, because there is a lot that needs fixing at Askari Bank.
"It's been about seven, eight months that I am the chief executive. The initial few months were to understand how the bank is structured, and what sort of gaps and structural reforms need to be made," said Sattar, in an interview with Profit, "Now I am pretty comfortable in terms of understanding what are the issues and agenda items for the next two three years."
He certainly has his work cut out for him. Askari Bank was, until recently, among the ten largest banks in the country, though it has since slipped to number eleven. And 2016 and 2017 saw sluggish growth in revenues of 3.2% and 0.9% respectively, with profits growing by just 5.7% in 2016 and actually declining by 2.0% in 2017.
And 2018 has not been much better either. While revenue grew somewhat faster at 8.6% compared to the previous year, profits actually went down by 13.5%, marking the second year in a row of declining profits.
"There have been some market realities, stock market investments have not been doing well for so many years, PIB returns have reduced, so those types of provisions we have to make and that is something most banks have had to face," said Sattar. "Continued slackness in stock market and investment portfolios have reduced our bottom line."
He added: "The net profit after tax has reduced by 15-16%. But the core earnings of the bank have increased, in terms of advances we are making, deposits which we are getting, foreign income and foreign exchange we are getting is increasing. And we have pretty good plans of 2019 that we need to increase some of our product penetration, and our profitability will also improve."

Abid Sattar says he is determined to take Askari Bank higher to become "at least among the lower five banks in the top ten" banks of Pakistan. He plans to start with making the bank more profitable and then achieving other targets, while repositioning Askari Bank as a competitor not only to the traditional banks but also to microfinance banks, the financial services arms of telecom companies, and FinTech startups.
The strange case of Askari Bank
Askari Bank is a somewhat unusual entity in the Pakistani banking system in that it is owned by a military-owned foundation called the Fauji Foundation Group. That means that the bank is at least theoretically state-owned, and thus not entirely like a privately owned commercial bank.
However, Fauji Foundation is not like other government entities in that it does not carry with it a specific public policy agenda for the companies it owns. In principal, it owns Askari Bank for the same reason it owns any other asset, or any investor owns any asset, for that matter: because it believes it will be a profitable investment. There are no explicit employment mandates, though the bank does employ some former military officers and soldiers.
Nonetheless, the bank's management is surprisingly cagey about the role of its majority shareholder in its day-to-day management. When asked by Profit as to whether the military has any influence on the bank's operations or governance, Sattar said: "I don't think there is, but even if there was, I would not tell you."
The bank sees its brand as being affiliated with that of the military, which typically carries positive connotations for a large swathe of Pakistani society. And Abid Sattar sees that "brand strength" as something he can capitalize on to help grow the bank.
And the affiliation with the military helps in more tangible ways as well. "We are pushing the armed forces to transfer the salaries and pensions of non-commissioned officers' through us," said Sattar. The bank already handles the salaries of officers of the Pakistan Army and the pensions of the officers of all branches of the Pakistan's Armed Forces.
As the single largest employer in the country, the Pakistan Army would be the largest salary contract that the bank could possibly get. It would then lend credence to management's efforts to offer a similar product to its corporate clients. "And that is the first point, we intend to offer the same services to other customer sectors as well," said the CEO.

The other major way its affiliation with the military helps Askari Bank is that some of its biggest corporate clients are also companies owned by the military through one of its charitable foundations. The largest and most profitable ones of these are the Fauji Fertilizer Company and its subsidiary, Fauji Fertilizer Bin Qasim. Serving these companies not only helps the bank increase its corporate deposit and lending base, but also helps the bank in other ways.
"We are working with our affiliated companies, like Fauji Fertilizers. They already have a network of rural supply system and we can align with them, and that way we can make our agricultural banking reach more people," said Sattar.
The struggling culture of the bank
While Askari Bank is not as bad as National Bank in terms of inefficiency, it nonetheless does appear to operate differently from the private sector banks.
"As a commercial organization we need to have a performance culture which rewards the good performance and weeds out non-performance," said Sattar. "Over time, Askari Bank has developed a culture where people were not rewarded according to their performance, the goals were not set in that direction, and neither the awards. Everyone got the same type of increment and same type of bonus, and more or less a fixed bonus."
And then there is the fact that the bank seems to perennially lack the right talent for the right jobs, as a result of which it is constantly needing to hire people from outside the bank, a situation Sattar hopes to remedy during his time as CEO. "We need to continue the pipeline and inductions, so people can be trained and promoted. Over the long run we should be relying on our in-house staff instead of having to hire at the middle management level," he said.
Then there is the fact that, Sattar believes, the bank often does not have the right people for the job at all, and does not appear to have invested enough in training them for their jobs. Part of his approach as CEO has been to try to fix that situation.
"We need to revamp the training centers, and we are already doing that in three locations, Karachi, Lahore and Islamabad," said Sattar. "At the same time we are working on e-learning models where people can learn about the products and processes which are universal e.g anti-money laundering, know-your-customer, and information security types of training that is across the board and every staff member needs to go through it."
And the bank appears to lack diversity on its staff. Sattar said that it is not just the skills and professionalism that Askari Bank needs, but considering the fact that it is operating all over the country, there also needs to be a more equal representation of the people from different areas.
He also feels that the female employees of the bank have not had equal opportunities to of career progression and perform as their male colleagues because as of now most of them are appointed at junior positions. Rectifying this is also on his cards. "We have set a target that at least 30% of our staff should be female," he said.
As a result of all these human capital-related deficiencies, Sattar feels the bank is simply not where it needs to be in terms of service quality. "I firmly believe that for a bank of this size, we need to be number one service quality bank in this market. We feel that the service quality of the banks is not what the consumers expect. There are pockets of excellence, good quality service in various branches, areas or product lines, but generally the service quality is not consistent across the board all branches and all business lines."
Forging the path forward
To address these challenges, Sattar is setting off on an aggressive strategy to revamp the organizational structure of Askari Bank, institute performance management systems, and reorient the bank to become more competitive in terms of the product suite it offers its corporate clients and retail customers, with a special focus on the bank's technology infrastructure.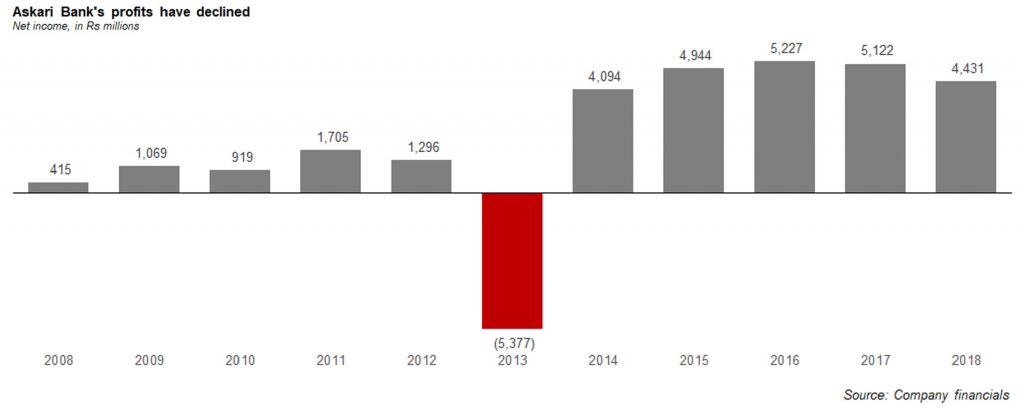 These moves have ruffled some feathers, and most noticeably, has also resulted in a substantial number of layoffs from the bank, along with new hiring, and an outcry on social media by current and former employees of the bank, who now fear job insecurity.
The first move was a reshuffle in the senior management. "Initially there were some gaps in the senior management, which I tried to fill in by getting some people with relevant experience. We have new treasurer, new risk manager, new head of HR. Some positions were vacant, some were not senior enough to perform those jobs. So we had to make some organizational changes, to align ourselves with the needs of the market and to align with our objectives that we are setting for ourselves for the future."
Abid Sattar is not only concerned with hiring new people that he deems fit for the bank, but he is also changing the performance measurement systems within the bank making even current employees earn their value. Brushing off the possible backlash or loss of motivation in the bank's employees due to the new performance review system, he said that the new system is in fact a motivating tool for those who want career growth.
"That is a fundamental thing we are addressing. We want to encourage people who want to perform better, and we want to reward them better too. It's a very time-tested performance management scale, that in any organization you will have 10-15% in the top category, 20-25% in the next category, and the bulk of your organization is comprised of core performers. That's the backbone of the organization. Even in bureaucracy, armed forces, even academic classes, there is always a distinction. There are always some top performers. Then there will be a small percentage of people who are not performing, and they either need to be retrained and given another opportunity to reperform, or perhaps given the choice of making another career option. This is how things work, and this is not something that is my own idea, it is how every organization works on a bell curve."
On the product side, his strategies to enhance bank's market penetration started with becoming more active in advertising in print and electronic media for soliciting more deposits.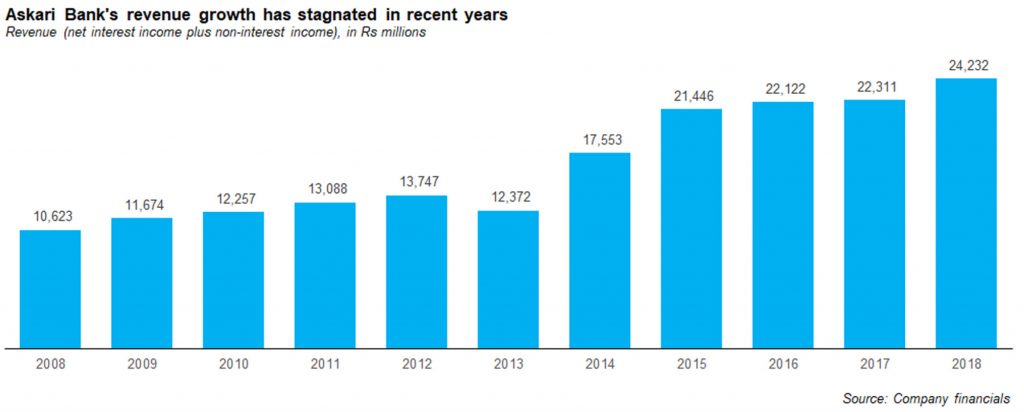 He also wants the bank to concentrate more on credit cards and housing loans, which is in line with the government's low-cost housing policy as well. "We are one of the few banks who are actively encouraging that product development. Askari Bank is one of the five banks that are being given that facility from the central bank for low cost housing, in cooperation with the World Bank."
Askari Bank has also started transactional banking facilities for corporate banking customers, to "capture their collections and payments" through their system. A new division called 'institutional seer' has also been created for corporate and other organizations with whom the bank has large loans or large deposit relationships with, which is focused on providing them employee banking services like credit cards, personal loans and housing finances.
"We have also gotten the digital banking policy approved by the board and we are entering that too so we can compete with the industry in terms of more products which connects customers to us like mobile banking and internet transactions," Abid Sattar said.
Nonetheless, Sattar conceded that the financial services arms of telecommunications companies – such as JazzCash and EasyPaisa – have left Pakistani banks far behind in the race for mobile payments, and banks are only now realising that they need to catch up to stay relevant and profitable. He also believes that microfinance banks and FinTech startups have made an already highly competitive industry even more competitive.
"The financial sector has always been very competitive but lately because of FinTechs, telcos and microfinance coming in the payment and e-commerce areas where banks traditionally had their captive market, banks are now being pushed. So now banks are also opening up, either developing alliances or developing their own capabilities."
He also believes that the sluggish progress of purely banking products like Asaan Mobile Wallet is not because of any pressure from the telcos, rather it is the inherent weakness and the delay that banks took in capitalizing on the opportunity of financial inclusion through digital means.
"The challenge in Pakistan is financial inclusion. The banked population is still 20%, and there is a huge population that needs to be banked. And if banks don't do it, someone else will." he said.
"I think the canvas of the banking sector is changing, and the more efficient, innovative and quicker you are you should be getting it going. Telcos have had the headstart and have obviously developed their capabilities. Banks were in their comfort zone and are realizing that now. Telcos revolution in Pakistan has been much more aggressive and faster than most of our traditional sectors. They were very innovative, and reached out to customers much faster. Without any previous records they introduced the prepaid segment which was very successful. Telco sector has penetrated almost 80% of the population, while banking is still 20-25%."
Adding to the financial inclusion targets, particularly in relation to Askari Bank's objectives, Abid Sattar said, "Our sponsors have a very clear bias towards lower income customers and those related to agriculture and rural areas. In that respect we are working on agricultural banking and rural banking and we are also working with our affiliated companies for that. We are trying to have much more robust digital capabilities because we also need to reach out to people in areas where we may not have the branches. We also need faster processing for money transfers, pensions and so on. In that respect we are also developing our own processes in line with that, and also looking for alliances with telcos, microfinance banks and fintechs."