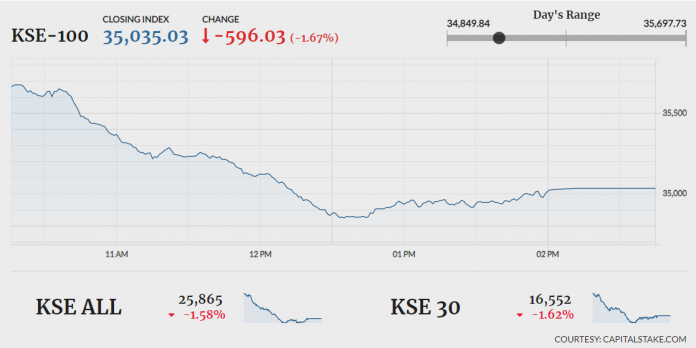 KARACHI: Bears took charge of the Pakistan Stock Exchange (PSX) once again on Wednesday, as indices continued to sink further amid lack of economic clarity.
Fears of a heavy tax burden surrounding the upcoming budget and anticipation of Pakistan entering a tough International Monetary Fund loan programme (IMF) kept the investors under selling pressure.
Analysts believe that a successful conclusion of ongoing talks with the IMF team will not only bring clarity to market participants regarding future policy actions but will also enable the government to set targets/projections for the next fiscal year.
The KSE 100 index slipped below the 35,000 points mark in intraday trade to touch 34,849.84, levels not seen since May 2016. The index closed lower by 596.03 points at 35,035.03. The KMI 30 index depreciated by 1,279.02 points to end at 54,750.55, while the KSE All Share index sunk by 416.25 points, settling at 25,864.93. Out of total traded shares, 41 advanced, 270 declined while the value of 11 remained unchanged.
The overall market volumes improved by 73pc and were recorded at 113.24 million. A volume surge of this magnitude often warns that the run is losing, not gaining, momentum. Exhaustion often signals the reversal of a current trend because it illustrates excess levels of supply or demand, indicating a market is either overbought or oversold.
K-Electric Limited (KEL -5.62pc), Sui Northern Gas Pipeline Limited (SNGP -4.20pc) and Maple Leaf Cement Factory Limited (MLCF -3.64pc) were most traded stocks of the day. The scripts had traded 16.78 million shares, 5.73 million shares and 5.20 million shares respectively.
Profit taking was seen across the board with Muslim Commercial Bank Limited (MCB -3.09pc), Engro Corporation Limited (ENGRO -1.93pc), Fauji Fertilizer Company Limited (FFC -2.29pc), Pakistan Petroleum Limited (PPL -1.72pc) and Mari Petroleum Company Limited (MARI -5pc) taking centre stage.