It is considered the gold standard in the investment management industry, the global elite profession that is responsible for managing the $46 trillion global pool of investible assets. The CFA – short for chartered financial analyst – is the highly respected credential in the world of finance and one that is respected around the world. But does it make sense for students in Pakistan to pursue the path to becoming a CFA charter holder?
Profit's conversations with qualified CFA charter holders, or those who have cleared certain levels of the certification, reveal that while the certification is perceived to be of immense educational value, it might not necessarily bear material benefits, at least in the short run, for those who hold the qualification.
For the most part, that is because of the small size of the investment industry in the country.
Obtaining the charter requires passing three academically rigorous levels, requiring a recommended collective time of at least 900 hours of self-study (300 hours of study for each level), and relevant work experience of 4 years in the investment industry. Put together, if you aspire to obtain the CFA charter, you have to prepare yourself for painful rounds of binge studying, especially if you do not really have an appetite for finance.
But is the reward of struggling to get the charter commensurate to the efforts an aspirant puts or the pain he goes through during the time he starts preparing for a charter to the time he gets it?
The Pakistani investment industry and CFA charter
A CFA's professional role is concentrated in the investment management industry, which happens to be very small in Pakistan with respect to the size of the total economy. According to the Mutual Funds Association of Pakistan (MUFAP), as of the end of March 2019, the latest month for which complete figures are available, the industry manages a total of Rs578 billion, equal to just 1.8% of gross domestic product (GDP).
By comparison, the US investment management industry's assets under management (AUM) are greater than the US GDP. Even in neighbouring India, the asset management industry's AUM exceed 12.6% of India's GDP.
"When you look at the developed markets, this number [assets under management] is very big. It is in multiples of 10 and 20. Even in India this industry is very big. In Pakistan, however, the conventional financial institutions commercial banks are the ones that proliferate more. Commercial banks are the biggest industry and this is where most of the financial markets move around," said Muhammad Asim, president of the CFA Society Pakistan, in an interview with Profit.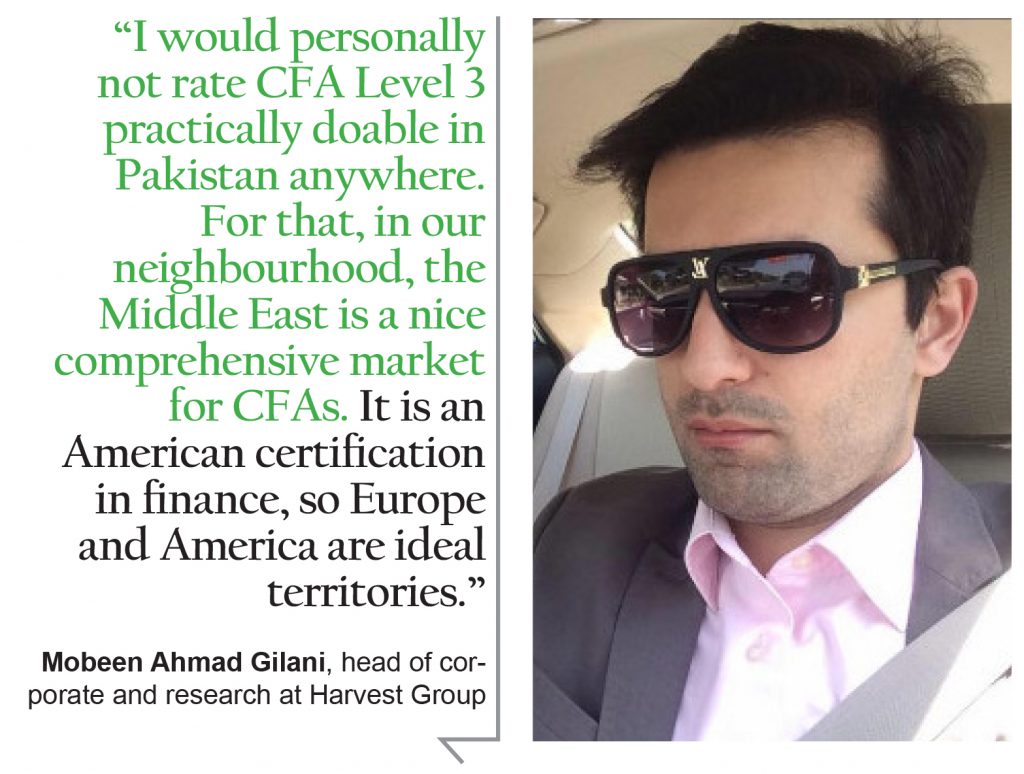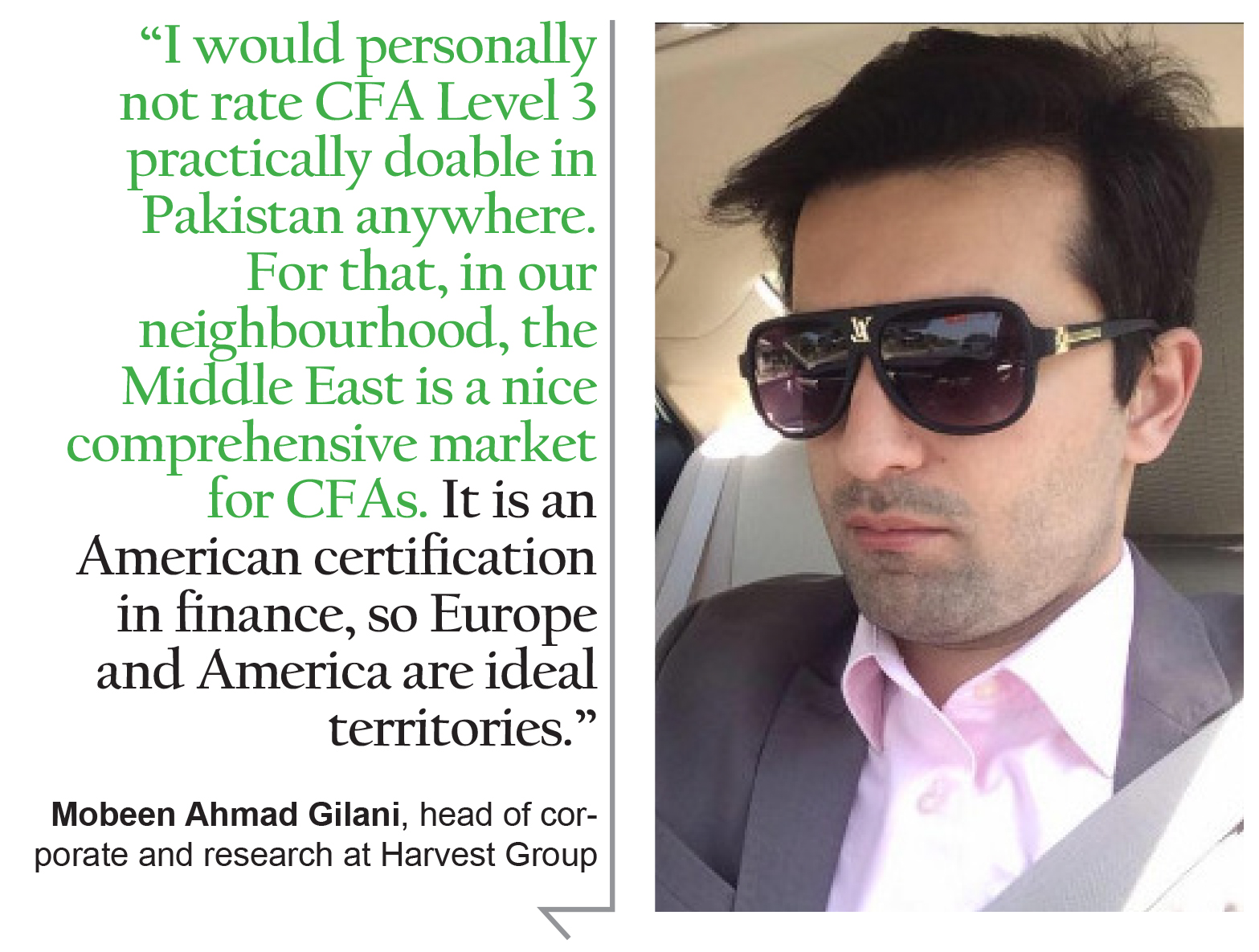 In addition, Pakistanis have a relatively low propensity to save, a problem that is exacerbated by a lack of access to financial products and services that would allow most households to start saving and building wealth for themselves. This results in a vicious cycle: low assets means the industry does not develop, which in turn means that people have few avenues to invest, which in turn means low assets for the investment management industry.
"Our capital market has a market capitalisation in the range of $100 billion. That is about less than 30% of the GDP. However, in the developed markets, it goes beyond 100% of the GDP. So we are very small in relation to the overall financial markets. Similarly, with regard to the overall development of the financial market, we don't have complex products. We have the same plain vanilla equity markets," Asim says.
It is not surprising, then, that the number of people willing to put themselves through the grueling process of becoming CFA charter holders is very small in Pakistan. The CFA Society's data shows that there are just under 350 charter holders in the country, though the society estimates that there may be as many as 900 Pakistani CFA charter holders, but many of them may live and work outside the country. And some may have not paid their dues and allow their membership to lapse.
Regardless of what the actual number is, it is clear that the total number of Pakistanis with CFA charters is far less than even 1% of the more than 150,000 CFA charter-holders that CFA Institute – the global association of investment professionals and the organisation that offers the Chartered Financial Analyst designation – estimates the total number of charterholders worldwide to be.
So in such a small investment industry, is doing CFA really going to reap benefits for those are able to make it to the other end and is it really worthwhile?
Is the CFA worth it?
Mobeen Ahmad Gilani, head of corporate and research at Harvest Group, a capital markets firm, and a CFA Level 3 candidate, believes that the work required professionally in the field of finance in Pakistan can easily be catered by the curriculum of BBA or MBA Finance.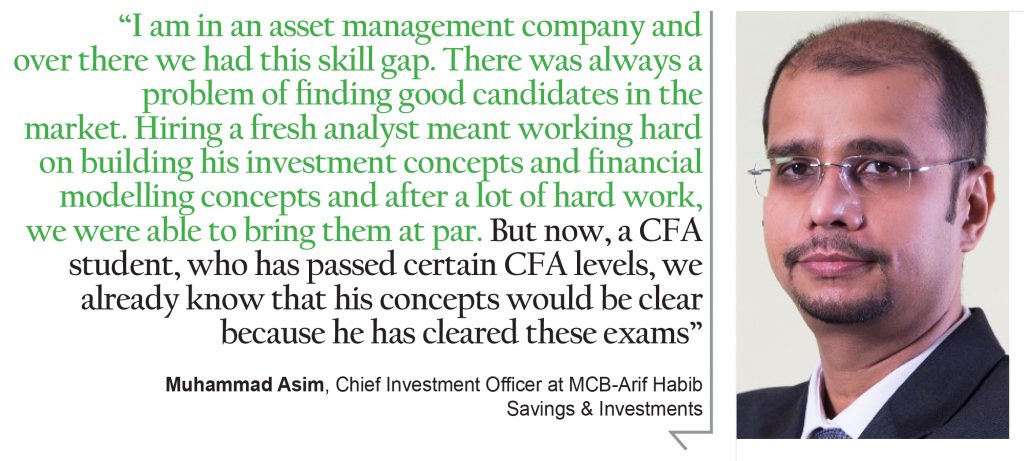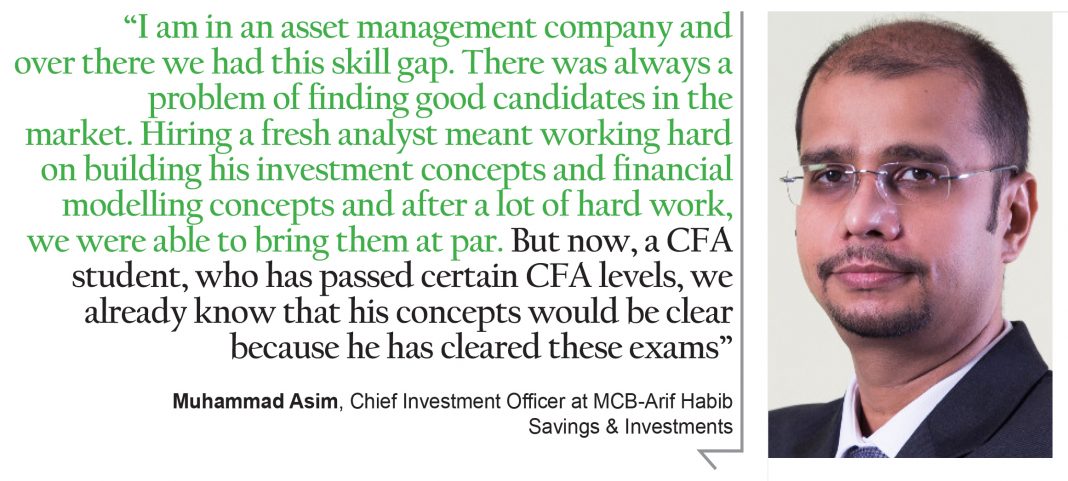 "I would personally not rate CFA Level 3 practically doable in Pakistan anywhere. For that, in our neighbourhood, the Middle East is a nice comprehensive market for CFAs. It is an American certification in finance, so Europe and America are ideal territories," he says.
However, a CFA charter-holder, speaking to Profit on condition of anonymity, while concurring that the investment industry in Pakistan is at its nascent stages and that the overall size of the industry is miniscule, ruled out that CFA is an overqualification in the context of Pakistan.
"It is true that the financial market in Pakistan is very nascent. That is the reason why you need CFA charter-holders who can incorporate scenarios to actually develop the market. You need CFA charter-holders to actually develop the market," he said.
Muhammad Asim was of the view that when it comes to the utilization of the CFA charter, the importance of higher education or importance of excellence in education should never be the reason that you first calibrate the market and then decide what you should do, study or pursue.
"When you have a higher skill and a higher qualification, you push the standard up and that is what the CFA qualification is about. You push the standard of professionalism upwards to the global standards. The CFA qualification brings investment professionals to a global standard. This is a unique qualification that is being followed in the developed markets like in the US. [Closer to our region], it is China. These are the markets that actually lead the profession and this is where it is considered the gold standard. So, CFA in Pakistan gives you an opportunity and it is actually a bridge that brings you at par with those standards being followed in leading markets," he adds.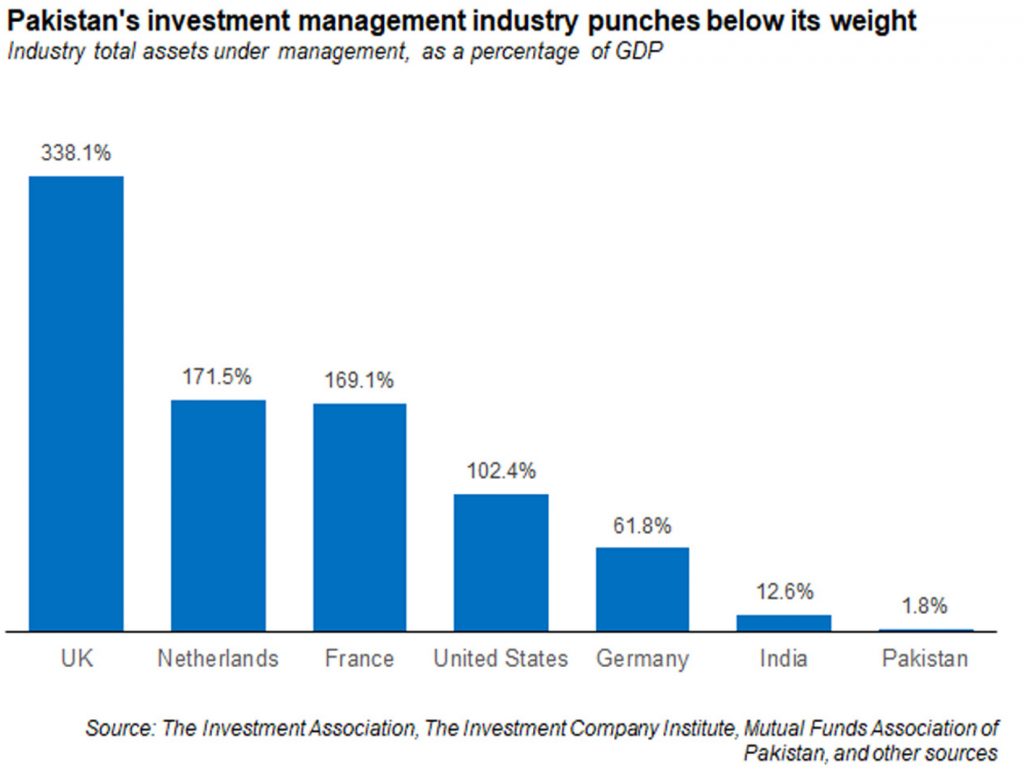 The picture is not all gloomy for the investment industry. There has been a significant increase in the total value of AUMs in Pakistan. From Rs375.15 billion in 2013, AUMs reached the value of Rs585.9 billion in 2017 and stood at Rs678 billion as of 2018.
"The industry is likely to show higher growth as we have seen in the last two, three years. There has been a significant growth by the asset management industry in terms of both number of investors and AUMs. But I would not say that this is exponential growth," CFA Society Pakistan President Muhammas Asim said, stressing that there is a need to look at the overall participation of individuals, the general public, the investment scheme and overall savings.
"If you look at the overall statistics, Pakistan has one of the highest consumption ratios. So as a society, we have not tuned our savings into investments at all and that is what needs to be encouraged," he says.
A Boarding Pass
So what does CFA entail for those who pursue it? Those who have obtained the qualification say that the qualification, regardless of the level one has cleared, will certainly propel their career path and a complete charter might give a steeper rise in career compared to an MBA in finance.
"It is a boarding pass which can help you elevate to certain heights but it is important to know how to use this boarding pass to actually navigate your career path," the CFA charterholder says.  

"If I am a fresh graduate in a pool of about 4,000 to 5,000 MBAs entering the market, having cleared CFA Level 1 or CFA Level 2 along with my degree will make me stand out and for any opportunity in finance, I will be looked upon more favourably. So CFA can certainly be seen as a door opener. If someone gets a job after four interviews, a CFA might get it after 2 interviews. If somebody gets a job with a 3.8 CGPA, a CFA might get it with a 3.2 CGPA," he said.
But the monetary impact of the certification, according to him is not going to be much, at least in the short run, and suggests that if aspirants think they'll get for instance Rs150,000/month salary because of a CFA for a job that would otherwise pay Rs100,000, they will be disappointed.
"Moreover, a challenge that I think with the CFAs in Pakistan is that they have locked themselves in the research area only. While brokerage and equity are the key places where there is a logical usage for a CFA, there are a lot of places in finance and corporates where CFAs can come in handy," he says.
A certification of value
From an employer's perspective, Asim, who also serves as chief investment officer at MCB Arif Habib Savings & Investments Limited, believes that there is a skill gap in Pakistani investment industry which the CFA bridges. Therefore, employers see value in the CFA qualification.
"I am in an asset management company and over there we had this skill gap. There was always a problem of finding good candidates in the market. Hiring a fresh analyst meant working hard on building his investment concepts and financial modelling concepts and after a lot of hard work, we were able to bring them at par. But now, a CFA student, who has passed certain CFA levels, we already know that his concepts would be clear because he has cleared these exams," he says.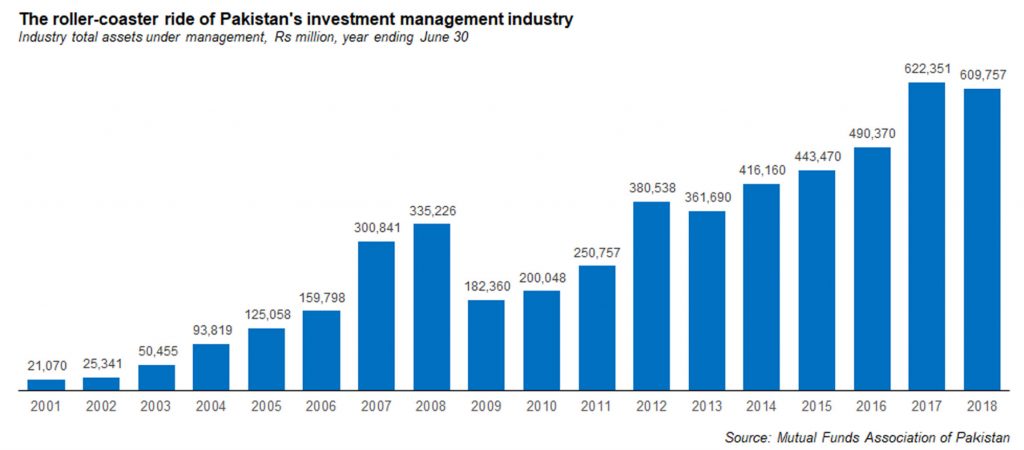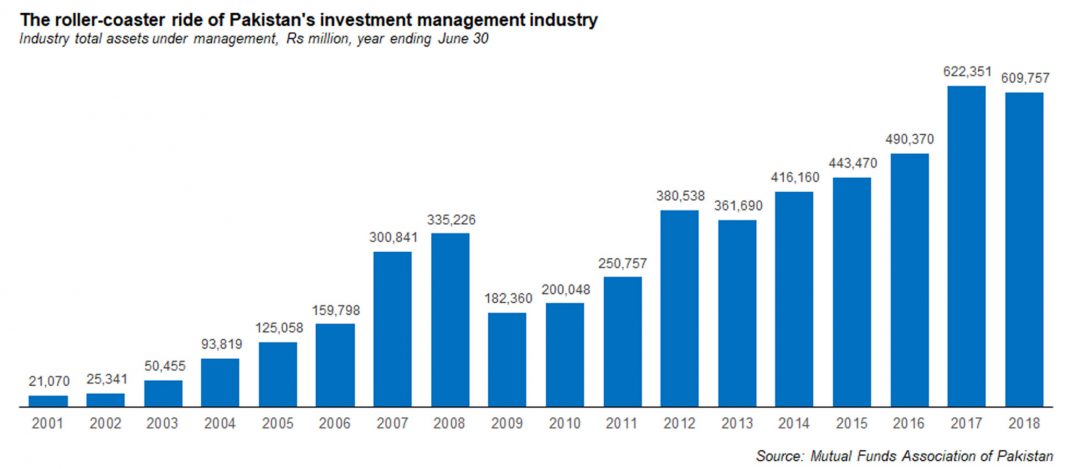 Any asset manager or a brokerage firm that hires a research analyst, or a bank or securities firm that is hiring an investment banker, Asim explains, would prefer a CFA qualification because once you get CFA designation attached to your name, it proves that you have been through a process which everybody knows, which is the gold standard in education in terms of its curriculum and its rigorousness, and which is very deep in terms of technical and ethical dimensions.
"So the employer knows that the product that comes out of the whole process of CFA charter meets a particular threshold which is very important in the financial markets," he says.
But he explains that the value of a CFA qualified applicant can be appreciated only by the right employer in the right industry. "If I am working in a textile company and working on a machinery and I have done my CFA, my employer might not be able to appreciate it," he added.