In Pakistan, we are not used to the words "fast" and "efficient" being used with respect to anything our government does. Which is why when it does so, it is an absolute treat and is newsworthy on its own.
The policy in question is the online visa policy, introduced by the government earlier this year, and one that has already been used by thousands of people with ease and success. What makes this remarkable is not just that the policy works, but that the government formulated, planned, and executed it all within a matter of months and that it is – broadly speaking – working as intended.
Here is a timeline of how it happened: In December 2018, Abdul Razzak Dawood, Advisor to the Prime Minister on Commerce and Investment, announced that the government was considering a new policy that would ease visa restrictions and make it easier for foreign travelers to apply for visas to visit Pakistan. The policy was presented to the prime minister in January 2019, and approved almost immediately, with minor modifications taking place in February.
On March 14, 2019, just a few weeks after its existence was approved, Prime Minister Imran Khan formally inaugurated Pakistan's online visa application system. Within the next two months, the system has already been used by nearly 3,000 people and appears to largely be working well.
Why a new visa system is necessary
If you have seen any of those articles about how Pakistan has among the least "powerful" passports in the world, you may have also seen the opposite of those stories: how passports of countries like Germany, the United Kingdom, the United States, and Canada are among the most 'powerful' in the world, allowing their bearers the right to travel without a visa to over 170 countries each.
Now think about the issue from the perspective of the government of Pakistan: the citizens of those countries tend to among the richest in the world, on average, and hence the ones who are most likely to spend the most amount of money when they do come to Pakistan. Why would they choose to come to Pakistan when there are, for them, over 170 other countries they could go to without the hassle of a visa?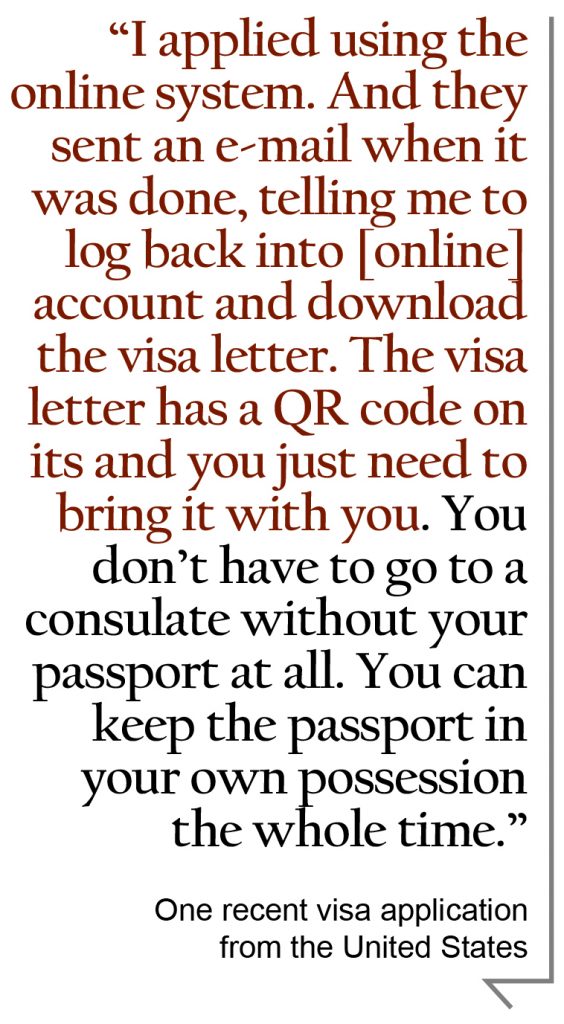 In order to make Pakistan more accessible to the global tourist public, the country needs to become accessible without a visa to a large section of the global population. And that is precisely what the current policy is meant to achieve.
Almost overnight, Pakistan has gone from being one of the most difficult countries in the world to travel to in terms of legal documentation to being among those that are significantly easier for the vast majority of the world.
For the citizens of 50 countries, it is now possible to travel to Pakistan as a tourist on 48 hours' notice. They no longer need to apply for visas, but instead simply fill out a relatively simple and straightforward online form which serves the purpose of telling the government of Pakistan of their intent of visiting the country.
This category of countries includes most countries in Western Europe and the Gulf Arab states, as well as a few countries in Latin America and Africa. Oddly enough, it does not include the United States or Britain. (Yes, it is probably because of the Raymond Davis episode.)
For business travelers, there is a considerably longer list of 95 countries whose citizens can travel to Pakistan with minimal paperwork. That list includes all countries in North America, most countries in South America, nearly all of Europe and the Middle East, almost all of East Asia, and about one-third of Africa.
And the citizens of all but 14 countries (including most countries in South Asia, such as Afghanistan and India) can apply for a visa online using a relatively straightforward application process.
How the system works
There is a clear hierarchy of countries for which Pakistan has made travel to the country easier, and the documentation required is incrementally more difficult for every country outside that inner circle.
The inner circle is obviously that list of 50 countries that get what the government is calling "visa on arrival" although it requires a little more documentation than a simple visa on arrival. Citizens of these countries are required to upload a JPG scan of their passport, photograph, and their hotel or tour booking. That is it. Once they upload it, the government of Pakistan is promising that they will receive a response within 48 hours, and it is usually an approval.

If one is not from these 50 countries, the process is the same, except that the government promises a response within 7 to 10 business days rather than 48 hours.
I recently invited several of my friends – who are mostly US citizens – to visit Pakistan. Their experiences in the application process suggest that the time it takes to process an application can vary somewhat, but does not take any more than the 10 business days that the government promises.
For instance, for my friends who applied at the Embassy of Pakistan in Washington DC, the process took approximately 7-9 days for most people, though one person was able to get it in less than two days. The Consulate of Pakistan in Los Angeles was considerably faster, getting a visa to my friend within 48 hours of applying, and at least part of those 48 hours were on a public holiday in the United States.
I had issued all of my friends invitation letters, notorised on stamp paper, which they scanned and uploaded into the online visa application system run by the National Database and Registration Authority (NADRA). They also uploaded scans of their passports, and photographs. For their passport scans, most of the applicants used their phones to scan their passports. And for their photographs, they simply took selfies from their cellphones against relatively plain walls. At no point did anyone from NADRA or the embassy create a fuss about the documents they uploaded.
Crucially, at no point did they need to send in their passports to the Embassy or Consulate. For people who are used to having their passports stamped on arrival, they are not used to the idea of not having possession of their passports for several days or weeks to get a visa, and hence this feature of the new process has been particularly attractive for them.
"I applied using the online system," said one US citizen who applied for a Pakistani visa in May. "And they sent an e-mail when it was done, telling me to log back into [online] account and download the visa letter. The visa letter has a QR code on its and you just need to bring it with you. You don't have to go to a consulate without your passport at all. You can keep the passport in your own possession the whole time."
"Seriously, the best visa process I've been through," she said, comparing her experience applying for a Pakistani visa to other countries she has traveled to. "I e-mailed the consulate asking questions and they were insanely helpful and even dug up my application, told me everything was in order, and said I should receive an approval soon."
How and why the policy is succeeding
It is heartwarming to be able to host my friends in Pakistan and to know that – far from being a pain – my government has been welcoming to them. The incredible hospitality that is the hallmark of Pakistani culture may finally be seeping into how our government treats visitors as well.
But the reasons for the success of this policy need to be examined in a little more detail: why did this policy succeed while others that the government has tried have had far less success?

There are two key reasons why this is so: Firstly, this is a policy that involves the government changing its own internal policies, which is generally easier to do than other policies that involve the government seeking to induce a specific set of behaviour from other parties. It is simply easier to get this right than, say, fixing the massive mess that is the country's tax policy.
Secondly, and most crucially, the task of implementing this policy was not given to the Civil Service of Pakistan. Instead, it went to NADRA, which – because it is not part of the regular civil service – has the luxury of being able to hire highly talented individuals who are able to take a simple policy and implement it within a matter of weeks rather than getting mired in months and years of red tape.
NADRA's efficiency is proof that Dr Ishrat Husain's attempts to reform the civil service are absolutely necessary. Husain's central thesis is one that has been proposed by economists for several decades now: the civil service needs to be much more flexible about letting enter and exit government service so as to allow talented people from the private sector to serve in the government and then leave to resume their private sector careers.
While NADRA is technically part of the Ministry of Interior, which handles all matters relating to immigration and is also responsible for passport issuances, to get a job at NADRA, one does not need to pass the Civil Superior Services (CSS) examination. One also does not need to be a government lifer: you can work at NADRA one year and go off and do something else the next. Conversely, you could be working at an IT company one day and apply for and get a job at NADRA the next.
The flexibility means that the level of talent at NADRA is comparable to a well-paying private sector organisation. Hence, NADRA works better than a regular government organisation.
And this is not simply a case of NADRA, but also other non-civil service organisations. The best economic minds in Pakistan who are on the government's payroll do not work at the Finance Ministry or the Economic Affairs Division but the State Bank of Pakistan, an autonomous institution which is far more flexible about its ability to hire people from the private sector at any stage of their careers.
And while they are not as independent and powerful as they need to be, the regulators at the Securities and Exchanges Commission of Pakistan (SECP) and the Competition Commission of Pakistan (CCP) tend to be better at their jobs and somewhat more likely to bring enforcement actions against entities they regulate than the civil service-dominated Oil and Gas Regulatory Authority (OGRA) or the National Electric Power Regulatory Authority (NEPRA).
This is not to suggest, of course, that the Civil Service of Pakistan should not exist, merely that it should not be a complete monopoly on senior government jobs. People who treat their government jobs as part of their career rather than an exercise in political empire-building are more likely to focus on actually achieving the government's public service goals rather than increasing their own power base.