22As. But where's the beef?
How many of you have heard of Ali Moeen Nawazish? Chances are, most of you have. In 2009, this large but unassuming A level student was making rounds on television shows after securing 22 As in his A levels – a world record at the time. Oohs were Aahed for this beacon of scholarly pursuit, parents gave their relatively underachieving children biting side glances, and said students made jokes at the expense of their rotund overachieving contemporary. And the world went on. Ali Moeen Nawazish made a world record academic achievement, and our 'A-grade' obsessed nation turned him into a celebrity. After his exploits at the intermediate level, he went on to get his Bachelor's degree in Politics and International Relations from Trinity Hall, Cambridge, and then completed a master's degree in journalism from the Columbia University Graduate School of Journalism. Since then, his success has been middling at best. Currently, he is a youth ambassador and columnist at Jang Media Group. He also runs blue-ticked Facebook and twitter accounts with 1.2m and 33.7K followers respectively. But nobody really cares about his Columbia journalism education, which must have helped him develop the Jang Real-AR news app. He is and will forever be the kid who got 22As in his A-levels, and now posts shaky, winding, brow-beaten political opinions on his Facebook, which get a decent amount of shares because, well, he must be smart if he got those grades. No?
But let's forget about Ali Moeen Nawazish and his pointless number of A-grades for a second. How many of you have heard of Ahmed Rauf Essa, S Zayd Enam, or Bilal Ather? Chances are, very few of you.
Essa and Enam are among the Pakistanis included in Forbes 30 Under 30 list. Essa is a graduate of the Institute of Business Administration in Karachi and is an entrepreneur, best known for co-founding Telemart. He has about eighteen different accolades and honors to his name which include him being a nominee as well as the judge for Forbes 30 Under 30. He has received the prestigious CEO World Award, ACQ Global Award, Golden Bridge Award and International Business Award among others.
Enam is Pakistan's drop-out success story, having left Stanford to focus on the company he founded – Cresta.ai. Enrolled in the PhD program at Stanford, after completing his Bachelor of Arts/Science from University of California, Berkeley, the entrepreneurial spirit has always been alive in Enam, who dropped out once before (in high school) to work on his first startup MediConnect – a healthcare provider platform.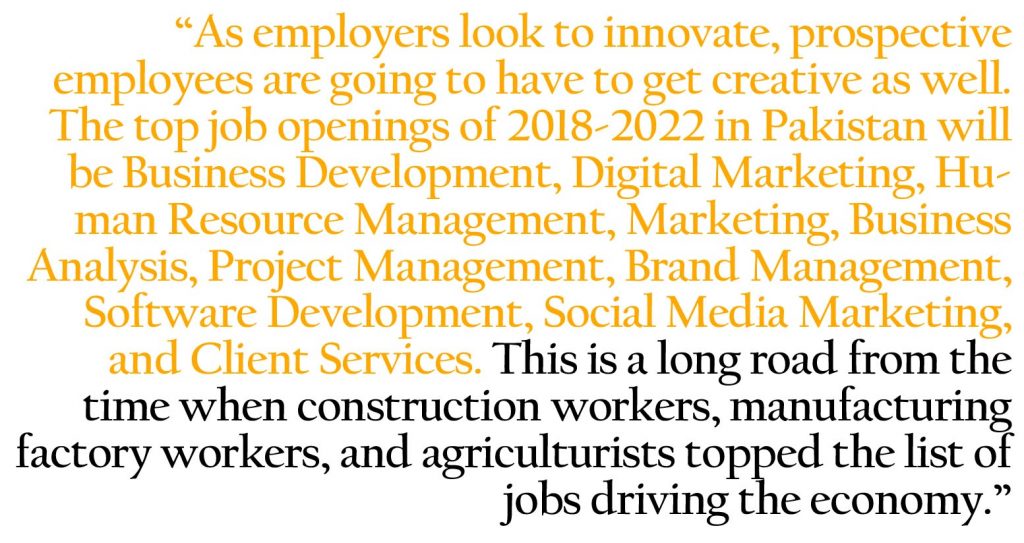 Ather is also an entrepreneur. He founded the multimillion dollar company Wifigen. He also struggled academically, his ACCA giving him nightmares as he flirted with the idea of becoming a career rock guitarist, and tried his luck at singing. It was only after giving his musical abilities a run that he decided to explore another of his interests – computers. With two CCIE certifications, and only six months job experience in Beaconhouse, he would jump ship from the job market to join the start-up scene and find his own company – Ikhtira Systems – only for it to capsize a short while after. It was only after this tumultuous road that he found himself helping Arfa Karim's parents in setting up their institution in Plan9, in exchange for permission to utilise the space for his own work – which by now had started to include Wifegen.
All of the names mentioned above are success stories of Pakistan's youth, and only one of them has made it into mainstream consciousness. The reason I am bringing them up is to make a simple point – Pakistan's socio-cultural mindset, and in turn educational institutions, are more concerned with higher academic achievements that can be shown off to neighbours and printed on pamphlets, than they are concerned with arming graduates with the appropriate knowledge, attitude and skills required by the Pakistani employment industry.
Of the four success stories, only Nawazish has anything spectacular to show for academically. Some of the others have even struggled in their academic careers. They do, however, have entrepreneurial abilities to take financial and career risks, defiance in the face of failures, an ambition to give back to society without monetary gains, technical knowledge, adaptability, and perhaps realistic expectations from the world they operate in. By no means do I mean to trivialize the great feat achieved by Nawazish, but considering he is the only one that has basked in some of the limelight, I merely mean to ask, to what end are such achievements? And what does the market want beyond grades?
And why are we so grade obsessed in the first place? One entity to blame can be the government school and job system that relies heavily, if not solely, on marks obtained. The prime example of this can be found from the combined competitive and central superior services exams that lead to coveted bureaucracy posts. Furthermore, the 'respected' professions of doctor and engineer also require little more than the ability to remember and reproduce bookish knowledge in exams to top the board and enter into a government college or university. Over the years, matriculation and intermediate marks have sky-rocketed, with toppers achieving once unthinkable marks.  
Another side of the story is the social perception that equates intelligence with academic performance. Parents want something to brag about, and it's much easier to brag with numbers than without. That is why parents would rather rave about their child being a 'topper' rather than any extra-curricular achievements. So ingrained is this bizarre idée fixe that it has become a standard comedy trope, from stand-up to whatsapp joke forwards. But the roots of this obsession can still be traced back to a single idea: better grades mean better job prospects. While it may still stand true for the bureaucracy, things have changed a great deal in the corporate and private sector.
Times are a changin
The job market is changing because jobs are changing. And with them the requirements of employers, society, and the economy. The value of a good education can never be underestimated, but the pendulum of benefit and returns has started swinging towards non-academic, co-curricular and soft skills. Automation and Artificial Intelligence (AI) have already made a myriad of jobs doable without human workforce in the Westren hemisphere of the world. This is an unavoidable development even for Pakistan. As employers look to innovate, prospective employees are going to have to get creative as well. In a recent study by Naqeebz Consulting titled "Graduate Employability: Employers' Perception Survey Report," it was revealed that the top job openings of 2018-2022 in Pakistan will be Business Development, Digital Marketing, Human Resource Management, Marketing, Business Analysis, Project Management, Brand Management, Software Development, Social Media Marketing, and Client Services. This is a long road from the time when construction workers, manufacturing factory workers, and agriculturists topped the list of jobs driving the economy. There are of course certain jobs that will always exist – lawyers and doctors for example – that require rigorous academic training, although even these are undergoing a process of methodological change. But if you are to join corporate industry, the ability to cram and repeat phrases from a textbook alone isn't going to get you anywhere in the new market landscape.
The same survey also identified that 78 percent of employers in Pakistan are dissatisfied with the quality of graduates. The 212 organizations from 25 different industries spread across Pakistan that took part in the survey were asked what qualities they consider important while hiring fresh graduates. Only 18 percent of them considered high grades to be a factor for evaluating the applicants – and even then it was one among many factors. However, to avoid the impression that no education is important, a notable 79 percent of organizations considered professional knowledge skills and technical skills to be an important condition for them to hire a fresh graduate. But what this essentially means is that unlike your parents, neighbors, or relatives, 82 percent of employers out there are not concerned with your marksheets.
 An equally important factor to note here is the focus on 70 percent employers on soft skills – a concept unheard of in most educational institutions in Pakistan. Even globally acclaimed institutions like the ACCA did not bother to include a soft skills course in their curriculum for Pakistan, even though back home in the UK, soft skills has become an invaluable part of the ACCA degree. These 'soft skills' include verbal communication, time management, presentation skills, and critical thinking. In addition to these, the survey also identified positive attitude, self-confidence, team work, passion, enthusiasm, integrity, and planning and organization among the soft skills that employers today look for in their prospective employees.
In addition to these vital skills that need to be added to modern graduates' repertoire, another striking expectation from employers was their focus on what the motivations of the applicants crossing them were. Unsurprisingly, high salary expectations ranked high on the list of reasons for employers' dissatisfaction. Poor written communication, lack of initiative taking abilities, refusal to learn new skills, inability to work in teams or comprehend work instructions were also among the primary reasons most of these employers' expressed discontent with the quality of Pakistani graduates.
The demands of these employers may seem subjective, but if you pause here for a moment and reflect, what comes to mind? Aren't these the same qualities that we saw in Ahmed Rauf Essa, S Zayd Enam, and Bilal Ather, the three success stories mentioned at the start of this article? They share many, if not all, attributes that these employers are looking for. Entrepreneurship, initiative taking ability, positive attitude, self-confidence, passion and enthusiasm are ingredients that each of them put into their work to get where they are today. At the same time they did not have unrealistic expectations which allowed them to deal with their initial failures. They were willing to change career paths, not just their ways of operating, which is high on the list of demands everywhere. There are innumerable success stories from within and outside Pakistan that highlight the importance of the qualities and skills brought out by this survey, but the problem lies not in their identification but in their amalgamation into the educational systems, curriculum, and mental and social fabric of Pakistan's education system.
So what next?
It may seem easy enough. The problem has been identified, and now that we know what employers want, it's a simple case of moving towards resolving the problem. Diagnosis means we're halfway there, and might finally be able to start moving towards resolving the problem. The reality is much bleaker.
This is not the first time such a survey has been conducted in Pakistan, or even the first time that these very problems have been identified within the system of education, training and employment. In fact, in 2016 the Higher Education Commission conducted a survey that highlighted most of the problems identified by Naqeebz Consulting in 2018.
This survey, conducted jointly by the HEC and the World Bank as part of the Tertiary Education Support Program (TESP) implemented by the HEC for 2011-2015, included 375 employers who nominated practical knowledge, prior work experience, and the ability to think analytically as the top qualities of employability.
Ability to take responsibility and initiative, self-motivation, and capability of oral communication and interpersonal skills were also identified as necessary elements of success. Needless to say, two years ago the requirements of analytical skills, creativity, team work, numerical knowledge, writing and computer skills, flexibility and willingness to learn and change were as important as they are today.
It is not difficult to see how many of the employability factors identified by HEC in 2016 still remain uncatered to by educational institutions. If two years is not enough time to bring about any change, then there is another governmental institution – Pakistan Bureau of Statistics (formerly Federal Bureau of Statistics) – that has been conducting annual Labor Force Surveys since as far back as 1963.
Their 2018 report titled "Pakistan Employment Trends" identified areas of education and employment that are increasingly becoming redundant. Agricultural employment, wholesale, trade, hospitality industry, transport, communication, and real estate as well as manufacturing were all identified as the areas where there is "vulnerable employment". In addition to these former mainstays of the job market, "Health and social work" were also highlighted as areas where employment opportunities are weakening. Despite the long annexure of "Sustainable Development Goals" attached to this report, little has been done to resolve the issue of these sectors where employment has become "endangered". And as the world changes, there is little that can perhaps be done.
But even the bare minimum would at least result in some hope. Unfortunately, the academia-industry linkage in Pakistan is pitiable. According to the survey by Naqeebz Consulting, a whopping 80 percent of the organizations surveyed have never been approached by HEC or by any higher education institution to get an idea of what they look for in employees – the very employees they are supposed to be training. While almost all universities tout their MBA degrees are the straight road to financial strength, there is no evidence of any cohesion between the universities offering degrees and the places they are supposedly training them for.
The industry players need to be taken on board by the HEC and the academia in general to give their input on curriculum development, designing modules for technical and professional skills, and for opening up the opportunities for internships during education. As far as the industry side is concerned, the Naqbeez survey showed that we have at the very least 150 prominent employers from 25 industries willing to work with the educational authorities to formulate better courses and curriculum. But it all depends on how quick the academia is to take into consideration the obvious, and by now unavoidable, changes in the country's employment dynamics.