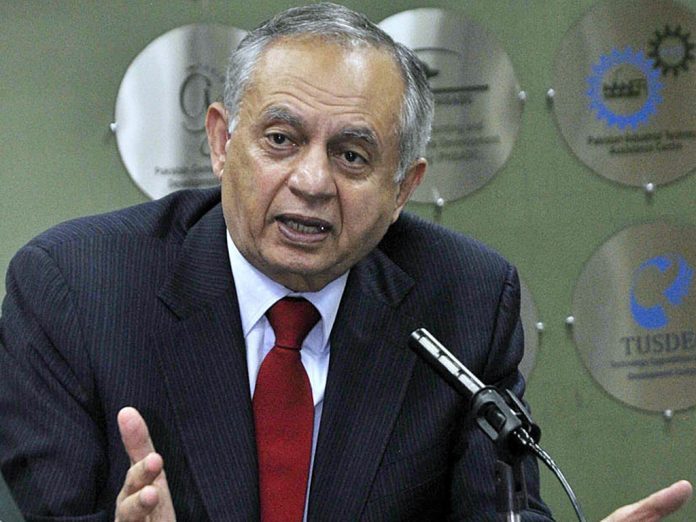 'Small and medium enterprises will be encouraged to play their due role in economic growth'
LAHORE: Adviser to Prime Minister on Commerce Abdul Razak Dawood said on Wednesday that the incumbent government is taking all possible measures to promote regional trade and export-led growth of the economy.
Talking to Pakistan Furniture Council (PFC) Chief Executive Mian Kashif Ashfaq via telephone, Dawood said that the government would prioritise the promotion of export-led growth by enhancing the volume of exports and reducing the dependence on imports.
He said owing to the prudent steps taken by the government, the country's economy would improve within months.
The PM's aide lauded the workers of the furniture sector, saying that if their skills are used properly, Pakistan could become one of the prominent exporters of furniture products.
"With the development of the furniture industry and proper training of the workers, it will be easy to meet the local and international needs," he stated, adding that the small and medium enterprises (SMEs) sector would also be encouraged to play its role in economic growth and prosperity.
Pakistan Furniture Council (PFC) Chief Executive Mian Kashif Ashfaq said on the occasion that Pakistani handmade furniture has a great export potential if the government makes policies in accordance with the suggestions of the stakeholders.
He said that Pakistan needs policies to protect the furniture sector so that the industry could grow in the correct manner. "Currently, we cannot compete with the Chinese market because of their prices, which is largely due to the availability of skilled labour."
He said Chinese furniture sector has over a thousand technical schools and it enrols at least 11 million people with the support of their government to ensure that they set up programmes that could support the local industry.
Ashfaq said that the business community has reposed its confidence in the prudent economic policies of Prime Minister Imran Khan which would lead the country to progress, prosperity and development.
"A good working environment will enhance the capacity of our workers, enabling them to compete internationally. This industry, combined with the handicraft industry, is employing about 50,000 people. If local industry expands, new opportunities of employment will be generated," he added.
The PFC chairman said that the furniture industry in Pakistan must vigorously transform from cottage or small scale industry to an innovative industry through training, upgrading supplies and imports, establishing a woodwork institute and testing laboratories of international standards.
"Efforts must be made to promote furniture exports by regular participation in international shows," he concluded.