Where do you go to work when you're working on your own? If you are, say, an independent contractor with reports to write or a freelancer with 4000 words and a deadline looming above your head, what is your work space? Home, as much as it is a haven, is often stifling for productivity, and there's only so many libraries and cafes you can float around for. More even than this, imagine if you are a new start-up with a few bright young minds trying to break into some fresh new industry. Where can you go and knock your heads together until you finally beat out your latest ideas and work in a productivity friendly environment? As inspiring as built-from-mom's-garrage stories are, the realities behind them are always chaotic and frustrating. Think even bigger, what if you are a large company looking for an office space in a country like Pakistan without the fuss of setting things up? In Pakistan, as in the rest of the world, one of the solutions to this problem lies in co-working spaces, in which independent work is done by many people in a single place, with the goal of stimulating a cohesive work environment.    
In large metropolitan cities, small startups and freelancers that are often cash strapped, are switching away from conventional workspaces towards more economical co-working spaces which are fast becoming hubs of new ideas and centers for professional networking. 
At the ninth floor of Tricon Corporate Center on Jail Road in Lahore stands Regus, an international co-working space company that has a second such space in the city near the Thokar Niaz Baig area. 
And more recently, at Lahore's Gurumangat Road, an old building spanning almost 30,000 square feet, which was once the oldest towel manufacturing factory in the area, has also given in to this new trend and has opened its doors to start-ups, freelancers, and even large enterprises. They claim to be the largest collaborative workspace in the country. The board at the top of the building reads, 'Colabs', suggesting collaboration and exchange of ideas among the people working inside it. Profit looks at the reality behind this rosy picture of many great ideas working in tandem creating great waves of productive energy.  
Collaboration across the spectrum
"Co-working spaces are coming up but are mainly only focused towards freelancers or small start-ups. They are unable to service the enterprise. They don't have the infrastructure or the backend to support a large company, says Omar Shah, co-founder and Chief Executive Officer (CEO) at COLABS, in an interview with Profit.
"With Colabs the whole idea was to serve the full spectrum which includes the startups, freelancers, the small-medium enterprises (SME), large enterprises and the corporations and have them all in one space," he says.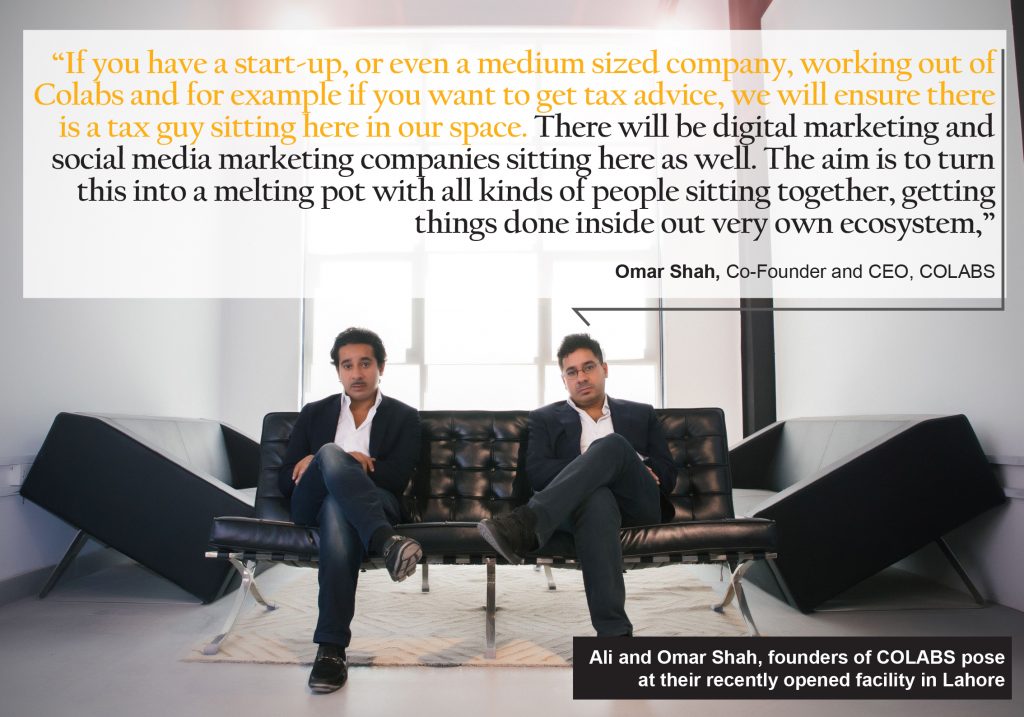 The facility houses around 40 offices ranging from small sized offices for 4 people to large sized offices that can cater up to 50 people, around 150 seats for co-working and 10 different meeting rooms and conference rooms. 
Currently, the cost per seat at Colabs stands at Rs18,000 that includes facilities like access to wi-fi, access to lounging area, conference rooms and meeting rooms, mail-handling, video-conferencing and IT support. Cost of a small office for 4 people at Colabs starts at Rs60,000 and move upwards depending on the size. A large office at the facility that caters to 15 to 20 people costs around Rs280,000. 
"The price per seat we are charging is close to Rs15,000 to 18,000, which is about 10 per cent above market price. Otherwise our smaller offices are priced equally with our competitors such as Daftarkhwan," says Omar Shah. 
However, Omar says that the pricing at COLABS is competitive, compared to other international companies operating in the market, case in hand being Regus, the international co-working space that has offices in Lahore. 
In comparison, a seat at Regus's office at Tricon Corporate Tower cost around Rs19,000 while a small office that can cater to 3 to 4 people can cost around Rs65,000 to 90,000 depending on size and the length of the contract. 

However, contrary to Omar Shah's claims, Regus also offers its services to corporates and enterprises. Profit discovered that Regus's office at Tricon Tower houses PepsiCo International, the German brand Nivea and and an office for DuPont Paints. 
At the same time, however, costs for shared office spaces are comparatively lower at Daftarkhawan, a competitor of Colabs in the shared office space market, with a single seat costing around Rs15,000 to Rs17,000 per month, the latter one having the benefit of access to meeting and conference rooms. Small offices that cater to a team of 4 people cost around Rs60,000 per month at the facility, while those that cater to a team of 6 people come with a price tag of Rs90,000 per month. However, unlike Colabs and Regus, Daftarkhwan does not offer larger offices for larger teams and enterprises. 
"Our space is purpose built where offices have all the add-on facilities including high-speed internet, IP Telephony, access control, 24/7 backup and air-conditioning with multiple common areas. I think that justifies the 10 per cent we are charging above market price ," says Omar. 
Colabs is currently trying to create a good mix of professionals by attracting people and organisations from different fields and encouraging collaboration between them. "We are targeting all sorts of audiences. We want to have creative people, people from finance, investment and media in one space together so we become a hub of innovation and growth." says Omar Shah.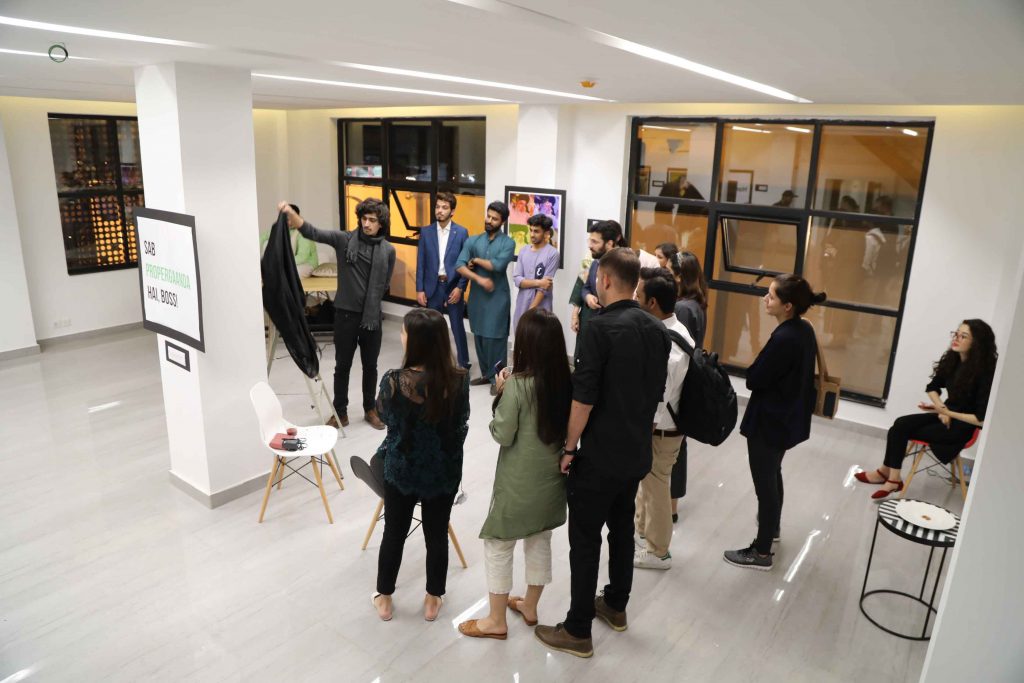 "If you have a start-up, or even a medium sized company, working out of Colabs and for example if you want to get tax advice, we will ensure there is a tax guy sitting here in our space. There will be digital marketing and social media marketing companies sitting here as well. The aim is to turn this into a melting pot with all kinds of people sitting together, getting things done inside out very own ecosystem," he says. 
"By having a large corporate, a small start-up and a freelancer working out of the same building, we are able to foster networking just by them interacting at the coffee stand. They will not have that interaction anywhere else. We are facilitating these interactions." 
Since its soft launch in April 2019, the company has rented out around 10 office spaces and 25-30 individual seats to freelancers and organisations including Neer Ghar Films, the producers of the movie 'Laal Kabootar', Acacus Consulting, a development consulting agency started by a Mckinsey partner, Omnicom Media Group and Propergaanda, an online digital media agency that creates content. Moreover, its events spaces and meeting and conference rooms have attracted clients including Facebook Developers Circle (F8), Google for Business Unit (GBG) and the Indus Entrepreneurs organization (TIE).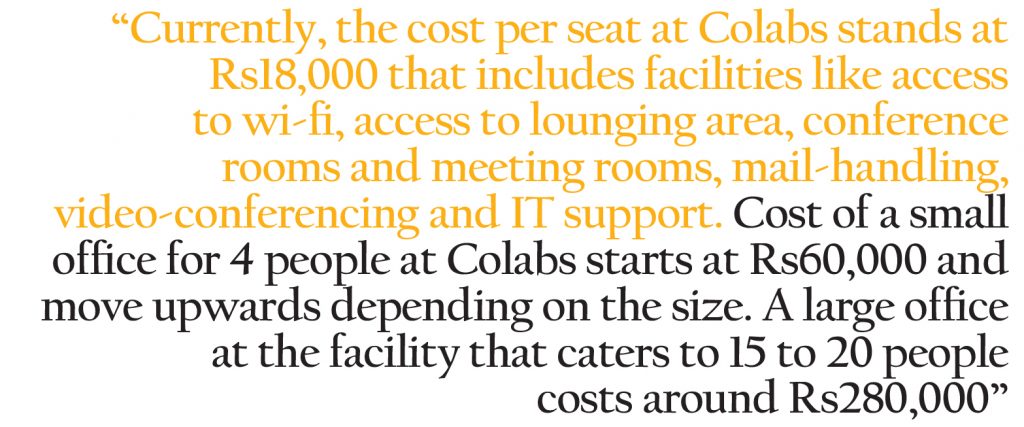 Moreover, the structure of the building has been created in a modular fashion that offers room for customisation based on demand. "The building is modular and has an open plan. We will monitor the demand in the coming months and see what the customers prefer. We will see if people are preferring offices, courts, or meeting rooms and then offer more of what is in demand," he says. 
Colabs is also currently in talks with Microsoft International, Coca Cola International, UBER, British Council and Agha Khan Development Agency and hopes that these big names will also warm up to the idea. 
"The advantage we have is that we have an in-house design and architectural team which can help us expand and scale. If a large corporate comes to us and wants the offices customised in a certain way, we can do it for them," says Omar. 
But why would a large corporate want to go for a co-working space instead of having its own office? 
"Some of the worlds biggest corporations such as Accenture, Microsoft, Amazon, Citi Bank have opted for coworking spaces because their employees are happier, more productive and innovate more in collaborative spaces. Also, corporates love the convenience of not having to deal with administrative tasks and just focus on what they do best! Hence COLABS is ideal for their enterprise," says Omar Shah.  
Coworking vs. Incubators
However, despite claiming to serve the full spectrum, there is one end of it that Omar Shah and his team are willing to ignore: the early stage startups. Omar makes it clear that unlike incubation centers and even other co-working spaces which work with such ventures, he and his team only want to work with startups that are already doing well. "We want start-ups that are successful and are already established compared to the ones that are in the market in the initial stages," he says. 
"We want to work alongside incubation centers as opposed to working as one. Our focus is on having startups who have graduated from for example the National Incubation Center (NIC) and are making capital."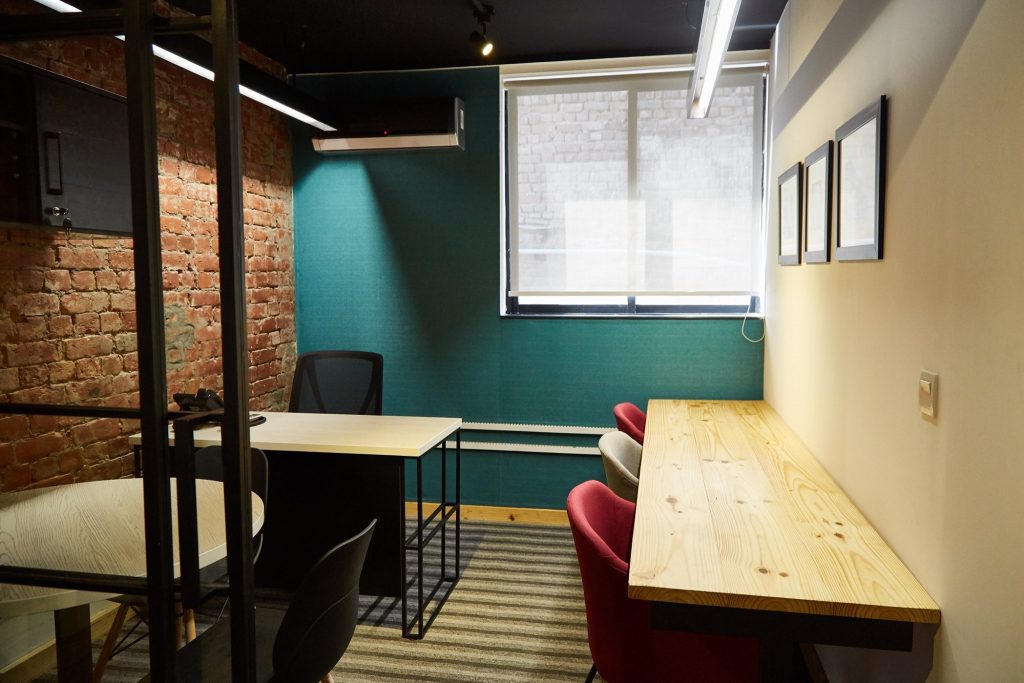 "I can incentivise them by giving them discounts on a space, but I don't want to start taking equity in startups. That I can do separately as an angel investor," says Omar. 
Estimates have shown that almost 85 to 90 percent of the start-ups that launch globally fail to succeed, which is what Omar thinks is wrong with the incubator business model. "Every six months incubators choose around 10 to 15 start-ups. They give them free space and in exchange take equity in the ventures. However, the issue with that model is that out of the 30 start-ups coming in every year, maybe just 2 or 3 of them raise capital. More than 80 per cent of the start-ups will shut down.". 
"Fundamentally, incubation centers are required in the country, but the point I have is that everyone is doing incubation centers. Every university is doing one. However, no one is connecting or bridging the gap between the enterprise and the startup. And that is what we want to do with Colabs."
Whats next?
Recently, Colabs has partnered with NIC and the Lahore University of Management Sciences (LUMS) to provide training sessions on entrepreneurship to its members. Moving forward, Omar Shah plans to launch an accelerator from the same platform. 
"In six months we are planning to launch an accelerator that will be a sub part of Colabs. We are partnering with TPL eVentures, NIC, Fatima Ventures and international companies that we can not disclose at this time."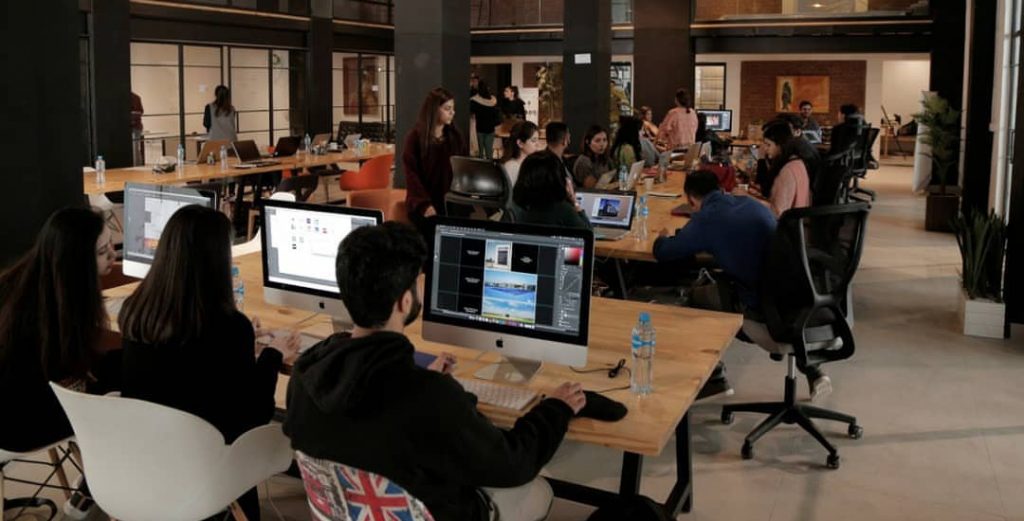 Currently, Colabs is backed and funded by a large Swedish beauty company called Bangerhead, and is operating its inaugural flagship branch at Lahore's Gurumangat Road. But Omar has his eyes towards expansion, planning to open two more branches within the city in Defence and Johar Town by the end of the year, and to open large flagship branches in Islamabad and Karachi by 2020 and then to eventually move into tier two cities like Faisalabad, Sialkot and Multan by the year 2021. 
"The idea is that if we have 10 branches across the country and let's say that we have partnered with a start-up or a large corporate, they will be able to use the same colabs membership card to use any colabs space. What we are trying to do is also revolutionise and change the way people work in this country."