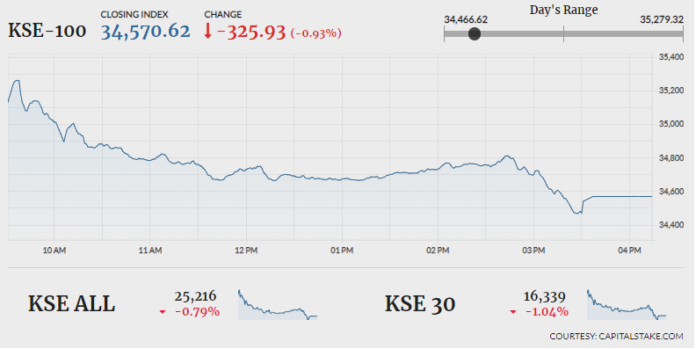 KARACHI: The Pakistan Stock Exchange (PSX) opened positively on Thursday after the International Monetary Fund's (IMF) executive board approved a three-year $6bn bailout plan last night. However, the surge was short-lived and the market was soon in the grip of bears, thus closing the session in the red.
On the economic front, the IMF said in a statement that the loan would help reduce Pakistan's public debt and expand social spending. The fund has attached some tough terms and conditions for Pakistan, including depreciation of the currency.
As per market analyst, the recent rally (1,122 points in last four sessions) was largely in anticipation of the IMF executive board granting an approval to the $6 billion bailout package. It paved a way for traders to try to profit by taking advantage of market sentiment, they added.
The KSE-100 index jumped 382.77 points soon after opening bell rang and reached its intraday high of 35,279.32. With 67 scripts declining, the index settled lower by 325.93 points at 34,570.62, taking its year to date return to a negative 9.01pc.
The Oil and Gas Development Company Limited (OGDC -1.77pc) pulled it down by 32.83 points, followed by Lucky Cement Limited (LUCK -2.97pc) which lowered the market by 32.53 points.
The KMI-30 Index also followed a similar patter, touching its day's high of 56,577.22 early in the session but closed lower by 2.05pc at 54,922.61. The KSE All Share Index lost 199.60 points with 221 decliners and only 59 advancers.
The market volumes clocked in at 111.86 million, down from last session's 130.43 million. The volume chart was led by K-Electric Limited (KEL -1.15pc). The company announced its financials for the year ended June 30, 2017. Sales were almost flat at -3pc while profits fell by 67pc YoY. Gross profit margins contracted from 30pc to 22pc which resulted in earnings per share of Rs0.38 as against Rs1.15 reported in FY16.
On the market front, DG Khan Cement Company Limited (DGKC -4.76pc) announced the signing of an agreement with Sinoma Energy Conversion Limited for the supply of machinery and equipment for a waste heat energy power generation plant and a coal-fired power generation plant to be set up at its Hub cement plant.