It is an audacious plan to say the least. Foolhardy if we're being real, and straight up nuts if you're a complete realist. In all of its near 72 years of existence since August 1947, the total number of new homes constructed in Pakistan has been 4.9 million, according to data from the State Bank of Pakistan (SBP). Imran Khan wants to top that – he wants 5 million houses, and in five years no less. 
Did we say straight up nuts, because even that is sounding a little kind to the ruling party. 
The Naya Pakistan Housing Scheme is a pipe dream written off by most, and perhaps wisely – so gargantuan is just the thought of the undertaking. And yet the affordable housing scheme is one of the PTI government's original plans. Could there possibly be some wild sliver of hope regarding the project? 
Ten months into the first year of its tenure, the ruling party looks set to initiate reforms seeking to create more low-cost housing in the country. On the face of it, the federal task force for housing has been created with a similar task force working in Punjab on the provincial level. The Naya Pakistan Housing Authority is up and running and the process of creating a framework for building 5 million affordable houses is under way.
According to a report published by the State Bank, the annual demand for new homes in Pakistan stands at around an approximate 700,000 units a year, whereas, only about half of this demand is met. The overall housing deficit, according to the report, is estimated at 10 million units. 
Needless to say, if the government is to have even a prayer of a hope of fulfilling its electoral promises, it is going to need nothing short of a revolution in virtually every aspect of home construction and other regulatory and commercial processes related to it and the kind of radical, out-of-the-box thinking that is more common in the world of technology startups than it is in real estate or government-sponsored infrastructure projects.
Luckily for the government, there are several entrepreneurs, including three particularly promising companies that Profit spoke to, that claim they have exactly what the government needs. But will the government listen to them? Profit takes a look. 
5 million houses: Is this the real life, is this just fantasy?
In 2006, Jawad Aslam moved to Pakistan from the US, where he had been working on high end real estate. In Pakistan, he met Tasneem Siddiqui, the chairman of Saiban, the only organisation in Pakistan at the time working on low-income housing, who invited Jawad to work on a project along with him aimed at people earning $100 to $200 month in the peri-urban areas of Punjab. 
"What really motivated me was the idea of giving access to affordable houses to people who before this never would have dreamed of owning their own house even after a lifetime of saving, and who have probably been paying rent for the last 20 years at exorbitant rates. And on top of that, this model was economically viable," he says while talking to Profit.
Three years down the road, Jawad launched Ansar Management Company (AMC) working on a similar model. His company builds affordable houses costing from Rs700,000 to Rs1.8 million depending on the location, size of the plot and the covered area. The Rs1.8 million house is built on 800-square-foot plots with a covered area of around 650 square feet.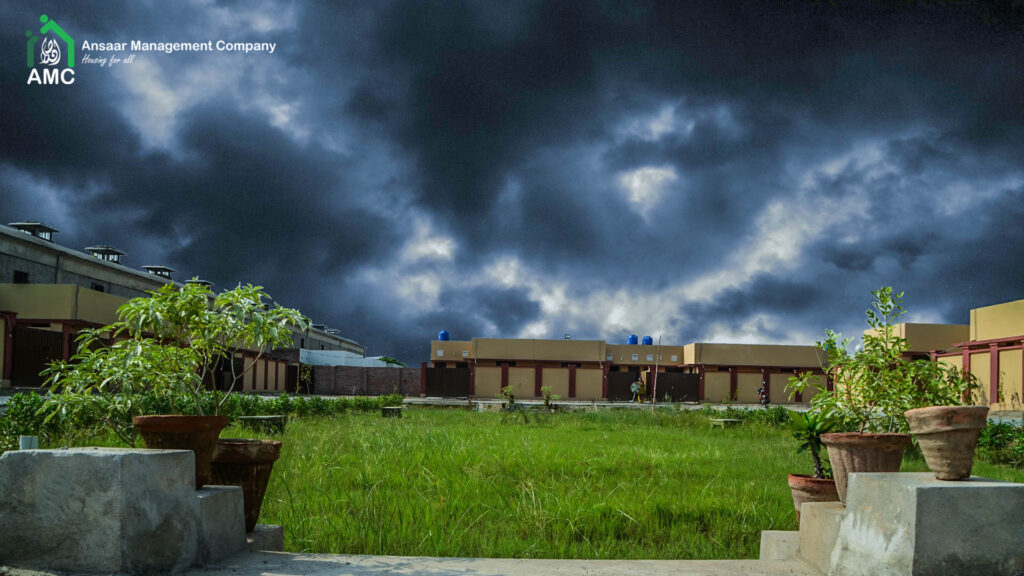 However, Jawad feels that the PTI's government goal of building 5 million houses in five years was a faulty premise to begin with. "The thesis that the current government should have had is to give access to housing to all people. What that means is that if you want to build a house, you should be able to find a development that is equal to your socio-economic status and should be able to have financing available to buy a house there. It's not limited to low income, it is general, and that is the sales pitch that they should have had. If you are talking about building 5 million homes, you are just dumping units regardless of their quality," he says. 
"But unfortunately that does not look that attractive to people. For politicians numbers like 5 million attract more people. And that is ultimately the wrong perspective."

Jawad suggests that there are some essential system corrections that the government has to work on in order to solve the housing crisis. "The Prime Minister has said numerous times that the government plans to enable the private sector to build affordable houses.. But how do you do it? What is the main thing that matters to the private sector? They are looking for a specific return on investment (ROI). You have to figure out what that ROI is and once you have figured that out then you need to work backwards to figure out a viable financial model," he says.
Estimated ROIs for builders working in the conventional real estate sector are as high as 200% to 300%, where as the ROI in the affordable housing amounts to a miniscule 10% to 15%. So why will the private sector invest in affordable housing when it can get a much higher return otherwise? "If the ROI in conventional housing is 200% over the life of the project that means that they are earning an ROI of 50-60% per cent annualised. At AMC we get hardly around 10-15%."
"There is only one way to rationalise this and that is if the private sector is able to turn its money faster by reducing the life of their projects from let's say 5 years to 2 years. If they can do that then they will have the ability to match that return. If they can take the same amount of investment that they were doing over five years and instead do it three times over five years then they have tripled their ROI," he says.
But reducing the time needed to complete projects means reducing time needed for regulatory approvals, time needed for building and the time needed for selling the units. "Currently, the time taken for obtaining an NOC [no-objection certificate] is around 24 months, if the government can ensure the provision of NOC's in 3 months, then the time needed for the project will automatically reduce by 21 months."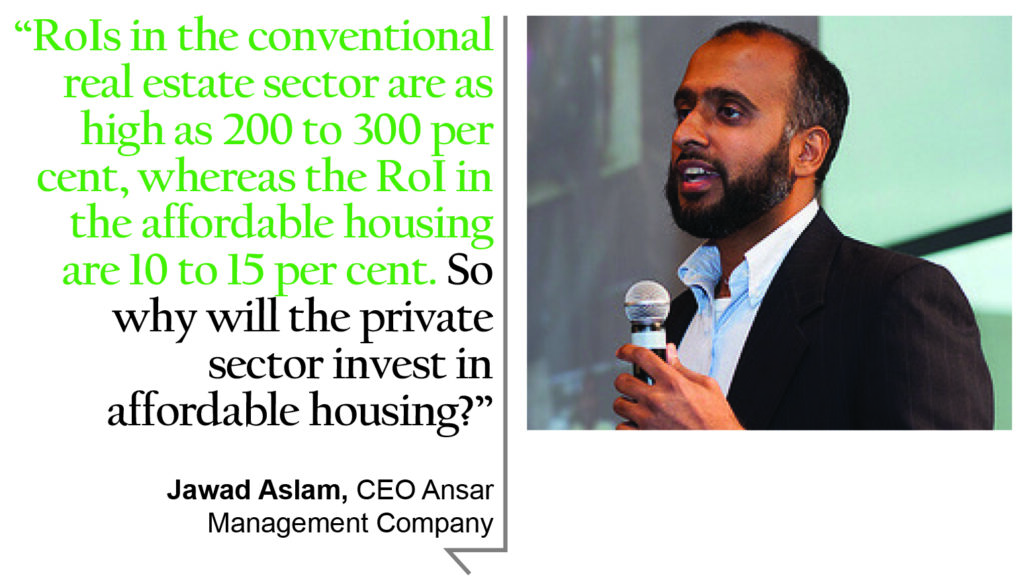 "Secondly, the time taken for building one unit takes somewhere between 7 to 9 months. Now you can increase efficiency and maybe build it in 6 months, but it still takes time. There is innovation that is required on the construction side to reduce the construction time. The concept of prefabricated houses is gaining ground and in other parts of the world 3D printers are being used to build houses which in some cases take less than 2 days," he says. 
"Thirdly, the government can play a role in aggregating demand. If I want to build 1,000 homes at a certain location and I get the NOC, the Naya Pakistan Housing Authority should have a pool of lets say 10,000 applicants who want to buy a house around that location and devise a system that can pick the best suited 1,000 applicants from that pool."
That is how you are able to reduce the time taken to complete a project from five years to one year. If the total project return is 60% and my project is only taking me one year, then my annualised return is 60%. That is the direction we are trying to steer the Punjab housing task force towards."
However, as things stand currently, progress pertaining to housing in PTI's first 10 months in power has been slow. According to sources, a meeting of the federal task force on housing took place last week after a gap of almost four months. Moreover, Profit also learned that the first few months of the government saw a standoff between the bureaucracy and the political leadership, and only recently things seem to be normalising due to which progress has been slow. "Normalisation is now taking place. In the last two months or so that the right bureaucrats have come in to align with the politicians," says a member of the federal task force, commenting on the condition of anonymity.
Compressed interlocking bricks vs kiln bricks
Elon Musk, founder of Tesla and SpaceX and the Boring Company, is known for radically rethinking existing industries. His Boring Company uses dirt that is dug up in tunnel projects to make compressed interlocking bricks that are cheaper than traditional bricks and therefore more suited for building affordable housing. Luckily for the government of Pakistan, they need not wait for Musk to set up shop in Pakistan.
Usman Gillani, the managing director of Al-Jazari Constructions, is doing the same thing within the country, and seems convinced that his product will help solve the nation's chronic housing crisis, which has reached a total shortfall of 10 million housing units, according to estimates compiled by the State Bank.
Al-Jazari Construction currently produces compressed interlocking bricks for affordable housing and high-rise buildings with two more products specific to boundary wall construction and the luxury home market in the development phase.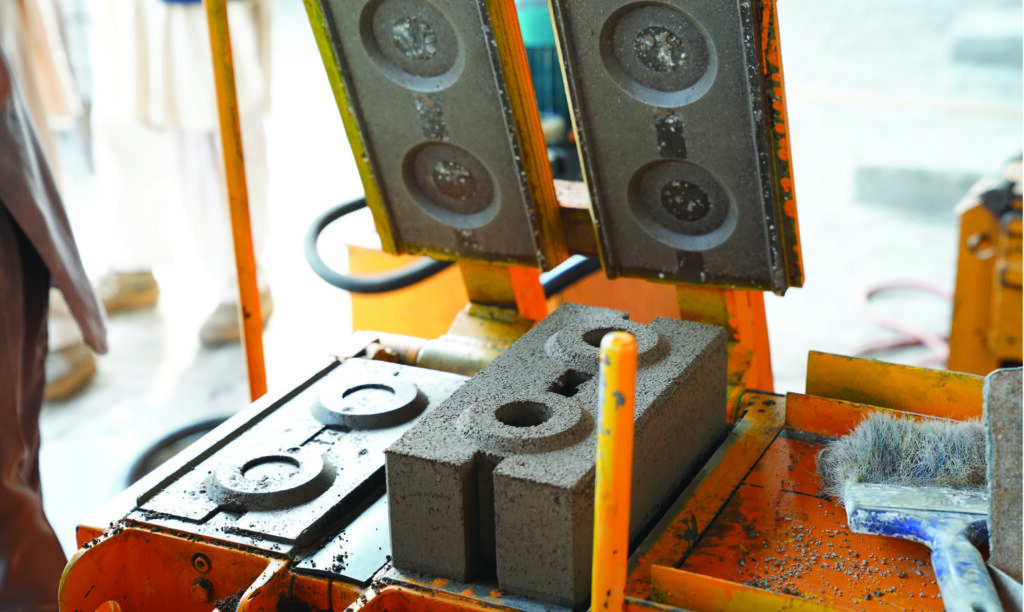 "Compressed interlocking bricks are almost 30-40% cheaper compared to kiln bricks. Secondly, the bricks don't need extensive plastering which is another cost saver, and thirdly since the bricks are interlocking they can be laid with ease with less labour. We do not have to put mortar while laying each and every brick, it can be poured later on as well. Hence the bricklaying process is faster which is very important when it comes to building large housing societies," Usman Gillani tells Profit.
On average, the per square foot construction cost of an 817-square-foot (3-marla) house using compressed interlocking bricks is Rs1,250 compared to Rs1,600 using normal kiln bricks. According to Gillani, the cost of plaster and paint used during construction is also 70-80% less while constructing with interlocking bricks compared to kiln bricks.
And then building 5 million houses in five years would mean rapid urbanisation which is bound to have its environmental impact. Brick kilns, which are currently the biggest competitors of Al-Jazari construction often operate unregulated in the country and are a major source of air pollution in the areas around which they operate.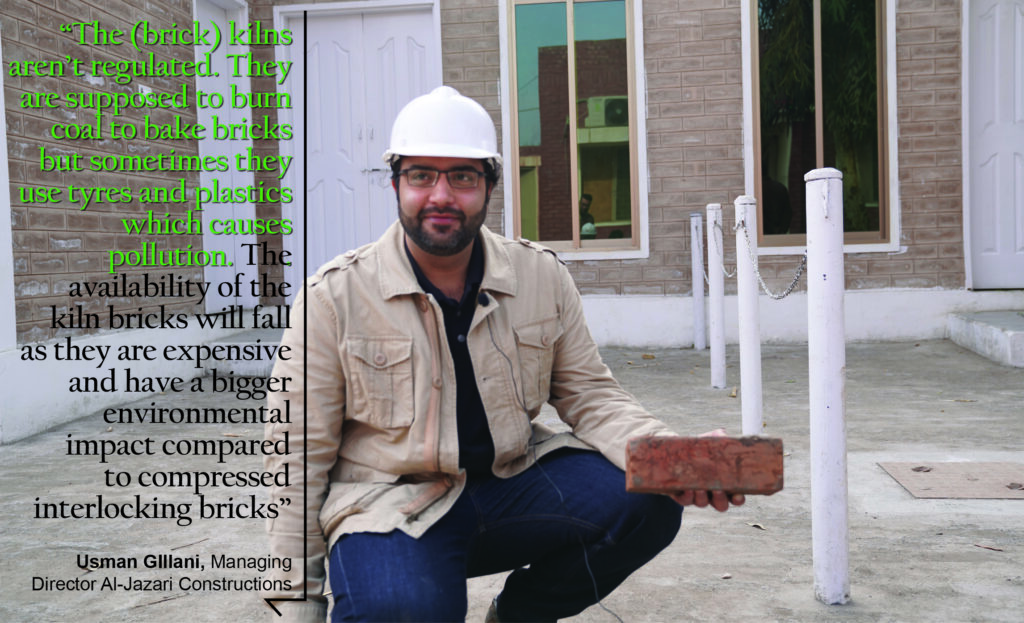 "The (brick) kilns aren't regulated. They are supposed to burn coal to bake bricks but sometimes they use tyres and plastics which causes pollution," he says. In October last year, the Punjab government shut down brick kilns due to obsolete methods of brick production and substandard fuel burning which were allegedly creating smog in the region. Brick kilns in neighbouring India, have also been shut down for the same reasons in recent years.
"The availability of the kiln bricks will fall as they are expensive and have a bigger environmental impact compared to compressed interlocking bricks. Agricultural quality top soil is used for producing kiln bricks. Kilns will eventually have to move away from cities, which means that other technologies will be needed to meet the demand for construction material in the cities," says Gillani.
By comparison, compressed interlocking bricks are environmentally friendly as they do not involve any burning process. "We compress the interlocking bricks through hydraulic machines and achieve the required strength which matches up to a concrete structure," Gillani explains. 
According to UNESCO (United Nations Educational, Scientific and Cultural Organization), every meter cube of wall made out of kiln bricks emits 240 to 540 kg of carbon dioxide whereas compressed interlocking bricks emit a minimal 50 to 55 kgs of carbon dioxide.
Building made out of interlocking bricks also come with an added advantage of being earthquake resistant. According to the Pakistan Engineering Council (PEC) regulations, the strength of the bricks should be at least 1,800 pound-force per square inch (psi). Gillani claims that the compressed interlocking bricks produced by his company start from 2,000 psi, and depending on the customers need, can be customized to withstand pressures up to 7,000 psi.
"The strength doesn't only come from the brick but it also depends on how the structure is made. We put both vertical and horizontal reinforcements around the structure, making it stronger and resistant to earthquakes compared to conventional structures," he says.
Al-Jazari's road to market
The road to market for Al-Jazari has been far from smooth, and like many other new concepts, the idea of interlocking bricks has not been received with open arms in the domestic market. "Interlocking bricks are a new thing in the country. If one in 100 houses is made through this technology, consumers will naturally be reluctant to try it out. Even the architects and engineers become hesitant. Rather than enquiring about the product, most of them flatly reject it."
However, with investment coming in from Thal Industries Corporation, Al-Jazari now has the financial muscle to penetrate further into the domestic real estate market.
"In the beginning we only had Al-Jazari Constructions which used to produce bricks and build houses. Now we also have Al-Jazari Engineering, a separate entity that produces metal fabrication, steel structures and the machines used in brick manufacturing. With Al-Jazari Engineering behind us, we now understand the manufacturing process better which will help us increase the availability of the bricks across Pakistan."
The company has built affordable homes, commercial shops and housing for Safina Sugar Mills and Thal Industries. "We built houses in Sargodha for Thal Industries which created a lot of demand for our product in the area. We are currently building 817-square-foot houses for an affordable housing colony in Lahore to showcase our technology to the people of Lahore and generate demand for it in the city."
"The market seems more responsive as well because there is a demand for housing and a shortage of building materials which has driven cost of construction insanely high," he says.
Hence, Gillani plans to capitalise on the cost saving features of his interlocking bricks and position them as an alternative to kiln bricks in the domestic market. His construction company projects a 25% return on investment (ROI) on a 3-marla (675-square-foot) house constructed with interlocking bricks compared to a 13% ROI using normal kiln bricks.
"The breakthrough we see in the market is that builders, contractors, and developers who work for profit are attracted to the cost savings that our interlocking bricks offer. We feel we can break into the market through them and then gradually market acceptability will reach the individual buyer as well."
Gillani is currently looking growth capital to expand Al-Jazari's geographical reach in the country. "We can use additional investment to set up production units in different areas," he says.
With the government's promise of building 5 million houses, Gillani hopes that Al-Jazari might be better able to break into the domestic market. However, due to the slow pace of the Naya Pakistan Housing Project, he is yet to see any positive demand side and supply side impacts.
Industrialising the real estate
Traditionally in Pakistan, construction companies first choose a site and then proceed to construct a building on it. However, ModulusTech, a company producing low cost modular housing solutions wants to reverse this process. "Instead of constructing houses, we manufacture houses. We want to industrialise the market for housing in the country," says Nabeel Siddiqui, the CEO and co-founder at ModulusTech, in an interview with Profit.
Siddiqui was in university when the Syrian refugee crisis broke out, prompting him and his co-founders to start a company that would provide affordable housing for such people. ModulusTech currently offers prefabricated housing solutions starting at $3,000 (Rs418,680) for a one-bedroom house covering approximately 256 square feet, primarily targeted at people living in remote areas or slums.

The houses can be assembled in as little as three hours, with the help of three people without the need of any heavy machinery. Their modular design means that the houses are highly customizable and can be flat packed to ease transportation. "The units can be joined together to make a large house or a building which can then even be used as a clinic or as a school. Hence it has various applications."
"The basic concept was to develop a kind of housing which is cheap and can be set up quickly and at the same time does not compromise on quality."
Siddiqui claims that the houses made by ModulusTech have a lifespan of at least 30 years and are earthquake resistant.  In terms of environmental sustainability, he claims that the carbon footprint of ModulusTech houses is almost 50 times less compared to house built with concrete.
Remote areas and slum settlements, which are ModulusTech's primary target markets, often lack access to electricity and clean drinking water. Hence the prefabricated houses provided by the company include not just plumbing and electrical utilities but also offer solutions like solar panels and a water purification system. "We are providing a one-window solution and with an additional Rs20-30,000 we provide our customers with electricity and clean water," says Siddiqui.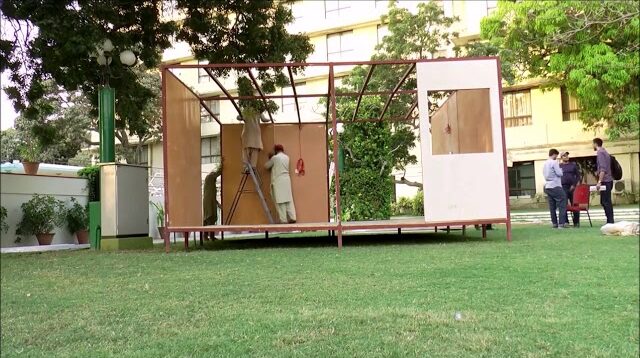 Siddiqui feels that his company can play a major part in helping the government achieve its target of five million houses. Currently, ModulusTech can produce 7 to 30 prefabricated modular houses in a month. However, according to Siddiqui this number can increase if additional resources and investment are made available to the company. "The five million houses target is achievable, but for that the government will have to move towards industrialised solutions," he says.
"We can involve contractors to help us, the microfinance banks can provide leasing facilities for our houses to the customers and the government can give us free land in off market areas which is low in cost. Once we start producing in mass, the $3,000 price per house will also naturally decrease."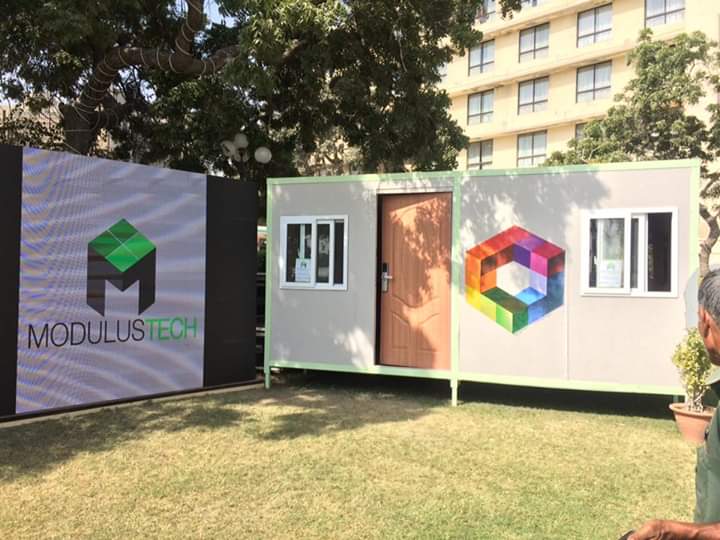 On the other hand, the government signed a MoU with a Chinese company for the construction of 20,000 low cost prefabricated houses in Lahore and Sialkot. The normal process of granting such contracts takes around a year at least. However, sources in the industry and even members of the federal task force on housing that Profit spoke to seem to be unaware of any such process having taken place. 
While foreign companies look set to benefit from the government plans, entrepreneurs like Nabeel Siddiqui and Usman Gillani await for the government to fulfil its promise of facilitating the domestic private constructors and developers.