LAHORE: In a noticed issued on August 14, 2019, Pakistan Electronic Media Regulatory Authority (PEMRA) has banned all TV commercials produced in India or commercials that contain Indian talent and characters.
According to the notice issued on Pakistan's 73rd Independence Day, PEMRA has reiterated its withdrawal of the permission to air all Indian channels and content on the directions of the Supreme Court of Pakistan dated October 27, 2018, which as imposed and conveyed by PEMRA on October 30, 2019. However, following the recent escalation of tensions between the two neighbouring countries over the issue of Kashmir, PEMRA has ordered that in solidarity with the government of Pakistan over Kashmir issue, all Indian produced TVCs are to be immediately removed from being aired, invoking Section 27(a) of PEMRA Ordinance 2002 as amended by PEMRA (Amendment) Act 2007.
PERMA has also highlight 11 brands that currently contain Indian elements in the TVCs, namely; Dettol Soap, Surf Excel Powder, Pantene Shampoo, Head & Shoulders Shampoo, Lifebuoy Shampoo, Fogg Body Spray, Sunsilk Shampoo, Knorr Noodles, Sufi, Fair & Lovely Face Wash, and Safeguard Soap.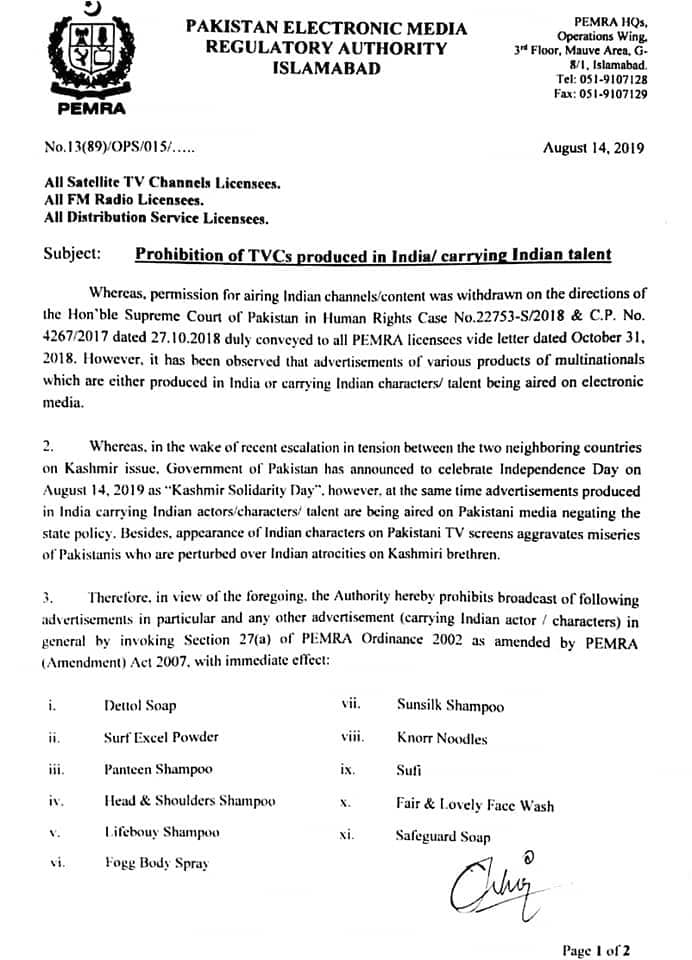 Meanwhile, the general public seems to be divided over the move by PEMRA. While Pakistanis stand united over Kashmir's issue and some are questioning that PEMRA's move should benefit the local industry, however, fear that all production will now be outsourced over to the UAE and Thailand with Indian production houses will be making money off them.