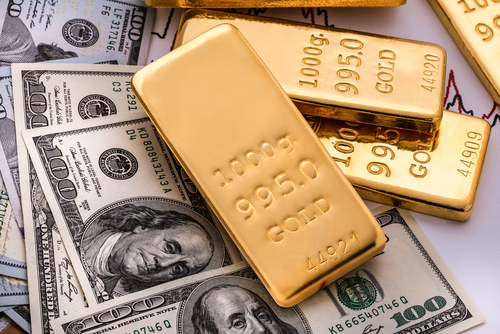 The US Dollar gained 51 paisa in the interbank market and was traded at Rs158.95 when compared to the last closing of Rs158.44, State Bank of Pakistan (SBP) reported on Friday.
However, according to Forex Association of Pakistan, the buying and selling rates of dollar in the open market were recorded at Rs158.8 and Rs159.8.
The SBP further reported that the price of Euro decreased by Rs1.25 interbank and was traded at Rs176.19, as compared to the last closing of Rs177.44.
The exchange rate of Japanese yen remained the same at Rs1.49, whereas an increase of Rs1.29 was witnessed in the exchange rate of British Pound, which was traded at Rs193.21, as compared to the last closing at Rs191.92.
Meanwhile, the price of domestic gold increased by Rs150 to touch an all-time high of Rs88,400 per tola on Friday. The price 10-gram gold went up by Rs128 to reach Rs75,788.
According to Pakistan Jewellers Association (PJA) Chairman Muhammad Arshad, the domestic gold price has been showing an upward trend owing to an increase in gold price in the global market, which has now reached $1,515 per ounce.