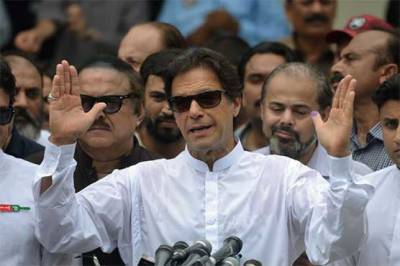 —Finance ministry claims presenting budget 2019-20 with pro-poor expenditure through different programmes as govt's achievements
ISLAMABAD: As the Pakistan Tehreek-e-Insaf (PTI) led government completes its first year in the government, it counts the successful negotiations with the IMF for another Extended Fund Facility (EFF) programme of about $6 billion as its major achievement, notwithstanding that the deal came after a major delay and uncertainty in the markets that caused an overall economic slowdown. The government also counts increasing the number of tax payers and controlling the trade balance, mainly by restricting imports, among its major achievements.
Finance
The ruling party claims that the remittances surpassed the target of US$21.2 billion in FY2019 and increased by 9.68 per cent to US$21.841 billion, mainly because of the confidence provided to overseas Pakistanis by Prime Minister Imran Khan.
Despite tall claims, no considerable increase in exports to reduce the current account deficit was witnessed, though the government managed to reduce the deficit by 31.7 per cent to $13.587 billion (4.8 percent of GDP) during FY2019, compared to 57.6 per cent growth in deficit in the last year, mainly through decreasing imports. Simultaneously, the import bill decreased by 7.3 per cent in FY2019 as compared to a growth of 16.2 per cent in FY2018.
The ruling PTI also considers the improvement in 11 points in Pakistan's ease of doing business index as its achievement, even though the facts suggest that the improvement was made during the tenure of the previous government and the ruling party has nothing to do with the achievement based on which the ranking at the World Bank was improved.
The finance ministry has also claimed presenting budget 2019-20 with major new initiatives including increase in FBR tax revenue to Rs5.55 trillion, increase in allocations for development of FATA to the tune of Rs152 billion, increase in pro-poor expenditure through Ehsaas Programme to Rs193 billion and increase in Public Sector Development Programme (PSDP) to Rs951 billion as achievements. Factually, the revenue collection target was missed by around Rs500 billion in 2018-19 whereas the target of monthly collection of this financial year has also been missed.
Though the PTI has been very critical of previous governments for piling up debts worth trillions of rupees, it has borrowed a record $16.2 billion in loans from IMF, Saudi Arabia, the United Arab Emirates, China and Qatar to prop up its fast depreciating foreign reserves and a burgeoning balance of payments crisis.
According to reports, the federal government debt stock rose from Rs24.2 trillion from June 30, 2018 to Rs31.8 trillion until June 30, 2019 – a staggering hike of Rs7.6 trillion (31 per cent). The domestic debt increased from Rs16.4 trillion to Rs20.7 trillion, showing an increase of Rs4.3 trillion.
The external debt rose from Rs7.8 trillion to Rs11.1 trillion, an increase of Rs3.3 trillion (42 per cent).
The finance ministry was also responsible for an unprecedented increase in the interest rate. Starting from 6.5 per cent at the beginning of the fiscal year, the interest rate has nearly doubles to 12.25 per cent.
The finance ministry says that to protect the poor segments of the society, social protection through poverty alleviation programmes has been introduced. The targeted poverty reduction interventions have been made through Ehsaas Programme, Benazir Income Support Programme (BISP), Sehat Sahulat Programme, expanding coverage of Waseela-e-Taleem Programme, Tree Tsunami Programme, Clean and Green Pakistan Programmes etc.
Moreover, they say that Prime Minister Imran Khan's scheme of 5 million houses will benefit 28 industries and hence will generate sizable employment, while Kamayab Jawan Programme will provide Rs100 billion low cost loans for youth to setup/expand businesses.
Board of Investment (BoI)
The Board of Investment (BoI), as it claims, has completed some approval stages of Special Economic Zones (SEZs) under China Pakistan Economic Corridor (CPEC). However, no visible development regarding SEZs was recorded during the past one year despite the change of faces at BoI frequently.
The impediments regarding completion of basic infrastructure development and attracting investors to SEZs are yet to be removed.
The BoI claims that Pakistan's ranking on the World Bank's Ease of Doing Business Index has improved from 147 in 2018 to 136 in 2019, and is expected to further improve several places up in the next report.
The Federal Board of Revenue (FBR)
The PTI has been claiming that its primary focus after forming the government would be to introduce major reforms in FBR. However, with the lapse of one year, the same reforms could not be introduced, except the change of faces and reshufflings in the organisation.
The board also failed to collect the targeted revenue during 2018-19. The FBR, however, in its report, has claimed that tax collection during the month of July 2019 by the Inland Revenue (IR-Operations Wing) was Rs234 billion, against the target of Rs236 Billion, which is 99.2 per cent of the assigned target.
The collection of IR domestic taxes in July 2019 has shown an increase of 60 per cent against July 2018.
Unlike the previous government, the PTI, however, has shown major progress related to number of filers. The filing of returns of income for tax year 2018 reached a total of 2,404,371 filers, as compared to 1,486,756 returns filed for the tax year 2017, indicating a growth of 62 per cent over the last year.
During the fiscal year 2018-19, the number of new tax-payers who filed returns of income is 348,140 as compared to 146,096 filed during 2017-18, registering an increase of 137 per cent. In July 2019, the collection of sales tax was Rs123.4 billion, which is 26.4 per cent higher than the collection of sales tax in July 2018, which was Rs97.6 billion.
Similarly, FED collection in July 2019 was 20 per cent higher than the collection in July 2018. However, the tax collected under the income tax (other than amnesty scheme) in July 2019 is Rs85.2 billion, which is 42 per cent higher than the collection of income tax in July 2018.
During the last one year, 6,451 high net-worth cases were identified on the basis of economic transactions. Specialized units were created within RTOs for fast track processing of these cases, as a result of which, 2,989 returns were enforced.
Another major achievement of the government is related to formation of Benami Transactions (Prohibition) Rule and identification of benami assets.
The introduction of higher and new taxes, implementation of new tax laws have, however, irritated the traders and industrialists, who protested against the FBR's new initiatives. The higher taxes have also caused a historic hike in inflation in the country.
Ministries of Industries, Commerce and Textile 
The PTI government gave three important ministries to Adviser to Prime Minister on Commerce, Textile, Industry and Production, and Investment Abdul Razzak Dawood.
Previously these ministries were headed by three different ministers. The too much centralization of powers, as many industrialists/businessmen believe, has badly affected the performance of these ministries. The movement of government files, holding officials meetings and other related activities are affected when they are relied on availability of a single personality.
Like the previous government, the PTI has failed to appoint heads of various attached departments/organisations of these ministries during the past one year.
Though the commerce ministry failed to show targeted increase in exports despite claim and focus of the government, the ministry claims that the trade balance improved by 19 per cent (trade deficit declined from US$37.6 billion to US$30.6 billion).
Exports, as earlier claimed by this ministry, remained much behind from $25 billion for fiscal year 2018-19. The exports in the last fiscal year were recorded only $23 billion. The ministry in its report claims exports were shielded from exogenous shocks e.g. regional geo-political uncertainty in the wake of Pulwama incident, depreciation of Euro and British Pound due to Brexit and problems in two of Pakistan's major export markets (US and China) due to trade war.
The ministry has, however, shown progress in reducing imports, which were reduced from US$60.8 billion to US$53.8 billion i.e. by 12 per cent, by imposing mainly regulatory duty on non-essential imported items
The major achievement of commerce ministry was successfully signing the revised Free Trade Agreement (FTA) with China. The second Phase of Pakistan-China FTA concluded with immediate market access on 313 items of Pakistan's prime export interest which cover over US$8.7 billion of global exports and US$64 billion worth of Chinese imports (approximately 90pc).
That is besides the duty-free market access from China for Pakistani yarn, sugar and rice worth US$1 billion, and unilateral market access from Indonesia on 20 products as appendage to Pakistan-Indonesia Preferential Trade Agreement. Moreover, an eight-year-old ban on Pakistani basmati rice was also lifted by Qatar as a result of prime minister's visit to Qatar in January 2019, and a tender for procurement of 4,000 tonnes of Pakistani basmati rice was issued in July 2019.
The ministry also introduced first National Tariff Policy prepared as part of the 100-day agenda to transform import tariffs from revenue generation tool to trade policy instrument.
Apart from the commerce ministry, the government also claims that the Ministry of Industries and Production (MoI&P) is undergoing an exercise of restructuring organisations under its administrative control to facilitate MoI&P in performing its core functions.
Besides that, the revival of Pakistan Steel Mills (PSM) is the main priority of the PTI government.
With additional input by Ghulam Abbas