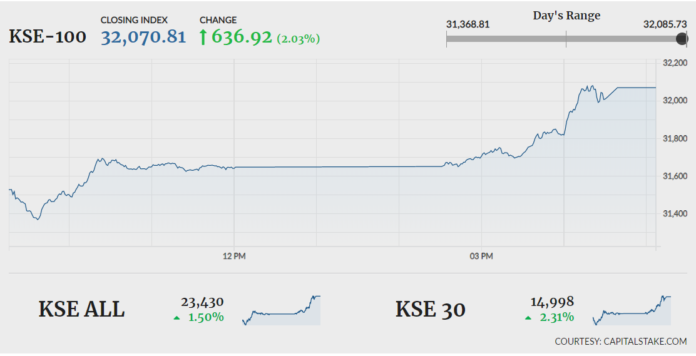 KARACHI: Bulls managed to take control of the Pakistan Stock Exchange (PSX) after a slow start to the session on Friday.
The indices started the day in the red zone but soon changed their course, helping the index cross the 32,000 mark. Foreign investors offloaded equity worth $2.76 million on Thursday.
According to data released by the State Bank of Pakistan (SBP), the total liquid foreign exchange reserves held by the bank declined by 0.79pc to $15,772.6 million as on September 20, 2019. The reserves previously stood at $15,898.1 million.
The KSE-100 Index marked an intraday low of 31,368.81 during initial trading hours. The index then managed to recover its losses and recorded its intraday high of 32,085.73. It closed higher by 636.92 points at 32,070.81. The KMI-30 Index gathered 1,133.84 points to end at 51,040.71, while the KSE All Share Index settled at 23,430.12 after gaining 346.86 points.
The sectors that helped the index close in the green zone included banking (+181.96 points), oil and gas exploration (135.51 points) and power generation and distribution (+60.98 points).
Among the companies, Habib Bank Limited (HBL 74.22 points), Oil and Gas Development Company Limited (OGDC 51.44 points) and United Bank Limited (UBL 45.91 points) remain the top contributors to the index.
The overall market volumes were recorded at 135.16 million, of which 107.32 million came from the KSE-100 Index. K-Electric Limited (KEL +3.12pc), The Bank of Punjab (BOP +6.71pc) and Maple Leaf Cement Factory Limited (MLCF +2.36pc) remained the top picks of the day. The scripts had exchanged 17.58 million, 14.36 million and 13.13 million shares respectively.
Arif Habib Limited (AHL -4.93pc) announced earnings per share of Rs-0.95 for FY19 (Rs8.13 in FY18), Sapphire Textile Mills Limited (SAPT 0.00pc) declared an EPS of Rs127.44 for FY19 along with cash dividend of Rs26, while Sapphire Fibres Limited (SFL 0.00pc) released an EPS of Rs38.56 and declared a cash dividend of Rs8.