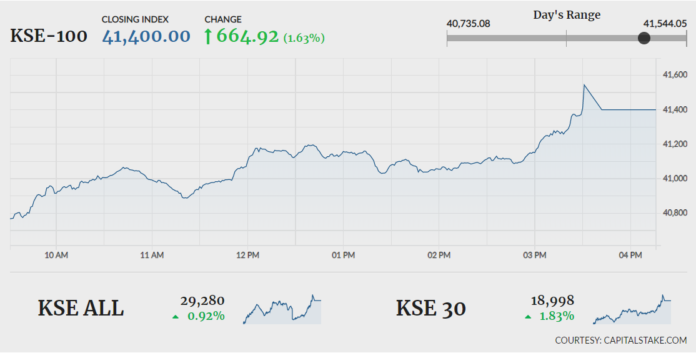 KARACHI: Pakistan Stock Exchange (PSX) started the new year on a positive note, as the indices drove north right from the word go while volumes improved significantly from the previous session.
Foreign investors ended as net sellers of shares worth $3.51 million on the last trading session of the year, whereas they remained net buyers of shares worth $55.51 million in the outgoing year.
According to the latest data published by Pakistan Bureau of Statistics, inflation clocked in at 12.60pc in December 2019 as compared to 12.67pc in the previous month. Consumer Price Index (CPI) in December 2018 was recorded at 5.40pc.
Passenger car sales fell by 24pc to 152,702 units in the first 11 months of 2019 as compared to 201,251 units in the same period of last year. Devaluation of the rupee, rise in interest rates and hike in taxes were some reasons behind the decline.
Gaining 808.97 points, the KSE-100 Index recorded its intraday high at 41,544.05. It settled with a gain of 664.92 points at 41,400.00. The KMI-30 Index ended higher by 1,037.37 points or 1.57pc at 67,068.88, while the KSE All Share Index appreciated by 268.24 points, settling at 29,279.97. Out of the total traded shares, 255 advanced and 67 declined.
Sectors that helped the index accumulate gains included banking (+277.41 points), fertiliser (+92.58 points) and oil & gas exploration (+74.08 points). Among the companies, Habib Bank Limited (HBL +89.84 points), United Bank Limited (UBL +73.50 points) and Engro Corporation Limited (ENGRO +63.73 points) remained the top contributors to the index.
The overall market volumes improved from 177.12 million in the previous session to 330.74 million. K-Electric Limited (KEL +8.92pc) led the volume chart on Wednesday, followed by Unity Foods Limited (UNITY +4.47pc) and Fauji Foods Limited (FFL +6.77pc). The scripts had exchanged 119.39 million, 26.57 million and 17.48 million shares, respectively.